"If it is disagreeable in your sight to serve the LORD, choose for yourselves today whom you will serve: whether the gods which your fathers served which were beyond the River, or the gods of the Amorites in whose land you are living; but as for me and my house, we will serve the LORD."

Joshua 24:15(NASB)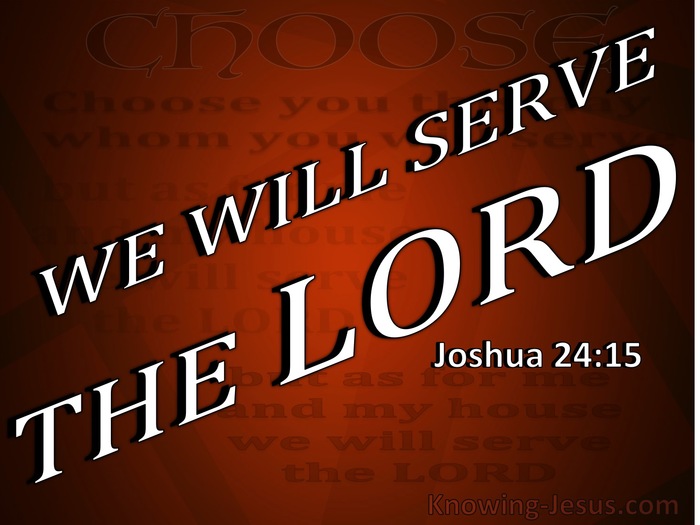 Verse Thoughts
The most important life-choice anyone will ever make is their response to this fundamental question, choose today, Who you are going to serve. - God or Satan; the spirit or the flesh; light or darkness; life or death... for its answer has both temporal considerations and eternal consequences. Belief in the redemptive work of the Lord Jesus Christ on Calvary's tree dictates life or death for the sinner. But for the man saved by grace, this foundational question deserves equally rigorous examination, and challenges the believer to examine himself to see if Christ is all and in all.
Choosing the Lord should never be viewed as a comfortable seat in a pew nor a membership to an exclusive worldwide club. Choosing the Lord should never be postponed until tomorrow, nor hidden behind a mask of compromise, with this antithetical world-system.
The far-reaching significance of this choice cannot be measured, for it requires the abandonment of myself: my personal rights; my cherished interests and my own self-will, until I begin to identify with Christ in His personal Gethsemane and plead as He did, Father -Thy will not mine be done.
The resolve to serve the Lord will inevitably cause you to swim against the tide of popular opinion as your heart-focus gazes steadily upon Him, and His ultimate goal, which is that Christ is all - and all in all.
And remember the man or woman, mother or father, boy or girl who is prepared lead in this important life-choice, will likely be one that will influence those in their 'house', in this eternally-significant decision.
My Prayer
Loving Father I begin to understand more and more that I can't be divided in my loyalty, for You alone have the words of eternal life. Today, Lord I choose to go deeper into You, for I desire to serve You with my whole heart. Keep me and my family ever walking in the Your light and truth and looking to Jesus - in His name I pray, AMEN.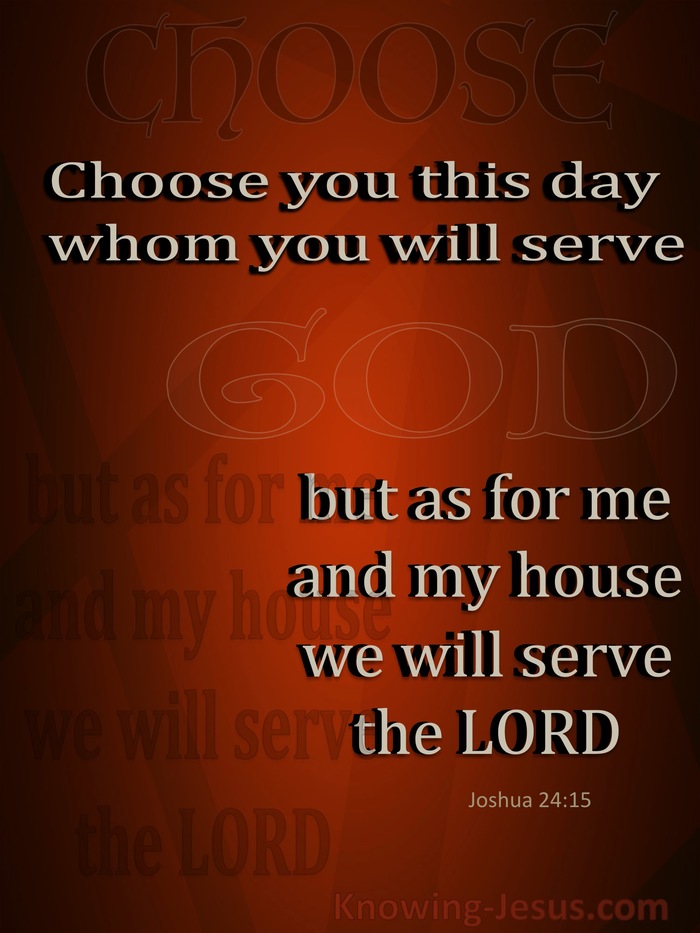 Choose a Verse from Joshua 24