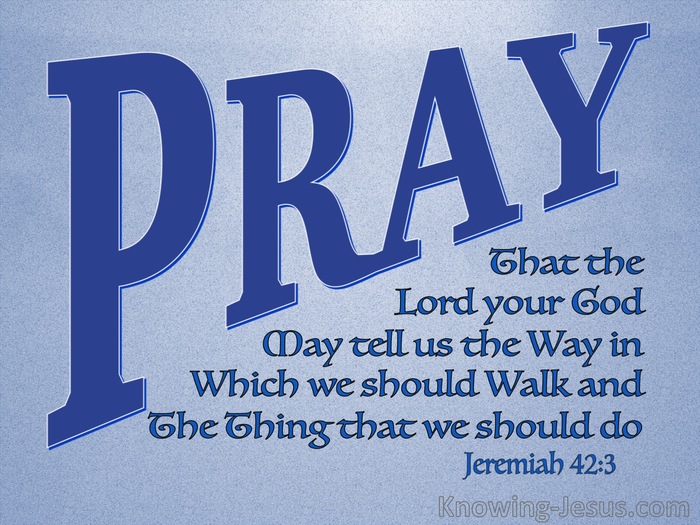 Verse Thoughts
The people of Israel were in a precarious position, with anarchy within the camp and enemies on every side. And so they pleaded with Jeremiah to pray to the Lord on their behalf: Pray that the LORD your God will tell us the way we should go, was their earnest plea, and pray that He will tell us the thing that we should do.
Prayer is a direct line into the throne-room of God, and how often, when we face the onslaught of the enemy and seem submerged in difficulties and dangers.. do we cry out to the Lord and earnestly beseech Him to : show us the way that we should go and tell us the things that we should do.
But God looks on the heart and He knows the motive behind each prayer request.. and He discerns the sincerity of each supplication, that reaches the throne of grace. God know when an apparently sincere cry for help comes from an insincere and divided heart - as was the case, when the children of Israel pleaded with Jeremiah to: pray that the LORD your God will tell us the way we should go and the thing we should do.
Their earnest plea for guidance was rooted in a proud and rebellions mind-set which was only prepared to say "MY will, not Thine be done – " Their apparently sincere cry for help was no more than hollow lip-service to the Lord, for they had already determined in their heart what they were intending to do!
How often dishonest prayer requests and insincere intercessions are offered up to the Lord.. from an unbelieving and rebellious heart, that is not looking for direction from the Lord.. but seeks to dictate their own, self-determined schemes – while demanding God's endorsement of their own ungodly decisions.
We are called to trust in the Lord with ALL our heart and soul and mind and strength.. and not lean on our own, limited understanding and flawed wisdom. We are to trust the Lord in all things and seek His heavenly guidance in spirit and in truth. We are to trust Him completely and acknowledge Him in confident assurance that He will direct our path.
My Prayer
Dear Father, Thank You for directing our path every step of the way, as we follow Your leading and direction. Guide us along a straight path today, and direct our going-out and our coming-in. I pray that my prayers and intercessions may be offered-up in spirit and in truth, and that in all things I may listen to Your guiding voice and be able to pray, THY will not mind be done, in Jesus name, AMEN.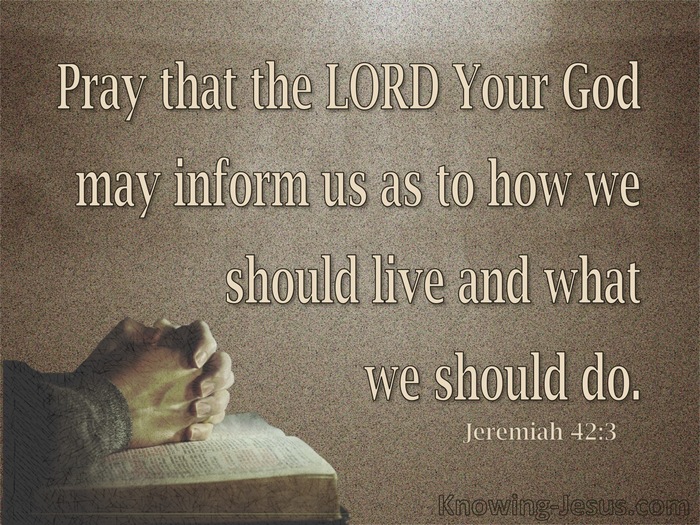 Choose a Verse from Jeremiah 42