Therefore, holy brethren, partakers of the heavenly calling, consider the Apostle and High Priest of our profession, Christ Jesus;

Hebrews 3:1(KJ2000)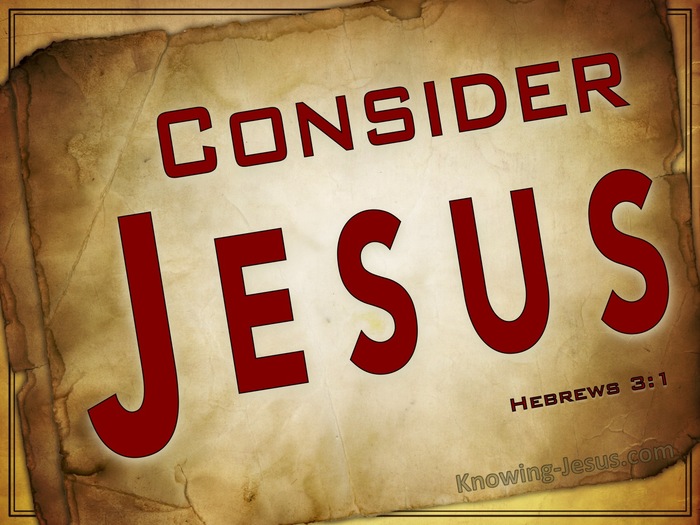 Verse Thoughts
Can there ever be a heart that truly and honestly considers the Lord Jesus, that does not cover their face with a mantle and recognise they are treading on most holy ground, when they reflect upon Him, and consider this heavenly Man - Whose Person and Work surpasses all human understanding?
It is Christian men and women, set apart by a heavenly birth who are called upon to consider Jesus. It is born-again, Christian brethren, who believe in their hearts that Christ died for their sins and who confess to the Father in heaven that - Jesus Christ is Lord and Saviour, that are called to consider Christ. It is born again believes who is called upon to consider this unique and holy Person.
It is God's blood-bought children that are instructed to think-about, meditate and reflect upon the glorious qualities, the gracious vocation and the eternal office of Jesus Christ, the Apostle Who was sent from on high; Jesus Christ, the Messenger Who came from God to be one with us; Jesus Christ the righteous Advocate with the Father, Who brought God's good news of salvation to a lost and dying world.
You and I are instructed to consider every aspect of Jesus Christ, the Apostle and High Priest of our profession, for He was sent forth from on high as the One Who would reveal the Father to a lost and dying race and redeem all who would believe in His sacrificial death and glorious resurrection - for He is the is the image of the invisible God and pre-eminent Person. He is the exact representation of our holy, heavenly Father.
Let us who are partakers of the heavenly calling, reverently and rejoicingly consider Jesus Who is the Apostle and High Priest of our profession - for to do so will cause us to step onto holy ground as we consider Him - Who surpasses our human understanding.
My Prayer
Thank You dear heavenly Father that by grace through faith in Christ I am a partaker of the heavenly calling and the Lord Jesus is both God's Message and His Messenger – God's High Priest and His Lamb. Lord that I may know You more, love You better and draw ever closer to You as I gaze on Your glory and contemplate Your grace, in Jesus name I pray, AMEN.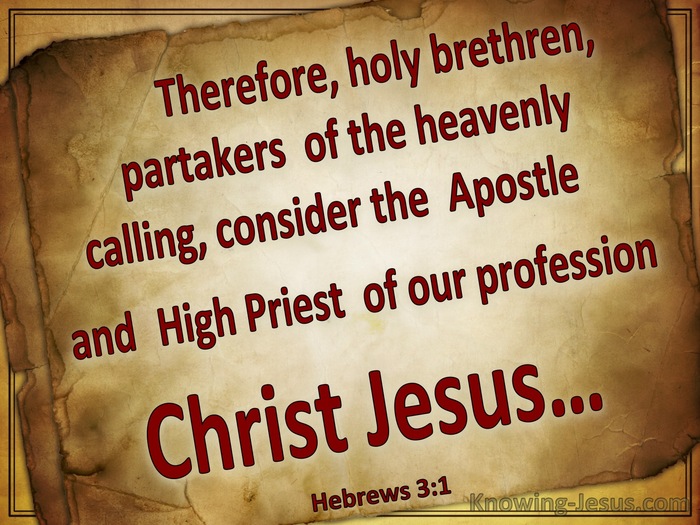 Choose a Verse from Hebrews 3