For we are a fragrance of Christ to God among those who are being saved and among those who are perishing;

2 Corinthians 2:15(NASB)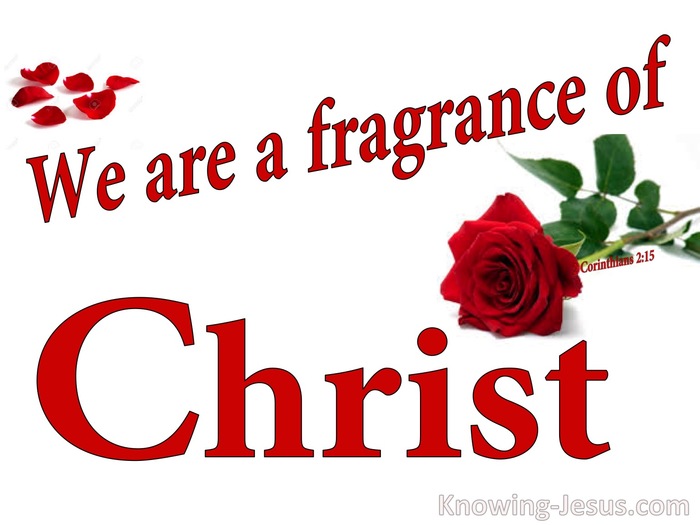 Verse Thoughts
The Bible describes the two different types of aroma that ascend heavenward to the Lord. One is the sweet fragrance of those that are saved by grace through faith in Christ.. and the other is the nauseating, deathly stench of rotting fungi.
The latter consist of those that are stubborn of heart, religiously arrogant and boastful of their independence from God's gracious provision. They are described by Isaiah as a stench in the nostrils of the Lord and a repulsive and sickening irritation to our Father's heart.. in the same way that the pungent smell of putrefying wood is a stinking irritation in God's nostrils: they are smoke in My nostrils, the Lord declares.
The former however, describes the consecrated man or devoted woman of God, who is described as being the beautiful fragrance of Christ. It is the born-again child of God who is growing in grace, standing firm in the faith, abiding in Christ and submitted to the leading and guidance of the Holy Spirit.
We discover that the Christian is also the fragrance of Christ to other believers, for we are one with Him. We are all part of the body of Christ and as such are united together in love. In the power of the Holy Spirit we are individually and collectively being transformed day by day into the likeness of Christ. And the more we mature in the faith and grow in grace, the more we are a fragrance of Christ among our brothers and sisters, who are also being sanctified, day by day.
However, we discover that to unbelievers, and those that are stubborn of heart, religiously arrogant and boastful of their independence from God, we are a stench in their nostrils and an aroma from death to death. To Christians we are an aroma from life to life but to the unsaved.. the Christian man or woman is a nauseating stench of death.. which leads to death.
How wonderful to realise that in Christ.. our ministry and mission is to show forth the fragrance of His love, not only with our lips but in our lives.. by giving up ourselves to His standard and service. What we say and what we do is a matter of life to those that are saved - and death to those that are lost in trespasses and sins.
May God use each on of us as a worthy witness to those that are perishing so that by grace through faith in Him, they may turn from their sinful ways.. trust in the Lord with all their heart and be born again into the family of God - to His praise and glory.
My Prayer
Heavenly Father, thank You that by faith we have become a fragrance of Jesus to our brothers and sisters in Christ. And Lord, for those that find us to be the stench of death in their nostrils, I pray that You would use us to witness to the truth of the glorious gospel of grace - so that together we may worship at Your feet - to the praise of Jesus Christ in Whose name we pray, AMEN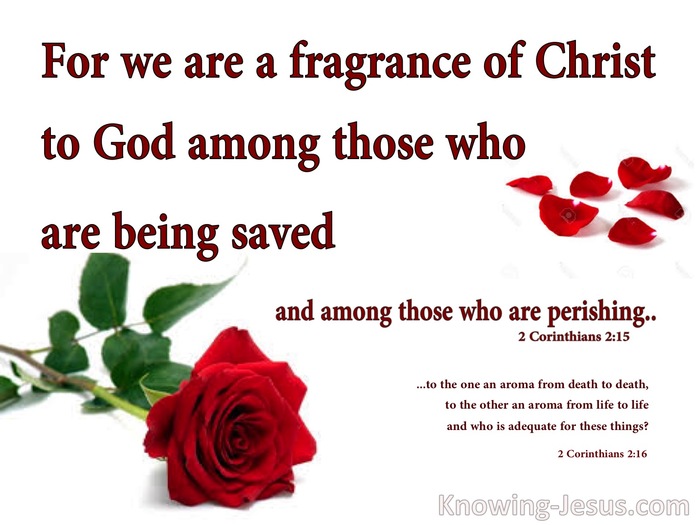 Choose a Verse from 2 Corinthians 2