This saying is trustworthy and deserving of full acceptance: "Christ Jesus came into the world to save sinners"-and I am the worst of them.

1 Timothy 1:15(HCSB)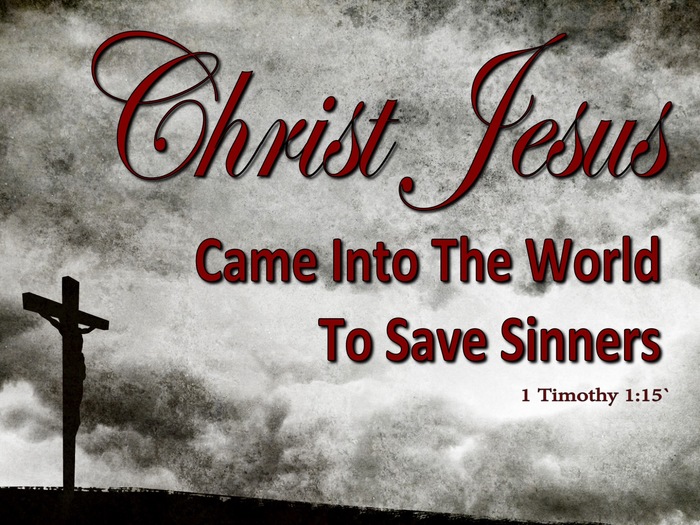 Verse Thoughts
A faithful and trustworthy saying in the Word of God, is a faithful and trustworthy fact upon which our life can be built; a truth that will stand the test of time; a reality given to us by God Himself; a dependable doctrine and a certain creed upon which to rest. That: 'Christ Jesus came into the world to save sinners,' is a faithful and trustworthy saying that is deserving of full acceptance, for it is the glorious gospel of God.
First we are hear the factual truth, for faith comes by hearing and hearing by the Word of God. But then we need to make the wise response, which is to fully and unhesitatingly accept, receive, embrace and take to heart the astonishing truth that these profoundly simple words proclaim. To take hold of them and to stand fast in their truth, with great joy, worshipful praise and reverential awe: that Christ Jesus came into the world to save sinners. 
A lifetime of contemplating these words could not transmit to our hearts the depth of meaning within this superlative statement. No wonder the exemplary life of the apostle to the gentiles, which could be described as 'perfect', as touching the Mosaic Law, lamented in poverty of spirit, that of all men he was the worst of sinners - among all of Adam's fallen race he was the chief offender of God's perfect Law.
Who would have looked into the manger that first Christmas day, and known that there, lying in swaddling clothes was the Saviour of humanity? Who would have imagined that this tiny baby was born to die for the sins of the whole world? Who would have known as they gazed on that tiny infant that: Christ Jesus came into the world to save sinners?
Who could have grasped that this sleeping babe, wrapped in that tiny bundle of swaddling bands, was God incarnate - the personification of God's love and grace and truth and desire. Who could have guessed this infant had a world mission and a universal message that would require that He be despised and rejected of men and that His sinless blood would be shed on Calvary's tree, so that every stained sinner that believes on Him would not perish, but have the power to become sons of God, even to them that believed on His name.
This is indeed a statement that can be trusted and is deserving of complete acceptance. It is a commendable and faithful saying, and worthy of full and universal acceptance: - this is indeed a noble and glorious truth that is deserving of full, totally and praiseworthy acceptance and deserving our eternal praise - that: Christ Jesus came into the world to save sinners; of whom I am chief.
My Prayer
Glory to God in the highest for Your plan of salvation and praise Your holy name that I have become Your child, simply because I trusted in the saving work of Christ on Calvary. Thank You for laying out Your wonderful plan in such simple terms that even I can understand it. In His name I fully accept this glorious, trustworthy truth - enable me to be a worthy witness of Your great redeeming sacrifice for the whole world, that whosoever-will may be saved. Use me Lord as Your witnessing voice in the world today, in Jesus name I pray, AMEN.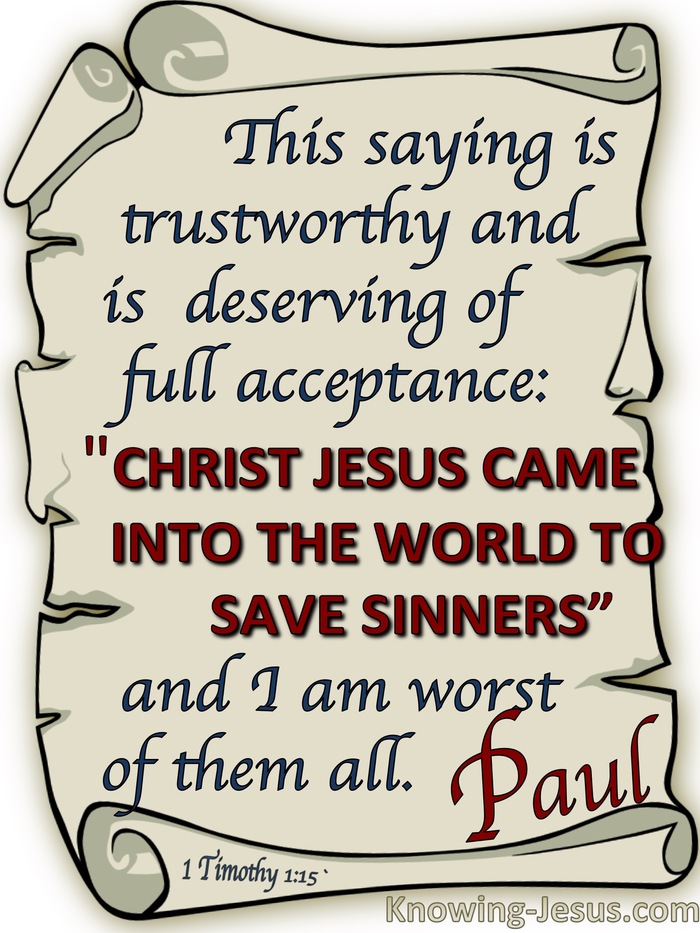 Choose a Verse from 1 Timothy 1