You are from God, little children, and have overcome them; because greater is He who is in you than he who is in the world.

1 John 4:4(NASB)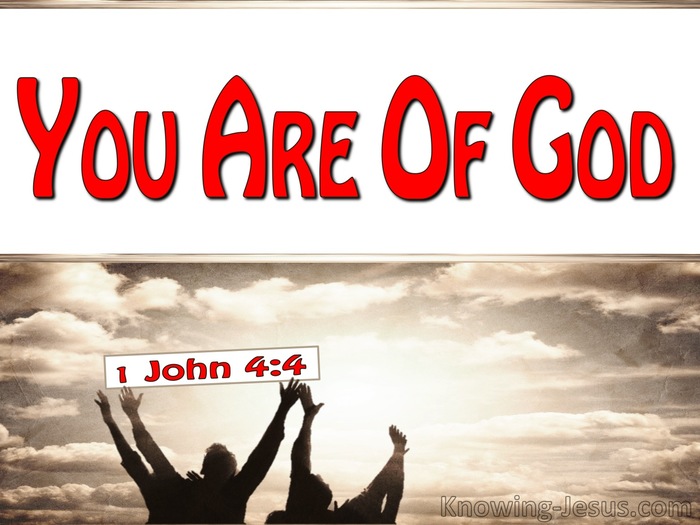 Verse Thoughts
We have moved from the kingdom of darkness into the kingdom of light. Our filthy covering of sin has been replaced with a robe of righteousness. We have been transferred from a position in-Adam, and have been positioned in-Christ - and we have left the family of Satan to become an eternally adopted children of God and a joint heir with Christ.
But there is more, for we have all been given the gift of the permanently, indwelling Holy Spirit of Christ, Who Himself triumphed over every proud principality and power, crushing the head of sin and darkness at that great Cross-Road of history - Calvary, when our Saviour victoriously pronounced: it is finished!
Because of our unmerited position in Christ and born-again relationship to the Father, we too can rejoice that in Him we have overcome every evil plan and all the wicked strategies of the enemy - that slimy serpent, who is called the devil and Satan. It is his deep desire to overwhelm every child of God with a deluge of schemes and strategies, errors and temptations.
But the armies of hell cannot prevail against the Lord and His Anointed, nor can he overcome the children of God, for the indwelling Holy Spirit of God is an ever-present Helper in times of trouble, and under the shadow of His wings we can cry, I will not fear, what can man can do to me, nor what the devil tries to do to me either - for greater is HE that is in me than he that is in the world
God has taken up residence in the hearts of all His children and we have become the dwelling-place of the all-powerful; all-mighty; all-knowing; all-gracious God - for did you not know that our bodies are the Temple of the Living God?
My Prayer
Thank You Father that I am Your child and for the wonderful gift of Your Holy Spirit, Who is living within my body to lead and guide and protect me. Thank You that no power in heaven or hell can match His greatness. Give me wisdom to resist Satan's wiles and to listen more earnestly to Your still small voice, in Jesus name, AMEN.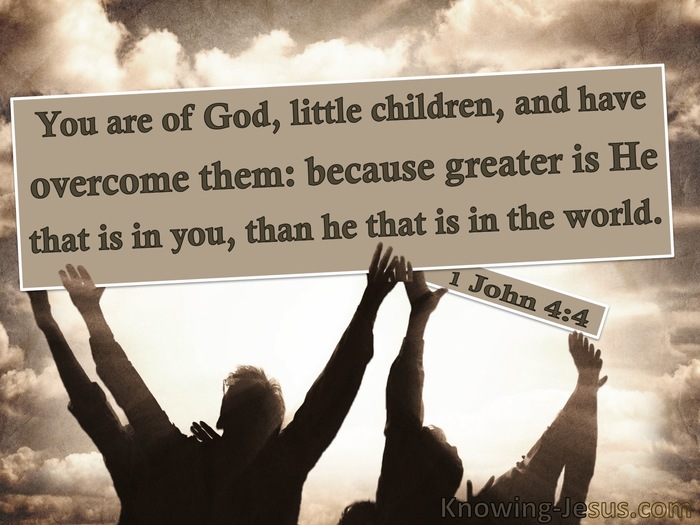 Choose a Verse from 1 John 4