By this you know the Spirit of God: every spirit that confesses that Jesus Christ has come in the flesh is from God;

1 John 4:2(NASB)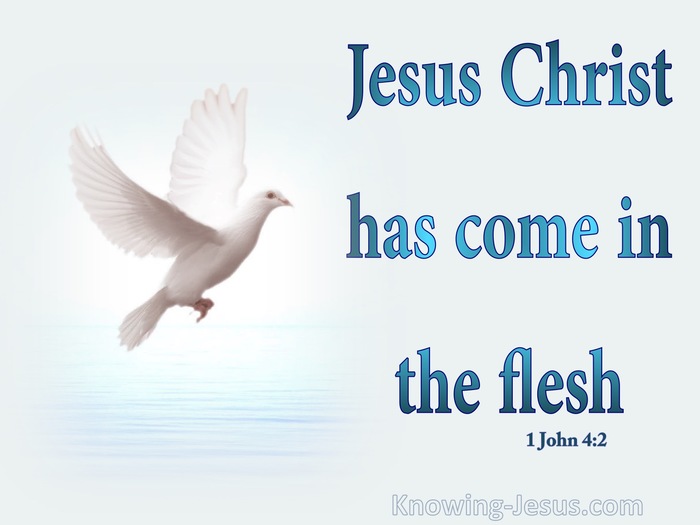 Verse Thoughts
Christendom is saturated with heretical and apostate teachings. The heretic believes but distorts God's Word and strays from the truth of scripture while the unbelieving apostate puts-on a garment of pretense with a subtle but deliberate intent to lead Christians astray. Both exemplify a ploy of the enemy to prevent genuine believers from entering into spiritual maturity and the fullness of Christ.
We are reminded in earlier verses that there are many spirits in the world that are not to be trusted and John points out the importance of testing every spirit to see if it is from God or from the evil one, for we are told that many false prophets and false teachers have gone out into the world with the deliberate purpose of teaching a false gospel under the pretense of being a true believer.
But through the pen of John, the beloved disciple, the Holy Spirit gives a simple rule to identify whether or not a professing believer truly has the Spirit of God. John give believers clear guidelines to discerning whether or not a doctrine being taught is really from the Lord. He tells us that every spirit that confesses that Jesus Christ is come in the flesh has the truth, for every person; every preacher; every teacher; every denomination; every doctrine: every spirit that does not acknowledges the humanity of God-incarnate in the Person of the Lord Jesus Christ, proclaims a false gospel and is influenced by a 'spirit' other than the Holy Spirit of God.
We do well to seriously reflect on this truth for scripture tells us that as the Church age comes to a close, apostasy; heresy; the doctrines of demons and all manner of false 'gospels' will infiltrate every sector of Christianity.
Let us hold fast to the truth and confess Christ crucified, as the anointed Messiah of God and the Redeemer of the world - for our Saviour Jesus Christ is Prophet; Priest and King. He is Son of God and Son of Man, very God of very God. He is the Word that came in the flesh, for He alone is our kinsman-Redeemer; our Lord and our God.
My Prayer
Dear Lord Jesus, thank You that You came in the flesh and died for me. Give me the wisdom and the insight to discern whether the teachings upon which I feed are of You. Protect my mind from all false teachings and may I grow in grace and in the knowledge of the Lord Jesus Christ, in Whose name I pray, AMEN.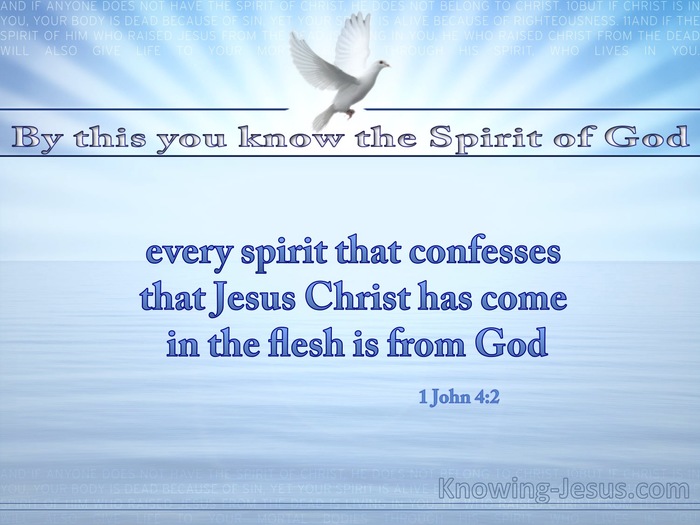 Choose a Verse from 1 John 4