There is no fear in love; but perfect love casts out fear, because fear involves punishment, and the one who fears is not perfected in love.

1 John 4:18(NASB)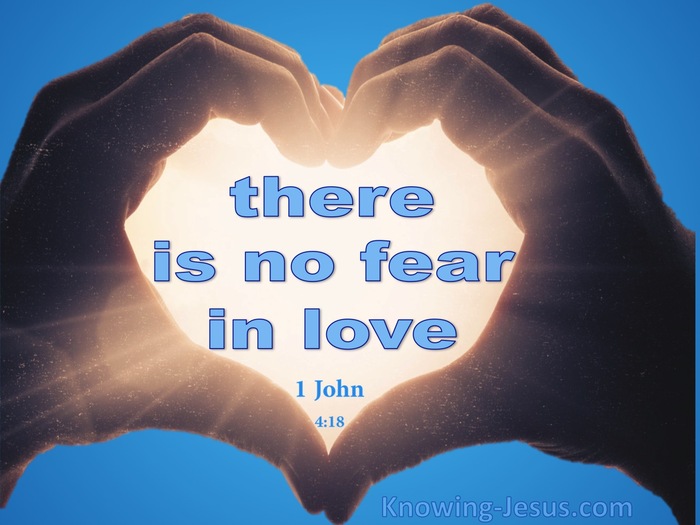 Verse Thoughts
Fear, guilt and shame cannot coexist alongside faith, hope and love. A confident loving-trust in God cannot cohabit alongside destructive fear, for the immeasurable strength from the power-house of God's perfect love overwhelms any negative influence of fear, rendering it powerless in the life of a believer.
Love is the fruit of God's Spirit and the fruit of love is not fear but complete and confident assurance in our Father and His word of truth. There is no fear in love; instead, the perfect love of God drives out all fear, and every aspect of Christ's redeeming work was designed to deliver us from every semblance of fear and all that might cause us to dread.
Jesus promised to be with us through all circumstances of life, so we should not fear. We are not to fear the things in life, nor any threat of death - nor are to feat what happens after death, for our confidence is in the Lord - He is our Defence and our Defender.
The one who has had his sins pardoned should have no fear of life or death or of what lies beyond the grave for our hope is in Him. Guilt and shame is the fuel that feeds the force of fear but the heart that overflows with the love of God need not fear His wrath; shrink from His chastening; fret about punishments nor dread Him as their Judge.
May we never forget that perfect love is not a selfish, immature childish love that tries to take advantage of a situation but a mature, adult, responsible love, a giving love - a gracious, for godly LOVE casts out fear; perfects the saint and is the greatest grace of all.
My Prayer
Loving Father, I am understanding more that the worries and fears of life and death are unfounded and exhibit a lack of trust in You. Thank You for loving me so much as to send Jesus to deliver me from all fears that enter my mind. May I come to a deeper realisation of the depth of Your superlative love for me, so that I may be used by You to love as I am loved, in Jesus name I pray, AMEN.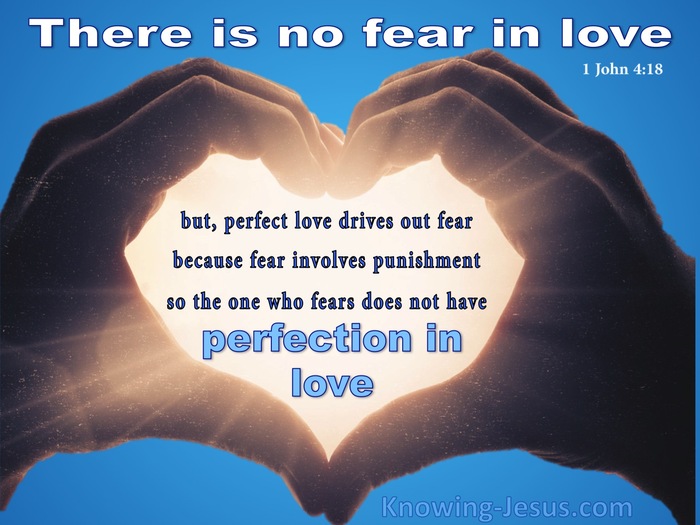 Choose a Verse from 1 John 4