In all your ways acknowledge Him, And He will make your paths straight.

Proverbs 3:6(NASB)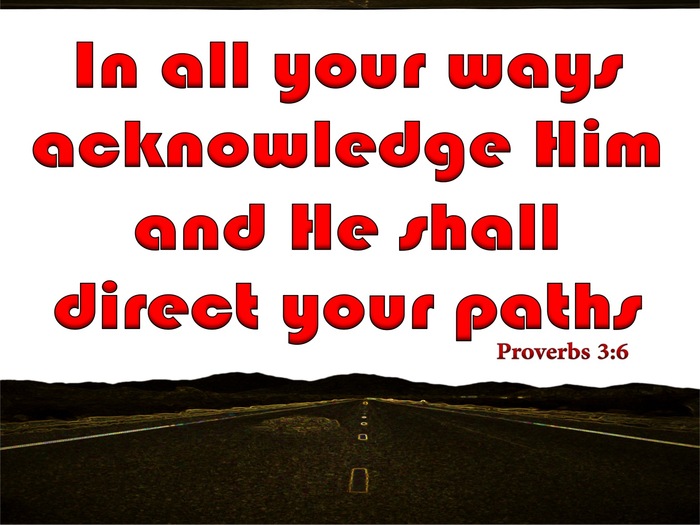 Verse Thoughts
Some years ago, I discovered a truth that removed forever any concerns I had about God's will for my life; which path to take; which direction to follow; which decision to choose. Some years ago, I discovered a principle that I have proved to be true on many occasions - When the eyes of our heart are focused on the Lord Jesus Christ, in love, and all we desire is to know Him more, and to please Him in everything we do, then it matters not which path you take for He will be there, leading you and He will be there guiding you, no matter what path you choose.
We are not only to turn to Him in times of crisis and distress, but we are to acknowledge Him in all our ways, whether pleasant or difficult, joyous or distressing, by developing a Christocentric perspective, in all we say and do and think.
So often in all our ways we acknowledge ourselves and direct our own paths, causing ourselves to stumble and to call out to the Lord for help, and all too often it is a crisis that we ourselves have caused. But human self-sufficiency and fleshly self-dependence is not what God wants to develop in us. He wants a total reliance on Himself, through an undivided heart that seeks HIM alone. He does not want a heart that is only interested in God's blessings. Acknowledging Him, means to take note of His instructions in the Word of God and to apply each principle to our own life - not in a legalistic way but simply because we love Him.
It is not in one way, or some ways, or many ways, or most ways that we are to acknowledge the Lord, but in all our ways. And when the eyes of our hearts are fixed on Jesus and He is the focal point of our soul in all things, then we find that He truly is directing our pathway.
When our love for Him becomes the single, central longing of our hearts then it matters not which way we choose to take, for we will find that He is there leading, directing and communing with us - in love.
My Prayer
Loving Father it is the desire of my heart to acknowledge You in every way, because I love You. Thank You that You are with me to lead and direct in all life's decisions. I pray that not only in the difficult times but in every situation of life that the eyes of my heart may be fixed on Jesus, in His name I pray, AMEN.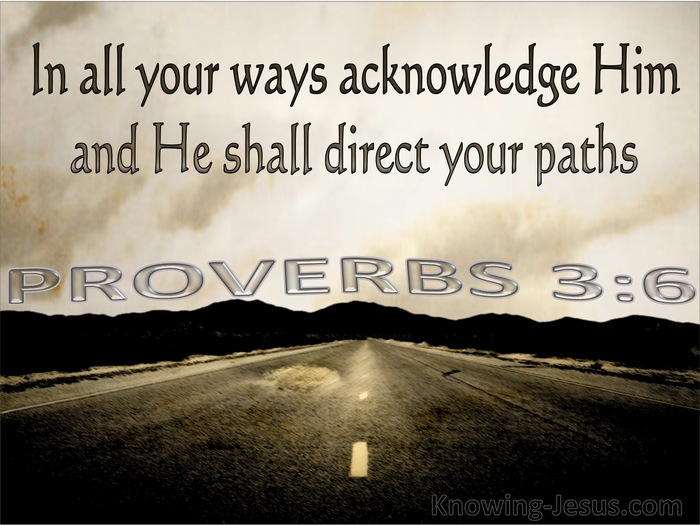 Choose a Verse from Proverbs 3