Jesus said to them, "I am the bread of life; he who comes to Me will not hunger, and he who believes in Me will never thirst.

John 6:35(NASB)
Verse Thoughts
Christ is not only the Giver and Sustainer of our lives, but He is our living nourishment - strengthening and sustaining us, in and through His everlasting, life-giving power.  Not only does Christ give us each day our daily bread, but He also imparts to us His life-giving Spirit, which is life-everlasting.
All are invited to feast at the banqueting table upon Christ on that Living Bread, Who came down from heaven from the Father of mercies - all that feast upon the Lord receive the eternal benefits of this life-sustaining heavenly manna - that true bread, Who satisfies the hungry heart with all good things.
Every word uttered by our dear Lord Jesus, is spirit and life to all who come to Him as Saviour. All those who feed on Christ will live forever, for Jesus said to those who followed Him, "truly I tell you, unless you eat the flesh of the Son of Man and drink his blood, you have no life in you", yet this was a hard saying and many turned and walked away from the Bread of Life, who alone is our life-sustained. Let us feed on Christ in our hearts, by faith with thanksgiving.
My Prayer
Loving Father Your Word is food for my soul and refreshment for my hungry heart.  Thank You for sending Your precious Son as my Bread that came down from heaven - in the Person of my Lord and Saviour Jesus Christ. Strengthen me with His Life day by day, in His name I pray. AMEN.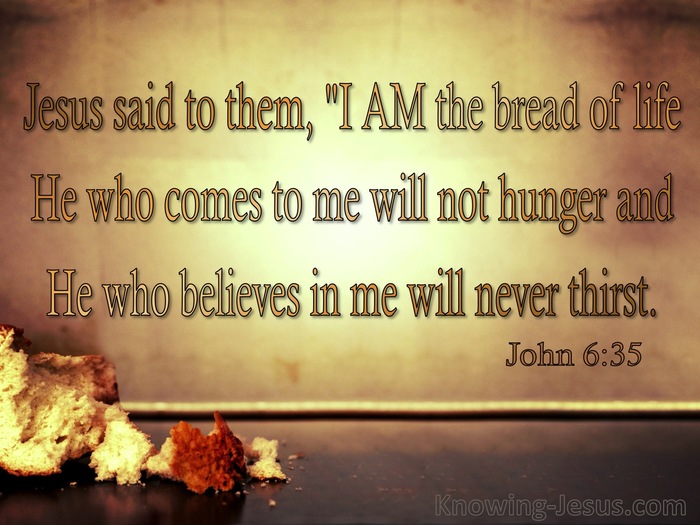 Choose a Verse from John 6