Hear, my son, your father's instruction And do not forsake your mother's teaching;

Proverbs 1:8(NASB)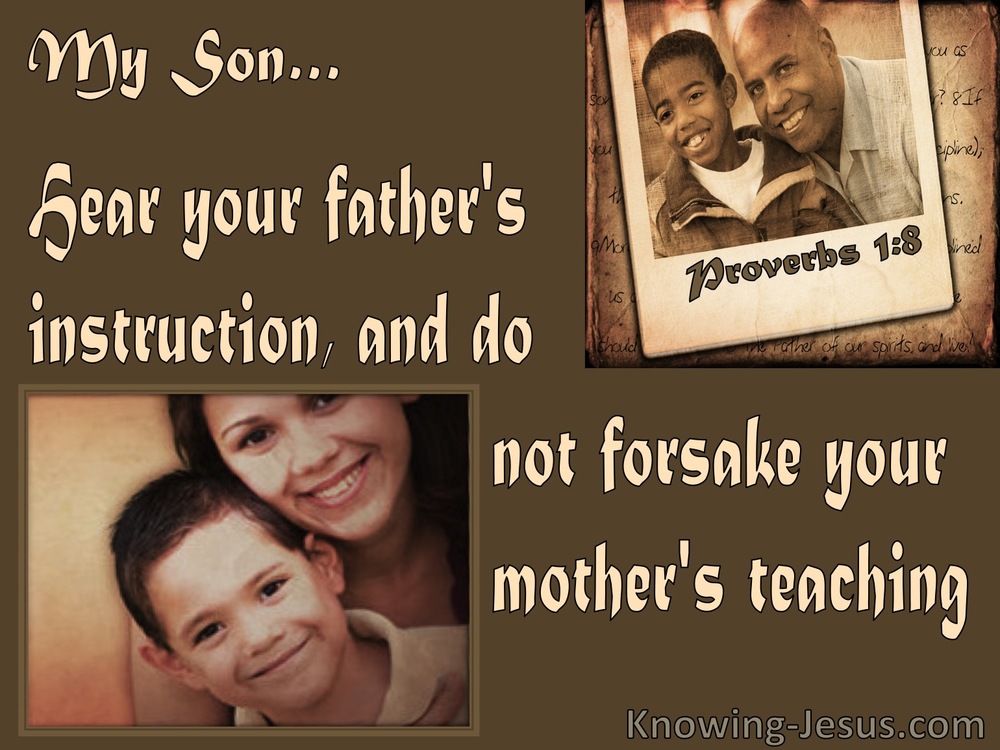 Verse Thoughts
The Bible talks a lot about hearing and listening, and very frequently it links wisdom with those that listen, and credits discernment to those that hear. Scripture encourages us to have ears to hear, and calls upon each one of us to pay attention to what the Spirit says to the churches. It reminds us that faith comes by hearing and hearing by the word of the Lord. It warns of the dangers of being blind to the truth and deaf to God's word
Those that pay attention to the words of Scripture and give heed to advice from godly mentors, are described as wise. Those that have a teachable spirit, and are endowed with understanding, are the men and women who learn godly wisdom and gain understanding. They are the one that know how to apply the knowledge they have been taught. They are the ones who respond to the still small voice of the Lord.
God in His own wisdom and grace set each one of us in families, and expects children to be taught the things of God from infancy.. by their parents. Children are expected to learn how to live godly lives, in their home environment. And throughout the early chapters of Proverbs, we discover the great king Solomon giving advice to his own son. Hear your father's instruction my son, is king Solomon's wise advice to his own offspring, and do not forsake your mother's teaching.
In Israel's early days God instructed parents to teach their children to commit the word of God to memory, to meditate on scripture day and night and to do all that is written, within the sacred text, so that they, and their children, may have success in life and live to the glory of God.
In the early church, we read of a young man called Timothy, who learned the Holy Scriptures from his mother Eunice, and his grandmother Lois. Timothy was taught scriptural truth from infancy, and as a result, he became a man who was used mightily of God, to preach the word of grace, and to teach others how to live godly lives - as Scripture instructs.
Training up children in the way that they should go is a biblical principle, that is acted out in the lives of many Bible characters. Indeed, the young Lord Jesus Himself, is a wonderful illustration of a child, who became knowledgeable in the Scripture - and competent in joinery, for He was described as 'the carpenter's son.'
During His ministry, men marvelled at His biblical knowledge and wondered at the gracious words that fell from His lips. And during His temptation, it was the Word of God that the Lord Jesus used, to counter every satanic temptation, and confound the enemy of His soul.
Solomon's directive to his son, was to pay heed to his own words of instruction, and not to forsake the teaching of his mother - and this should be a direction that is heeded by every youngster, both boys and girls. But it should also be something to which parents pay heed.. for it is as parents train their children in the way that they should go, that they have the Lord's assurance - that when they are old, they will not depart from it.
My Prayer
Heavenly Father, thank You for placing us in families and for giving us the understanding that parents are ordained by You, to train up their children in the reverential fear of the Lord. In a world where honour and respect for both parents and older mentors is becoming increasingly scorned, we pray that children and young people would be willing to listen to their fathers' words of instruction, and to hold fast to the teachings they receive from their mothers. We plead Your protection over Christian families everywhere, and pray that Your name would be honoured and respected by old and young alike - to Your praise and glory - this we ask in Jesus' name, AMEN.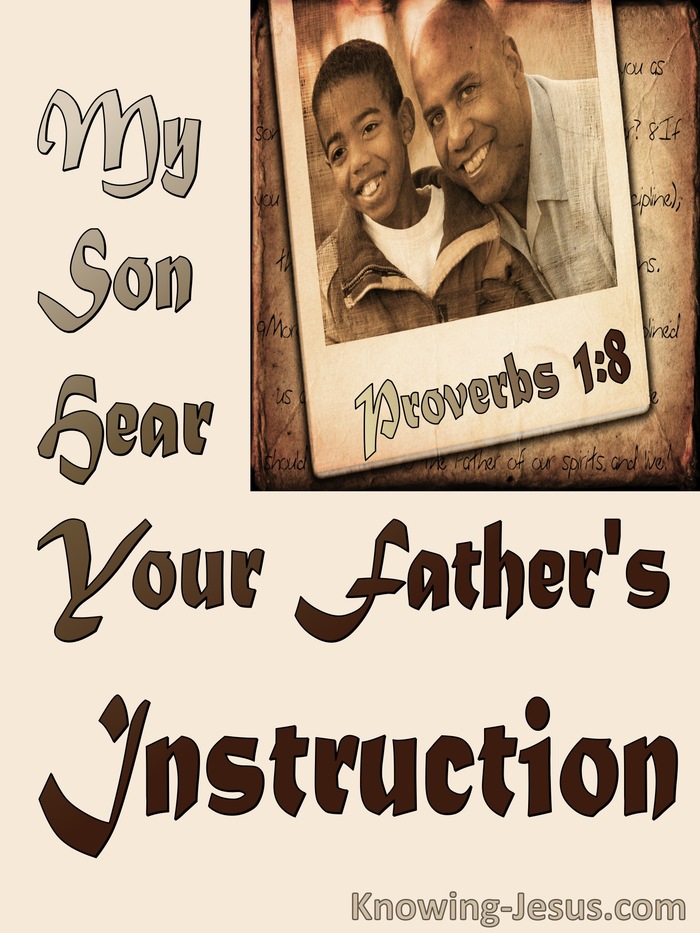 Choose a Verse from Proverbs 1