In the days of His flesh, He offered up both prayers and supplications with loud crying and tears to the One able to save Him from death, and He was heard because of His piety.

Hebrews 5:7(NASB)
Verse Thoughts
Jesus is the singular intermediary between God and man. He is the eternal God yet also, He is the perfect Man Who died for our sins and rose again from the dead. Jesus is the one and only Mediator between God and fallen humanity, seated on the right hand of the Majesty of high, and He ever lives to make intercession for those who believe in His name. When the enemy accuses us before the throne of God, it is Jesus Who stands in the gap. He is the One Who defends us and mediates on our behalf. 
From the start of Hebrews 3 to chapter 5 verse 10, we are given some important details and characteristics about the Person and work of the Lord Jesus. He is our faithful and compassionate High Priest, He was tempted like we are and yet did not sin, and He became the ultimate sacrifice for our sin. He is the Lamb of God... slain from the foundation of the world, Who takes away the sin of the world. 
In this section, we are warned of the dangers of unbelief while being reminded that it was God the Father Who appointed the Lord Jesus to His elevated position, where He functions as our eternal High Priest after the order of Melchizedek. Unlike Aaron whose priesthood was limited, inferior, and temporary, Christ's high priesthood is permanent, vastly superior, and will last forever and ever.
It was God the Father Who gave His only begotten Son to be the Child, born into the world as the sacrifice for sin. And it was the Lord Jesus Himself Who gave His life as a free-will offering and oblation, out of love for the Father, to pay the price for the sin of the world.
His sacrifice was a sweet-smelling savour to God, but we read in this verse that, "during His earthly life, He offered prayers and appeals, with loud cries and tears, to the One who was able to save Him from death, and He was heard because of His reverence."
None of us can begin to comprehend what it cost the eternal Son of God in those days of His flesh. He was the Almighty, eternal Creator of the world, Who laid aside His heavenly glory to be made in the form of a man, so that He could lead a perfect life, die a substitutionary death, and demonstrate the way we should all live as God intended man to live - trusting Him entirely and living in active dependence upon Him.
Jesus, being the incarnate Word, is the perfect example of how to live a holy life of active dependence on God. During His time on earth, He lived by faith... saying only those things the Father said and doing only those things the Father did. He humbled Himself by becoming obedient to the point of death on a Cross, and was able to say, "Thy will not Mine be done for Your glory."
He did everything the Father told Him to do... willingly. Jesus was actively dependent on the Father and lived moment by moment in spirit and truth. He maintained fellowship, received guidance, and was given instruction and power from His heavenly Father. He came to fulfil His Father's will, and it was in the garden of Gethsemane and on the Cross of Calvary, that Jesus in His humanity, "offered up both prayers and supplications with loud cries and tears, to the One Who was able to save Him from death - and He was heard because of His piety."
Christ's entire life was one of prayer and praise, thanksgiving and worship, and the prayers and supplications offered in the garden and on the Cross were not only a sacrificial offering to His Father, but were accompanied by strong cries and tears.
No wonder His prayers were accompanied with strong cries and tears. Jesus knew that the pure, unbroken communion He had enjoyed with the Father from eternity past was soon to be severed, while the floodgate of sin was to be poured over Him and His Father would have to turn away from the Son of His love. He could easily have called on legions of angels to rescue Him from the death sentence He willingly accepted on your behalf and mine.
His faith was sorely tested throughout this ordeal, but God loved the word so much that He gave His Son to be the propitiation for our sin... and Christ loved the Church so much that He gave Himself up for her. No wonder He offered up prayers and supplication with loud crying and tears... and how we praise and thank God that He commended Himself into the hand of GOD - Who is the One Who is able to save Him from the eternal consequences of death - and that through faith in Him our salvation is secured.
Only GOD was good enough to pay the price for sin, but only a perfect MAN... a pious MAN... a sinless Kinsman-Redeemer could act as a substitute for fallen sinners. And because of his reverend submission to the Father and unfailing trust in Him, Christ's prayer was heard and Jesus became the first-fruit from the grave - the first MAN to rise from the dead - thus breaking the power of sin, Satan, death, and hell for ALL who place their faith in HIM.
On that astonishing and holy day, Christ Jesus became our heavenly high Priest, after the order of Melchizedek... and today there is a Man in heaven, seated on the throne of Almighty God, acting as our Mediator and interceding day and night, for ALL who are His - praise His holy name.
My Prayer
Heavenly Father, there are no words to express my grateful thanks, as with astonished awe and wonder I consider Jesus, my heavenly high Priest, Who in the days of His flesh offered up prayers and supplication with loud crying and tears as He faced the Cross and was made sin on my account. Worthy is Jesus, the Lamb that was slain, to receive all honour and glory and worship and praise and majesty, dominion and power for ever and ever, AMEN.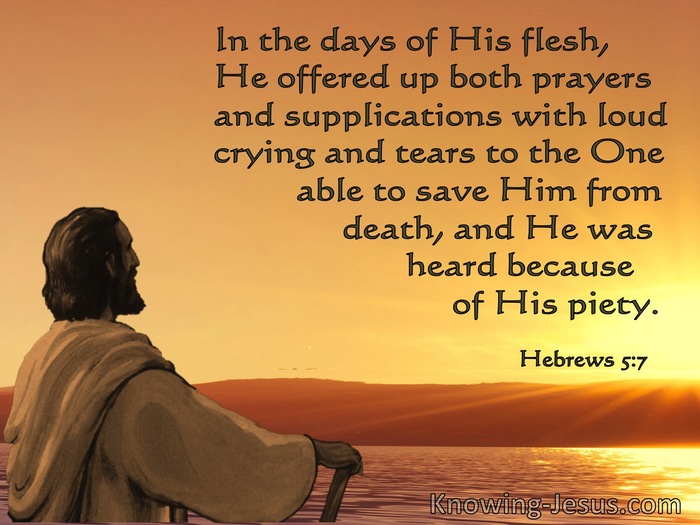 Choose a Verse from Hebrews 5