Instruct those who are rich in this present world not to be conceited or to fix their hope on the uncertainty of riches, but on God, who richly supplies us with all things to enjoy.

1 Timothy 6:17(NASB)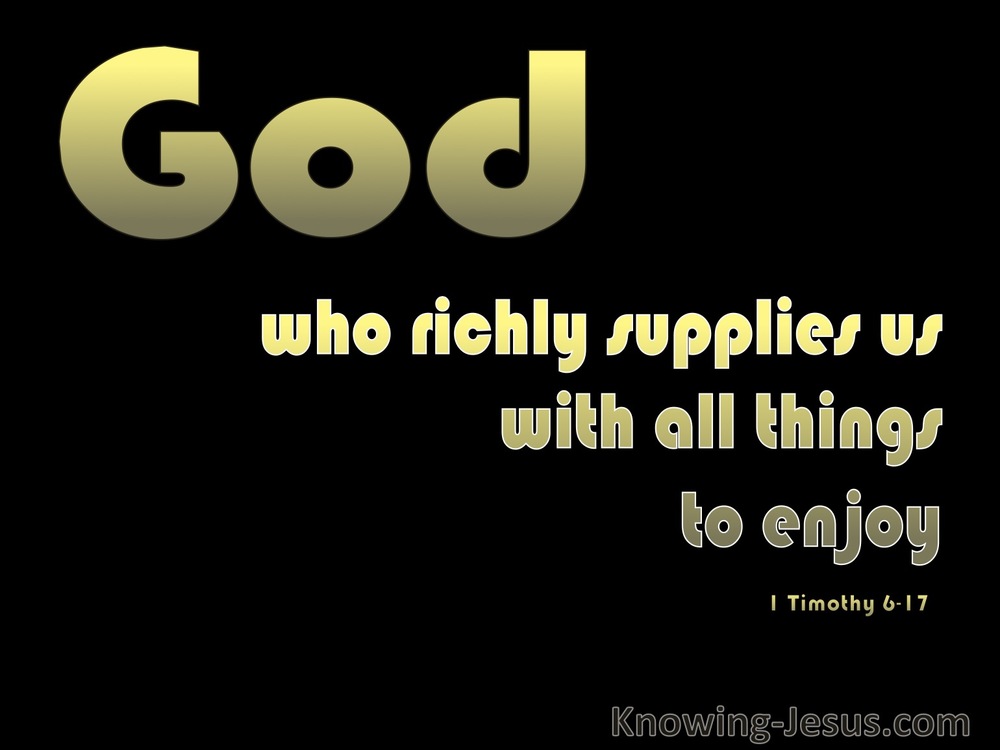 Verse Thoughts
All wisdom is from God and all that we need for our learning is given in His Word. The fear of the Lord is the beginning of wisdom, and the knowledge of the holy is understanding – and it all comes back to trusting the Lord at all times and for all things.

So often we are reminded to trust in the Lord with all our heart and not to rely on our own abilities and understandings and how frequently we are implored to cast all our cares and concerns upon Him, knowing that He cares for us; provides for us; defends us and upholds us. And yet the world seeks after other sources of wisdom and the grand accumulation of worldly wealth, and the world system seeks to impose this pagan mindset upon all the children of God.

But God's ways are not mans' way and He knows that the wisdom of this world is foolishness and that the greedy accumulation of worldly wealth is vanity, for it develops in the proud hearts of men an independence from God that is unwise, unpredictable and will result in certain calamity.

The writer of Proverbs prays for neither poverty nor riches, but rather requests from God, his daily bread. Accumulation of riches encourages a self-sufficient, independence from God. And though exaggerated lack can sometimes provoke a trusting reliance upon the Lord it can often evoke a murmuring, discontented heart of unbelief. Yet real wisdom is trusting the Word of the Lord in all things and believing that He will supply all that we need in this world, according to His riches in Christ.

The wealth of this world is passing away, but the riches of God that are ours in Christ are eternal. We should place neither trust in our own sufficiency nor fix our hope on what is fading away, but trust the Word of the Lord, which reminds us that our faith in today's provision is from His gracious hand, and that our secure hope for the future is in Jesus Christ alone.
My Prayer
Loving Father I know that I live in the world and can be influenced by the false schemes and lying strategies of this present evil age, which can cause me to take my eyes off You. Thank You for Your gracious provision and may my reliance rest on You completely, in Jesus name I pray, AMEN.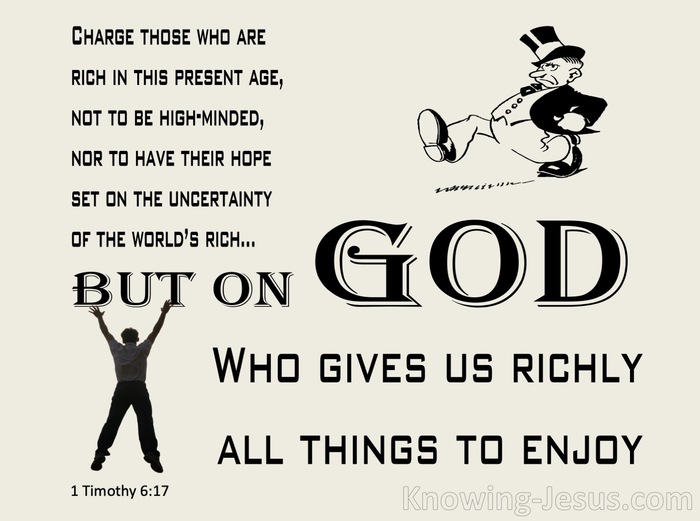 Choose a Verse from 1 Timothy 6