Who can say, I have made my heart clean, I am pure from my sin?

Proverbs 20:9(KJV)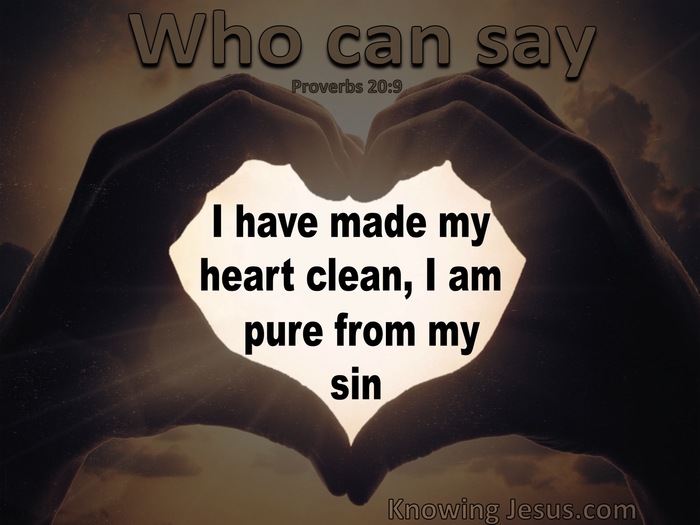 Verse Thoughts
The tenor and temperature of this question is such that the answer must be, no-body. No one can boast: I have made my heart clean, I am pure from my sin. No-one can claim to have a heart that is not stained with sin for all have sinned and fall short of God's glory. None can claim purity of heart for there is no one who is perfect and pure – God alone is holy and good and we all stand guilty before His righteous eyes.

Indeed it is not only the heart that is stained with sin but the mind, the conscience, the emotions, the will and the inner being of all human-kind. But this is a rhetorical question. God is not seeking an answer from man for He can read the very thoughts of our hearts before they are formed in the mind of man's being – He can interpret the imagination of our mind and the motive behind our choices before it germinates into a thought.

God is not expecting a reply from the lips of sinful man – for every mouth is silenced before our holy and righteous God. But neither is this a cruel accusation from God. He knows we are born into a sinful race and can never change the blackness of our sinful nature nor cleanse our heart from darkness.
But He has given us volition – He has endowed us with a free-will to choose to acknowledge Him as Creator and to humbly accept His free gift of salvation by grace, through faith in the death burial and resurrection of our Lord and Saviour Jesus Christ.
My Prayer
Loving Father how I thank You that You have cleansed my heart, forgiven my sin and have made me pure within, through the sacrifice of the Lord Jesus on the cross.  I thank You that because of Him, I am accepted in the Beloved and clothed with His righteousness. Thank You Father, and it is in His name I pray, AMEN.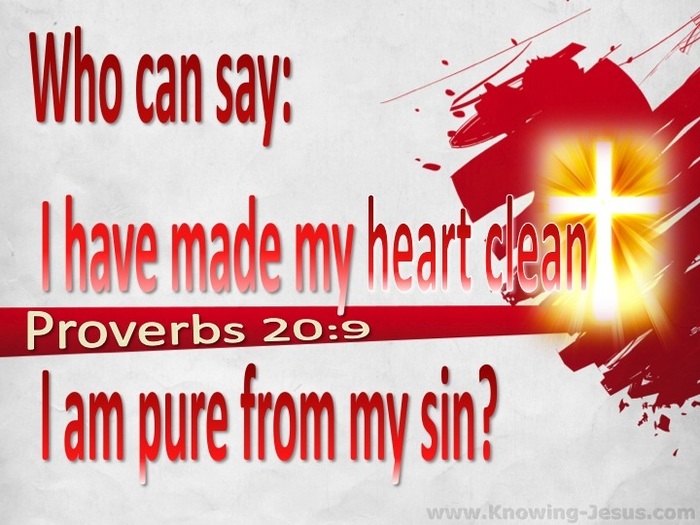 Choose a Verse from Proverbs 20