I thank my God in all my remembrance of you,

Philippians 1:3(ESV)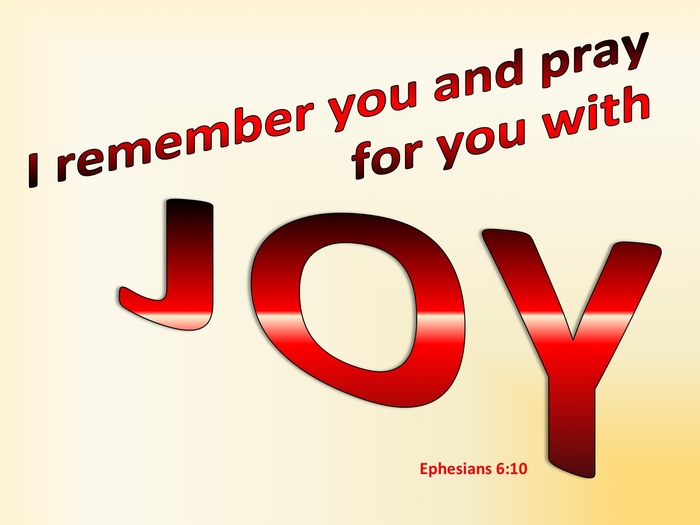 Verse Thoughts
Paul understood that without Christ he was nothing - but that he could do all things through Christ, Who strengthened him, for His grace is sufficient. And Paul rejoiced with great joy when he remembered the Christians who had heard and believed the glorious gospel of grace, and had started on their life-long journey towards spiritual maturity and Christian understanding. How he rejoiced to know that these believers in Philippi were growing in grace and in a knowledge of the Lord Jesus Christ.

It must have been a great joy for the Philippian Christians to receive and read this encouraging epistle from Paul and to know that despite being imprisoned in Rome for the sake of the gospel of Christ, he cared deeply for them, prayed for them faithfully and was deeply and genuinely concerned about their spiritual welfare.

Paul was the chosen vessel of God to take the good news of the gospel of grace to the gentiles, and what a wonderful example he is, of a man whose love for the Lord Jesus was demonstrated through his caring concern for those who had been brought into a saving faith in Jesus Christ. Indeed, the same love for the saints and compassion for the body of Christ that we see in the life of Paul should be reflected in our own attitude towards our brothers and sisters in Christ. We too should show the same godly grace towards our Christian brethren, and like Paul we too should keep one another in joyful remembrance and regularly lift up the body of Christ in prayer and supplication to our Father in heaven.

Memories of Christian brothers and sisters should be bathed in love and grace, forgiveness and faith. Supplication should always be accompanied with joyful thanksgiving and grateful praise. The joy of the Lord is indeed, our strength and joy in the Lord should flood our beings, when we remember all that He has done for us all, and the good work that He has started in each of His blood-bought children.
My Prayer
Thank You Father for Your Church, which is the body of Christ and the family of God into which I have been born. As I lift up the pressing needs and requests of my brothers and sisters in Christ, may my prayers be bathed in love and grace, forgiveness and faith and may I always remember to beautify my prayers with joyful thanks and grateful praise, in Christ's name I pray, AMEN.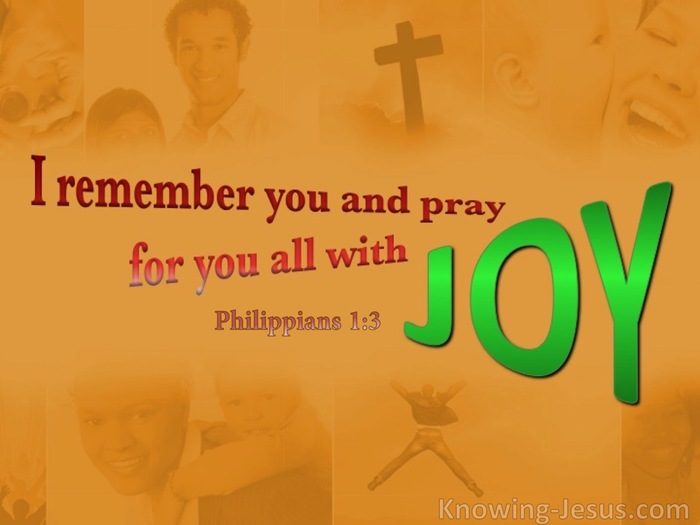 Choose a Verse from Philippians 1