being filled with the fruits of righteousness, which are through Jesus Christ, unto the glory and praise of God.

Philippians 1:11(ASV)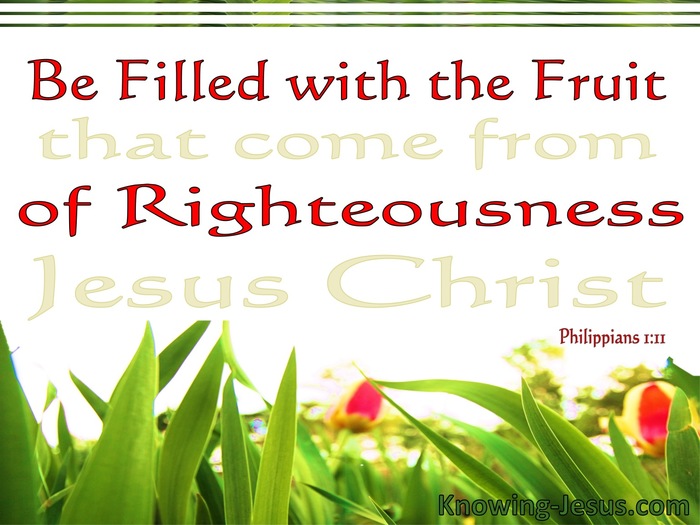 Verse Thoughts
The work of salvation, which changes a sinner into a saint and transfers a person from the kingdom of darkness into the kingdom of God's dear Son, is a once-for-all work of God Himself in the life of a believer. Justification has nothing to do with our own merit or good works but has everything to do with trusting in the finished work of Jesus Christ on Calvary's cross. He did it on our account freely and without cost – so that He could carry out His good work in us and produce in us the fruit of righteousness.
As believers in the Lord Jesus Christ we are given many blessings and many precious promises. One is the glorious garment of His righteousness, which is immediately bestowed on all who trust in Jesus Christ as Saviour, and which gives us fellowship with our Father in heaven.
Another blessing from above is the immediate and permanent indwelling of the Holy Spirit, Who throughout our life develops in us the precious fruit of His righteousness. As we yield our hearts and lives into His leading and guiding, so the righteous fruit of His Holy Spirit will begin to be fashioned and formed in our life.
As we abide in Christ and He in us, it will begin to bud and blossom and bring forth the fruit of His righteousness, which gives great glory to the Lord – so that out from our inner being will flow rivers of His righteous blessings – through us, to others, with whom we come in contact.
The fruit of righteousness is manifest in many different ways, but it can never be brought forth in our own strength or by our own self-efforts and fleshly works. The fruit of righteousness is not a patched-work of religious activities and prideful practices but evidenced by the one who walks humbly before the Lord, and whose heart aches to see lost souls, won for Christ.
The fruit of righteousness is shown forth through the praises of our lips and the beautiful fruit of the Spirit, which is rooted and grounded in godly love. May we be filled with the fruit of righteousness that only comes through Jesus Christ—to the glory of God and to the praise of His holy name.
My Prayer
Dear Lord, thank you for imputing me with Christ's righteousness as a free gift of grace. I now offer myself to You. Use me as You will I pray, so that throughout my life the fruit of Christ's righteousness will grow and produce fruit in me - much fruit, and even more fruit, to Your praise and glory, in Jesus name I pray, AMEN.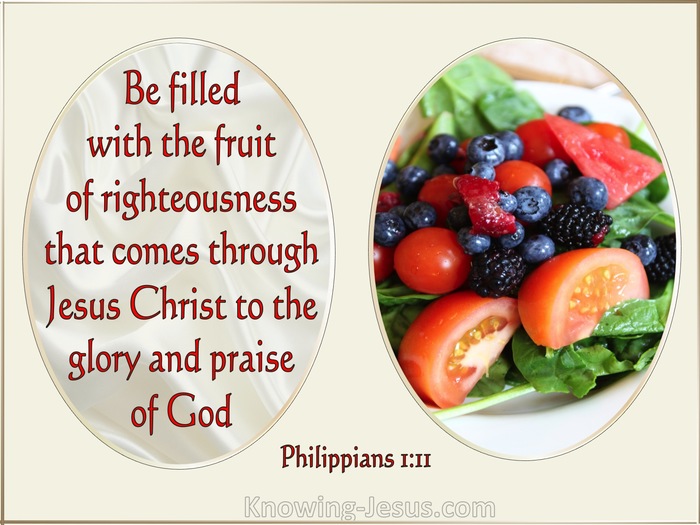 Choose a Verse from Philippians 1