Every good gift and every perfect gift is from above, coming down from the Father of lights, with whom can be no variation, neither shadow that is cast by turning.

James 1:17(ASV)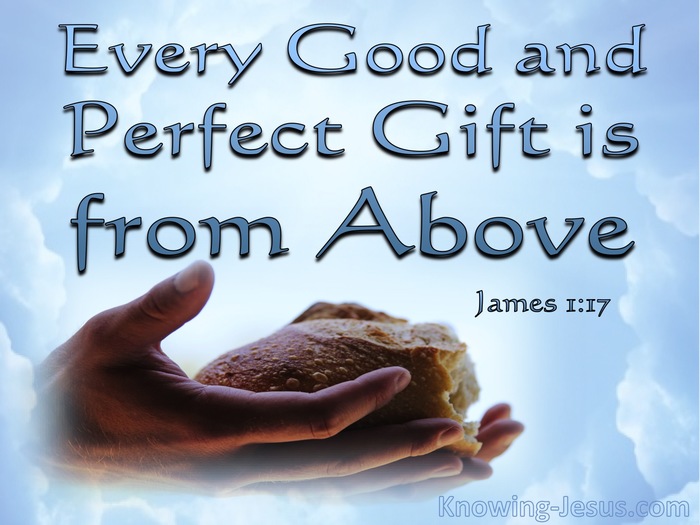 Verse Thoughts
God is good, and in the beginning, He created the visible light of the sun, and the moon, and all the heavenly bodies, for warmth and heat and to brighten our pathway on earth. But He is the same One Who illuminates our spiritual understanding for His Word is a lamp to our feet and a light to our path - and through His Holy Spirit we are guided into all truth.
God sheds on us the light of His love and purity, and the gifts of His goodness and grace – for every good gift and every perfect gift come to us from the Father of lights – our Heavenly Father, Who is the same yesterday, today and forever, and Whose goodness and grace towards the children of men, never changes.
There are those who start to blame God, without realising that we are born to live in a fallen world, where self-imposed sin or the wrongdoings of others causes mischief and distress in our lives and in the lives of those we love. But although the enemy of our soul may afflict us with temptations and trials, God is good - and in His goodness and grace, He will use those trials to test our faith and develop in us spiritual endurance that bring us into a maturing faith in Him.
The One Who is the Creator of heavenly light is the same One Who is the Author and Finisher of our faith – and His Word is Faithful and True. He is our God, Who will never renege on His promises nor will He default on His goodness and grace, for there is no trace of turning with Him.
He is the immutable God Who is eternally unchanging; never altering in His character, never failing in His promises and never ceasing in His goodness and love towards us: - for every good gift and every perfect gift come to us from our heavenly Father of lights, in Whom there is no variation, no inconsistency or shifting shadows, for as He proclaimed of old: I AM the Lord and I Change not.
My Prayer
Heavenly Father, in a world where all around us is change and decay, uncertainty and difficulties - how we thank and praise You that Your goodness and grace are never-changing and that You are our ever-present help in our troubled times. Even when my faith wears thin and my love grows cold. I thank You dear Lord that You are my unchanging God, my unchangeable Provider and the Lover of my soul. Praise Your holy name, in Jesus name I pray. AMEN.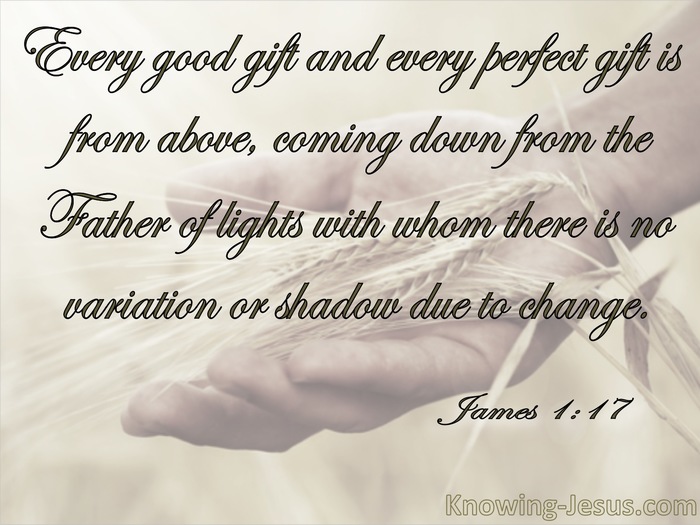 Choose a Verse from James 1