Oil and incense bring joy to the heart, and the sweetness of a friend is better than self-counsel.

Proverbs 27:9(HCSB)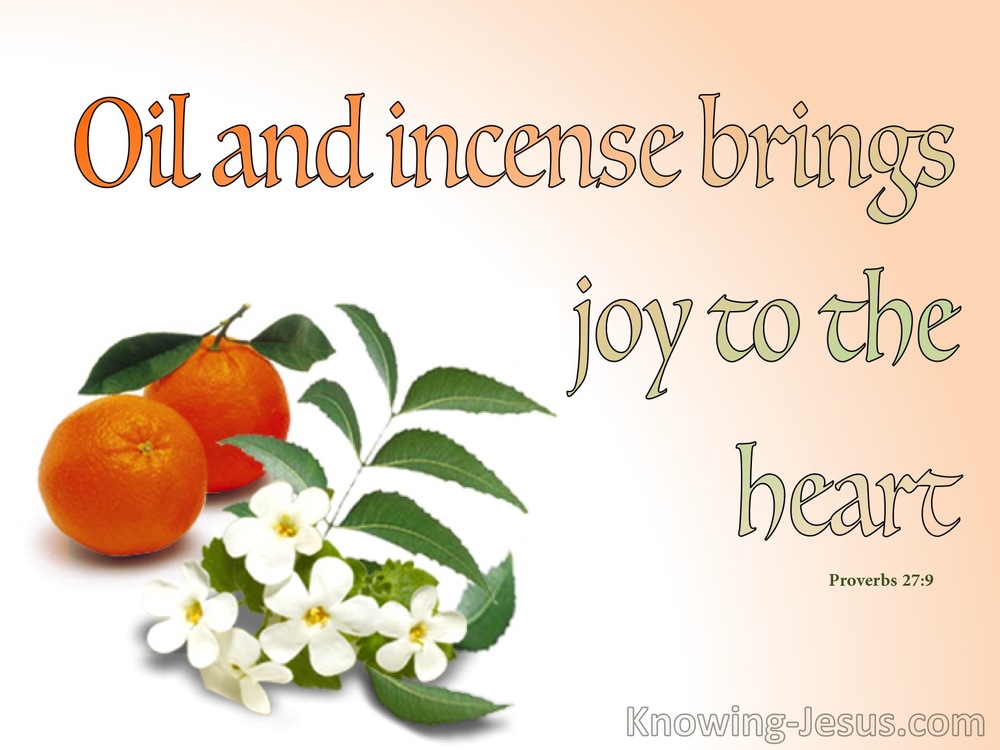 Verse Thoughts
The oil with which Mary anointed the head and feet of the Lord Jesus not only filled the house with the lingering fragrance of sweet perfume but it flooded His heart with joy, for she had become a beloved friend that sat at His feet and bathed in His wonderful words of wisdom.
What a beautiful picture this presents of the joy and gladness that fills the heart of a man or woman, when a beloved Christian friend or dear brother in Christ combines gracious acts of kindness, wise advice, words of encouragement and genial counsel with the glorious gospel of Christ in order to edify and encourage or even to correct.
In the scripture the oil of gladness and incense of joy, are so often seen as the adornment of the man or woman that loves righteousness and hates wickedness, while the perfumer's ointment and sacred anointing incense is frequently seen in Scripture, ascending up to the Lord as a good and acceptable, freewill offering; a love offering – a burnt sacrifice and sweet-smelling savour that is so pleasing in the sight of the Lord. 
How true that the genuine counsel, caring words or gentle correction of a good an honest friend becomes the oil of gladness, and a sweet-smelling perfume of costly spikenard.
All too often the counsel that we receive from others, even Christian brethren can come with a barbed delivery, causing pain and often leaving a bitter taste. This ought not to be - but let us seek never to return evil for evil but to seek to bring the joy that comes from the Lord, to the heart of all our brothers and sisters in Christ.
Let us become that friend that is kind one to another and that sticks closer than a brother. Let us be that friend that brings forth the sweet aroma of Jesus, as He lives in and through us.
My Prayer
Loving Father, thank You that in Christ I have a friend that sticks closer than a brother. Help me to reflect You in all I do, so that I show forth the grace of Jesus to all I meet, and may my life be that sweet-smelling savour to others and to You, as I abide in Christ, in Jesus name I pray. AMEN.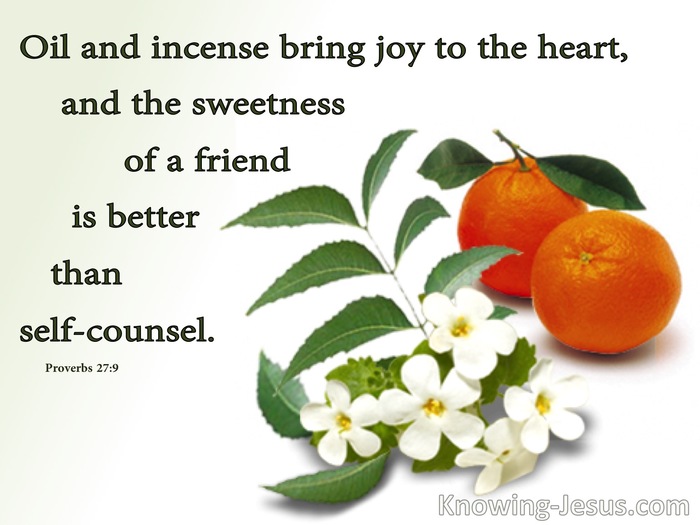 Choose a Verse from Proverbs 27