For this reason also, God highly exalted Him, and bestowed on Him the name which is above every name,

Philippians 2:9(NASB)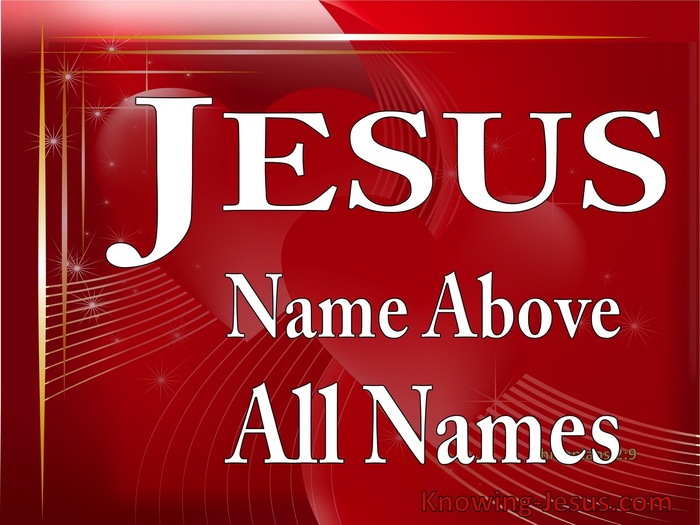 Verse Thoughts
Divinity's Son-of-God became humanity's Son-of-Man by setting aside eternity's glories, to be clothed in humility; in poverty; in suffering and in death. It is for this very reason that God in His wisdom and justice has raised Him up and honoured Him above all that is in heaven, on earth or under the earth, whether it be men or angels; heavenly principalities or earthly thrones - for He alone is to be highly exalted and worshipped, both in His humanity and in His deity, for He alone is God Almighty, the Lord of heaven and earth forever and ever amen.
Christ's human nature in union with His divine attributes has been highly exalted by the Father, Who has placed all authority; might; majesty; dominion and power into His worthy hands - and His name shall be called Jesus for He shall save His people from their sins.
The simple, common, everyday name of 'Jesus' has thus become the name that is greater and more eminent than every other name that is named - for His name is to be the most excellent name that is named in heaven or earth, throughout time and into eternity.
How sweet that name of Jesus sounds in a believer's ear, for His name combines the holy and eternal attributes of the Godhead with every single spiritual fruit that God requires from man. What music is the lovely the name of Jesus in the ear of a sinner, saved by grace, for it calms all sorrow, heals each wound and drives away all fear.
The life of the Christian should reflect his Lord and the attitude of Jesus should be mirrored by the life of every believer, and yet His was a life of deep pain and intense suffering His was a life of humiliation and rejection, betrayal and death. But His life of humiliation and death preceded His glorious resurrection and exaltation, and we too must share in His suffering and die to self if we are to live in newness of life and become a lovely reflection of the beautiful Lord Jesus Christ.
My Prayer
Thank You Father that all I need can be found in Jesus. I pray that I may decrease, and He may increase in all I think and say and do, until Christ is seen in me, to Your praise and glory. In the lovely name of JESUS, I pray - AMEN.
Choose a Verse from Philippians 2