And thou shalt love the Lord thy God with all thy heart, and with all thy soul, and with all thy mind, and with all thy strength: this is the first commandment.

Mark 12:30(KJV)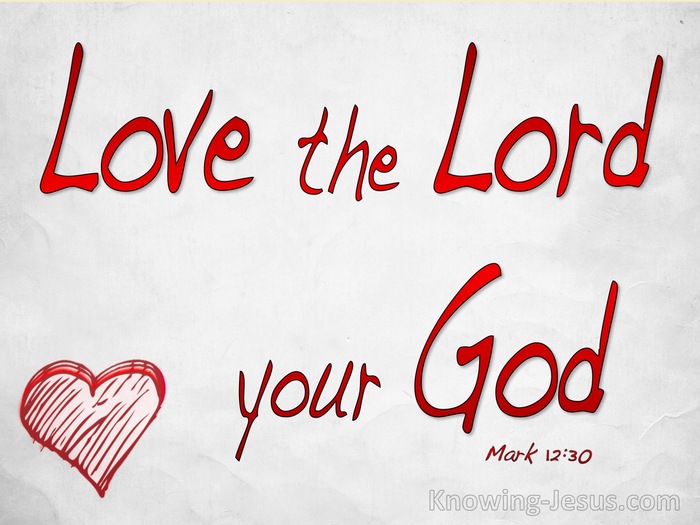 Verse Thoughts
The very nature and heart of God is eternal LOVE and this sublime attribute permeates every other of His superlative qualities. This greatest of all commands to LOVE the Lord our God, embraces and intertwines with every other facet of His beautiful, eternal character.
Love is the alpha and headspring of the fruit of the spirit. Love is the superlative and pre-eminent affection of the soul. Love is the peak and pinnacle of a life that is hid with Christ in God. And when all is brought to completion there remains these three: Faith and Hope and Love - but the greatest of all is LOVE.
God desires that we love HIM to the very heart and core of our being, so that the deepest affection of our souls is securely centred with love on Him. God also desires that we love Him with every fibre of our intellect and understanding so that our moment-by moment thoughts and cognitive ponderings turn in love to His beautiful Person, with an undivided mind.
Jesus identifies this as the greatest of all the commandments that were given to Israel through Moses: Hear, O Israel! The LORD is our God, the LORD is one! You shall love the LORD your God with all your heart and with all your soul and with all your might. but Jesus goes even further for as well as loving the Lord with all our heart and soul and strength He adds that we are to love the Lord our God with all our whole mind and intellect as well.
It is out of His deep and everlasting love for us that He commands this level of affection from His children - for He knows it is only as our love is centred upon Him, will our lives be transformed into the image of the likeness of the only begotten Son of His Love.
Only as our thoughts and desires are focussed on HIM will we grow in grace and in a knowledge of our lord and Saviour Jesus Christ – only as we love the Lord our God with all our heart and with all our soul and with all our mind and with all our strength, will our love by centred on Him, and our lives be transformed into the image of the likeness of the only begotten Son of His Love.
My Prayer
Father God I know that my love is weak and cold by comparison with Your yearning heart of love towards me, which is expressed in the incredible gift of the Lord Jesus as my substitute and saviour. I want to love You more and more with every facet of my life, in thought and word and deed. Pour into my heart Your holy love that I may be used as a channel, to pass Your love out to those that I meet today – in Jesus' name. AMEN.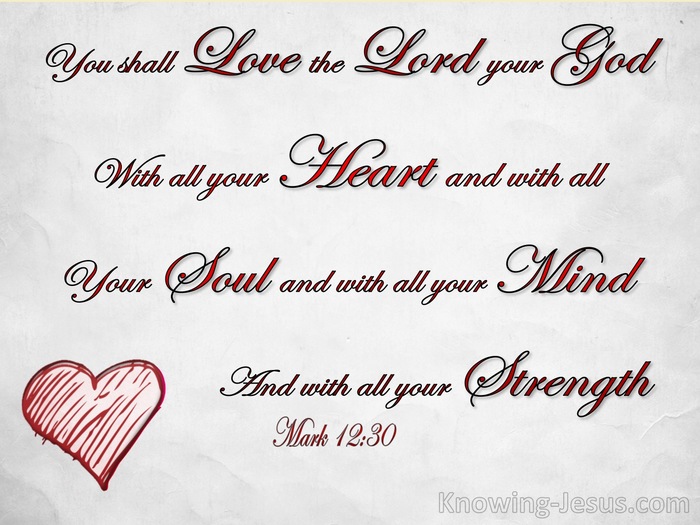 Choose a Verse from Mark 12