'I am the LORD your God, who brought you out of the land of Egypt so that you would not be their slaves, and I broke the bars of your yoke and made you walk erect.

Leviticus 26:13(NASB)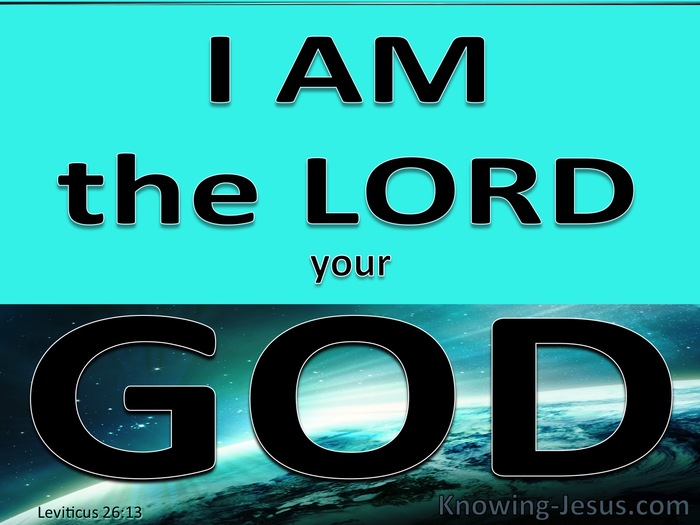 Verse Thoughts
The Lord our God is unknowable and yet in a wonderful way that Lord has made Himself known to the children of men. He started to reveal Himself to Adam at the dawn of time and thus began His ongoing revelation of Himself to humanity.  He slowly started to reveal each of His attributes in various ways to different people. It was an unveiling of His nature to human-kind, which started at creation and culminated with Christ.
At creation Hs spoke the world into being through His powerful Word and in the fullness of time the Word became flesh and dwelt among us. He first spoke to man when He walked with him in the cool of the evening and His final revelation to us is articulated through the person and work of Jesus Christ, the incarnate Word - God made flesh.
To Moses and the children of Israel He proclaimed: I Am Who I Am and by His mighty strength and gracious kindness He brought them out from their lengthy slavery in the land of Egypt at the start of their long trek through the wilderness. And this great show of His omnipotent strength, divine power and gracious love was used by God for centuries as a reminder to Israel that He is their God and their trustworthy Deliverer.
And it is the same God Who continues to proclaim today that He is the Lord our God, Who died to set us free from slavery to sin and the chains of death, and we too have been rescued from the kingdom of darkness and transferred into the kingdom of His dear Son. God's character never changes for He is the same yesterday today and forever, and the lessons He taught the children of Israel in time past are the lessons He is teaching His children in this present church age.
It is not simply knowing about Him that is important but coming to a knowledge of Him in a close and intimate way. It is trusting His Word and depending on Him as our sole supplier and everlasting Father, Who loved the world so much that He sent His only begotten Son to earth - to make Himself known to us, through Christ.
So, when times are hard, and we are tempted to doubt His Word of truth - how important to recollect Who He is and how He lifted us up from life's miry pit, through the perfect Sacrifice, our Lord Jesus Christ. Let us recall how He placed us, by grace through faith, into His family forever, and remember His Word of truth:  I AM the Lord Who brought you forth.
My Prayer
Loving Father, thank You that Your Word is true, and You are my Deliverer in this world of sin and evil. Help me to fix my eyes on Jesus, Your living Word and my glorious Redeemer. When my mind is tempted to stray from You I pray that I will call to remembrance all that You are and all that You have done for me and enable me to point others to You in Jesus name I pray, AMEN.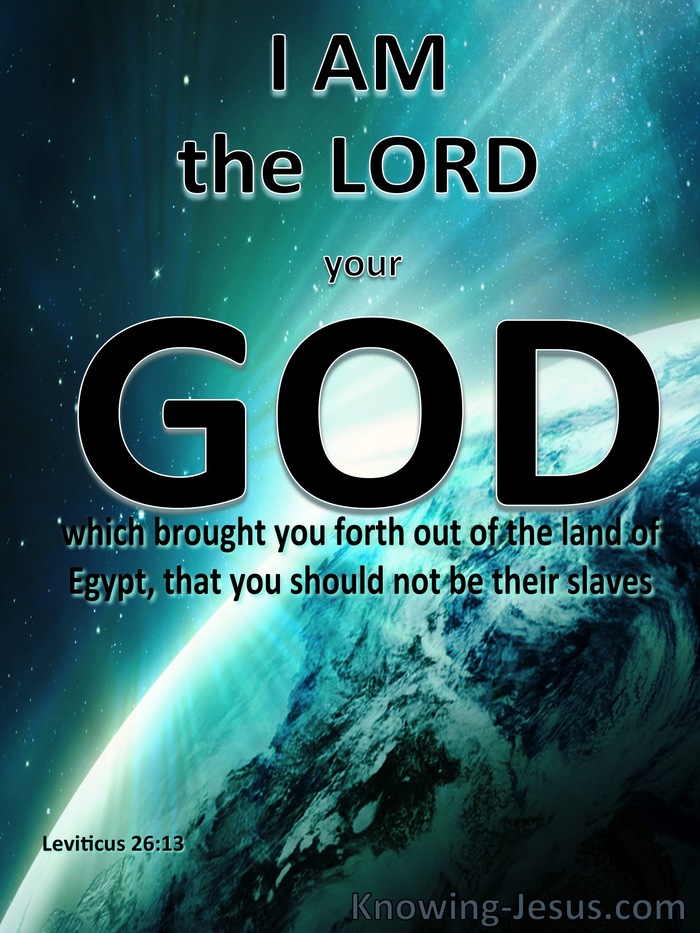 Choose a Verse from Leviticus 26
1

2

3

4

5

6

7

8

9

10

11

12

13

14

15

16

17

18

19

20

21

22

23

24

25

26

27

28

29

30

31

32

33

34

35

36

37

38

39

40

41

42

43

44

45

46