Jesus saith unto him, Thomas, because thou hast seen me, thou hast believed: blessed are they that have not seen, and yet have believed.

John 20:29(KJV)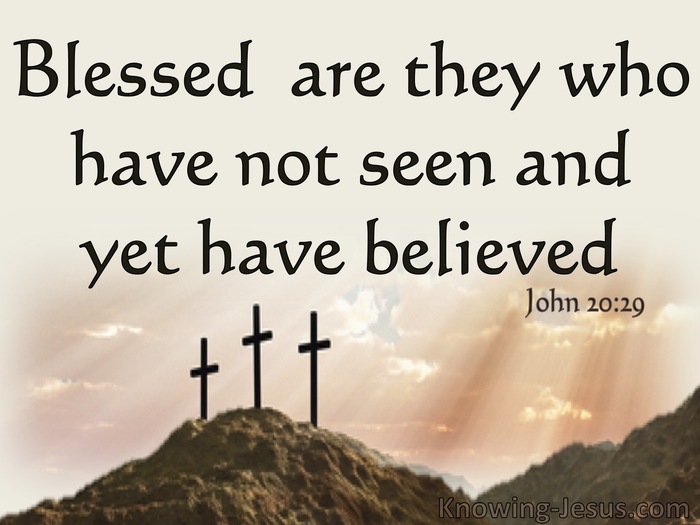 Verse Thoughts
This disciple of Jesus believed in the risen Lord Jesus Christ and worshipped Him as 'my Lord and my God' - but only after he had seen that Jesus was alive from the dead. Thomas believed in the Lord Jesus Christ because he saw Him with his own eyes and worshipped Him when He came and stood among His followers in the upper room that day. But the Lord Jesus gently scolded this chosen apostle with the words: 'because you have seen Me, you have believed: blessed are they that have not seen, and yet have believed.'
One week earlier other followers were invited to touch as well as to see their risen Saviour, so that their faith in Him would similarly been-kindled and inflamed. On both occasions to a lesser or greater degree trust was triggered and faith stimulated through one or more of our God-given physical senses. But whatever value we place on bodily senses or emotional awareness to stimulate and inform us, God's greater commendation and His divine approbation is given to the one who is not influenced by physical senses, human emotions or life's circumstances but who simply trusts His Word. The approval and blessing of God is on the one that has faith in His Son, trusts His Word of truth and believes the holy Scriptures.
Although God knows that trust may be triggered by our senses, emotions and daily living He also knows it can as easily be shattered into a thousand tiny fragments and sifted like wheat by Satan if it is not securely anchored to Christ by faith. No wonder the Lord Jesus in this gentle chiding of His dearly loved disciple, who had walked with Him for three long years, was to explain the secure and better way - blessed are those that have not seen Me, and yet have believed in Me, for they will not be disappointed.
There may be times we wished we had lived in the days of the apostles and SEEN the Lord, and felt His gentle touch, but how blessed are we who have not seen Him in the physical realm but have SEEN Him with the spiritual eye of faith and are still be able to cry as did Thomas, my Lord and my God.
My Prayer
Thank You Father for opening my spiritual eyes of faith to see You and the lovely Lord Jesus. I pray that I will not rely on senses or emotions to inform me of Your love and grace, but that as I set my minds-eye on the truth of Your Word may I grow in grace and in the knowledge of Jesus, so that You can use me as a messenger to proclaim You as my Lord and my God, in Jesus name, AMEN.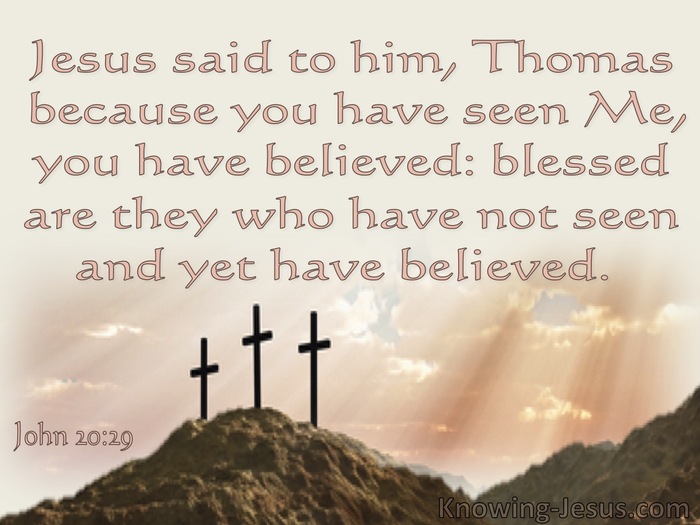 Choose a Verse from John 20