As soon then as he had said unto them, I am he, they went backward, and fell to the ground.

John 18:6(KJV)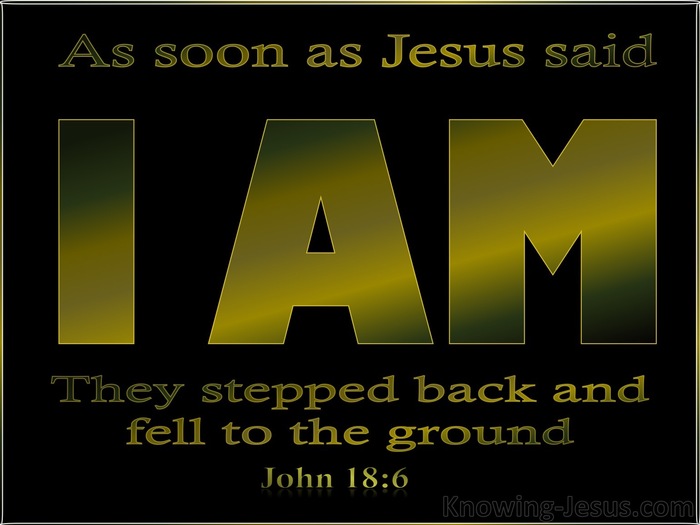 Verse Thoughts
Never forget that the gentle Shepherd of the lost sheep of the house of Israel is God incarnate. Never forget that our crucified and resurrected Saviour is the divine Lamb of God, Who takes away the sin of the world. And in a brief word to His captors Jesus encapsulated all the majesty, dominion, glory and power of almighty God, when He proclaimed in the Garden of Gethsemane 'I AM'.
The Roman soldiers and temple guards came looking to arrest Jesus of Nazareth, with swords and staves and horses, and our Lord identified Himself as the Person for whom they were seeking, but He did so by using the very name of God. Jesus identified Himself to this company of soldiers by saying:  'I AM'. He spoke the name which the Lord God had used to identify Himself to Moses so many years before - when Moses turned aside to see why the burning bush on Mount Sinai was not consumed
No surprise that as soon as Jesus said to them, 'I AM', that they all went backward, and fell to the ground. No surprise that when Christ identified Himself as the almighty Crestor of the universe, that all who came to arrest Him and accuse Him, immediately backed away and fell down.
How dare this motley crew of pious religionists and rude mobsters approach and challenge this heavenly Man, let alone lay hands upon Him and drag Him off to be falsely accused and cruelly tried by Pilate's Gentile injustice and the Sanhedrin's Jewish hatred. Never was Christ's authority as God ever more openly displayed to an unbelieving world than when He stepped forward during their cowardly approach - and under the cover of darkness, answered them with that tremendous, earth-shattering, awesome name - I AM
I AM Who I AM was the name that the Lord gave to Moses so that Israel would know that He was God's chosen servant to lead His people out of Egypt - and I AM is the title that Christ correctly attributed to Himself, for He is God's only begotten Son and the anointed Messiah of Israel, Who came into the world to save His people from their sins.
Jesus of Nazareth is the everlasting God Who is the same yesterday, today and forever and He is all that we will ever need - for He is our kinsman redeemer Who gave His life as a ransom for many so that all who trust in Him would not perish but have everlasting life. Let us never forget Who the Lord Jesus Christ truly is - for He is the One who said: I AM - the good Shepherd, and I lay down My life for the sheep.
My Prayer
Loving Father, I confess that familiarity with the stories of Jesus and even the gracious, loving-kindness that You have extended to me through my salvation and eternal security, causes me to forget that the Lord Jesus is truly the one and only almighty God, Maker and Sustainer of heaven and earth. Praise Your Holy name for You alone are worthy of praise, in Jesus name I pray, AMEN.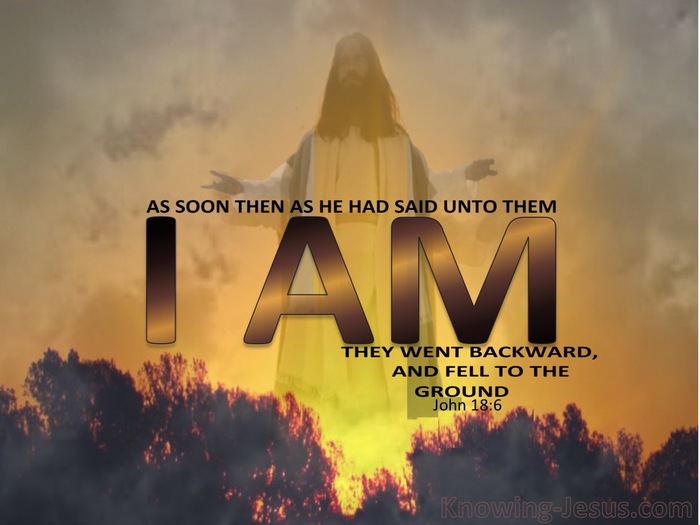 Choose a Verse from John 18