"These things I have spoken to you, so that in Me you may have peace In the world you have tribulation, but take courage; I have overcome the world."

John 16:33(NASB)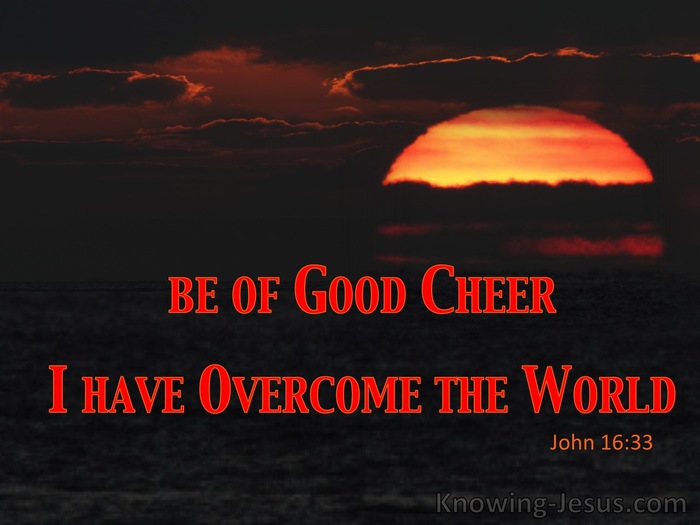 Verse Thoughts
So often the comforting statements of the Lord Jesus are designed to link a wonderful promise of God to deep concerns that may surface within the hearts and minds of believers, as we journey along life's way, in an increasingly alien world. His little company of disciples were fearful of the antagonism against their Lord, and themselves, which grew stronger as the cross loomed ever closer.
The loving Lord of eternity never deserts the feeble cries of His children, who call out to Him day and night, and He understands the fears and doubt that flood our mind, when all that is seemingly safe, secure and stable is flung into disarray and deep disorder.
The comforting words of Jesus were given for a reason - to sustain us in times of doubt; to strengthen us in times of weakness; to support us in times of suffering, to light up this gloomy world in times of darkness and to raise us up when we falter and fall.
These words were spoken to warn of the many tribulations and trials that inevitably stalk the paths of all God's blood-bought children, and to encourage each child of God - knowing that Christ has won the victory on our account, so that no matter what may happen, we are safe in the arms of Jesus.
But they were also to proclaim the greatest truth that could fall on the ears of dying, sinful humanity - I have triumphed over everything that could cause you pain and distress - In Me you will have peace that passes human understanding: in this world you will have tribulation - but be of good cheer, for I have overcome the world.
My Prayer
Thank You Father for Your wonderful words of comfort and peace. I pray that in all the trials and tribulations of life, which seem to be mounting with each passing day, that my heart and my mind will rest in Jesus so that His perfect peace will carry me through all life's difficulty, to Your praise and glory, in Jesus name I pray, AMEN.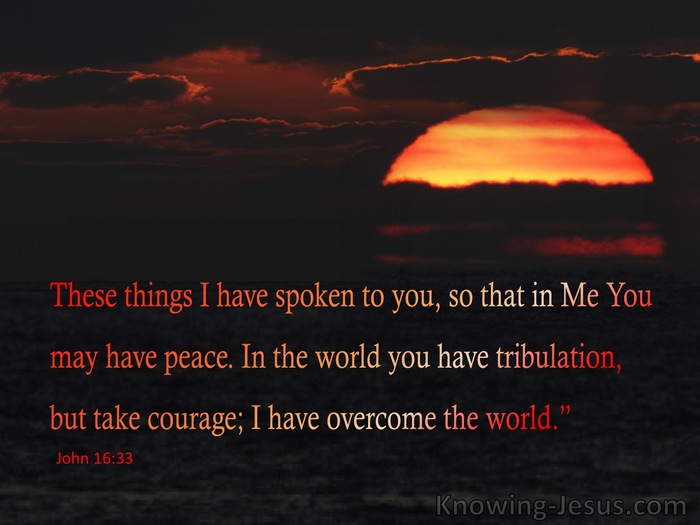 Choose a Verse from John 16