For where jealousy and selfish ambition exist, there is disorder and every evil thing.

James 3:16(NASB)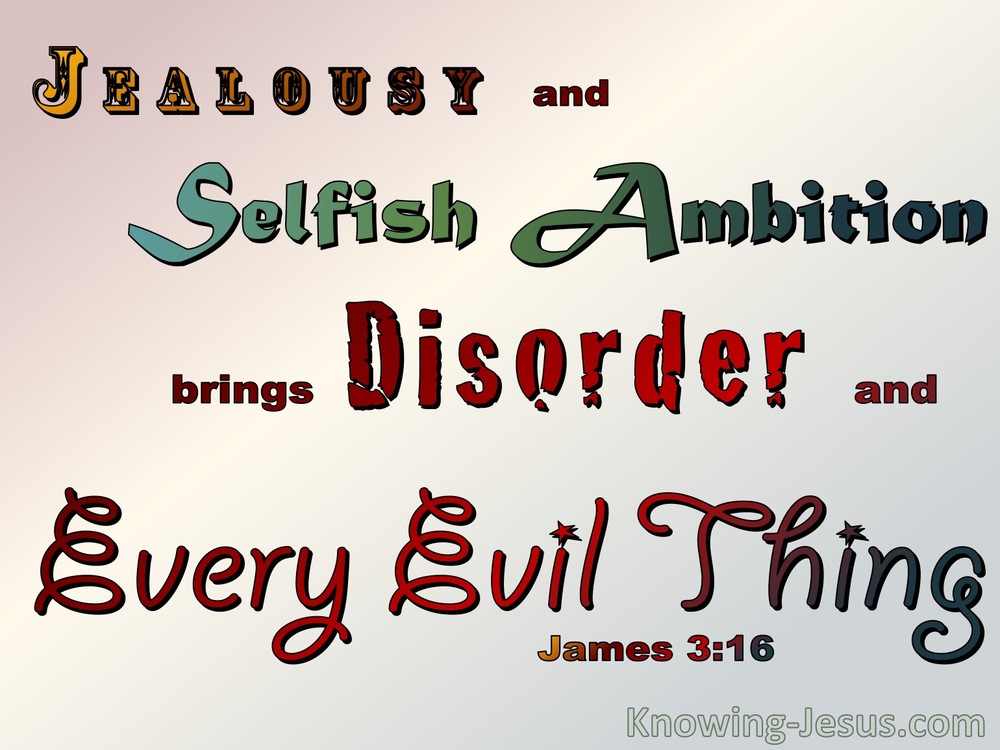 Verse Thoughts
There are certain character traits that are earthly, fleshly, sensual and demonic and there are those that are heavenly, spiritual, holy and godly. Only those that are born-again believers, who walk in spirit and truth are enabled to display the good and godly attributes that come from above, through the power of the indwelling Holy Spirit.
Both unsaved sinners and carnal Christians, who carry out the works of the flesh, can display the ungodly characteristics associated with envy, jealousy, selfish ambition and the pride of life, which manifests themselves in disorder and every evil thing.
Throughout his writings we find James comparing and contrasting the good with the evil, the holy with the satanic, the wise with the foolish, the sinner with the saint and the stable man with the one who is tossed about by every wind of doctrine.
Through his epistle, the apostle James is seeking to direct us in the way of wisdom and peace, together with humility, goodness and grace, whilst he desires to warn us against foolishness and hostility, selfish ambition and every evil thing.
The edifying ministry of a child of God can be ruined, when he seeks earthly wisdom from the well of fallen humanity. The wisdom of this world is foolishness with God and comes to naught. The beliefs and theories of fallen men and the flawed principles of this world system, and not according to Christ.
Men have rejected true wisdom in the Person and work of the Lord Christ and have chosen to live their lives according to their own perceived intelligence, which results in jealousy, envy, ambition, strife and every kind of evil work.
May we seek after the wisdom that comes from God, which is a pure wisdom – in thought, word and deed. May we strive after the wisdom from above, which is first pure, then peaceable, gentle and reasonable, full of mercy and good fruits – unwavering and without hypocrisy.
My Prayer
Heavenly Father, thank You that Jesus is the power of God and the wisdom of God and that in Him we have all we need for purity of heart and cleanliness in thought, word and deed. Prevent us from allowing the influence of this fallen world system to permeate our heart and mind, and may we keep our focus on the Lord Jesus alone. This we ask in Jesus' holy name, AMEN.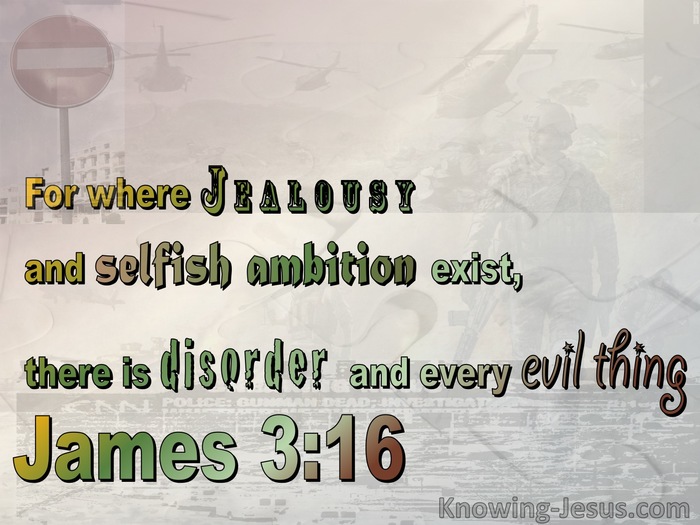 Choose a Verse from James 3