Because you are sons, God has sent forth the Spirit of His Son into our hearts, crying, "Abba! Father!"

Galatians 4:6(NASB)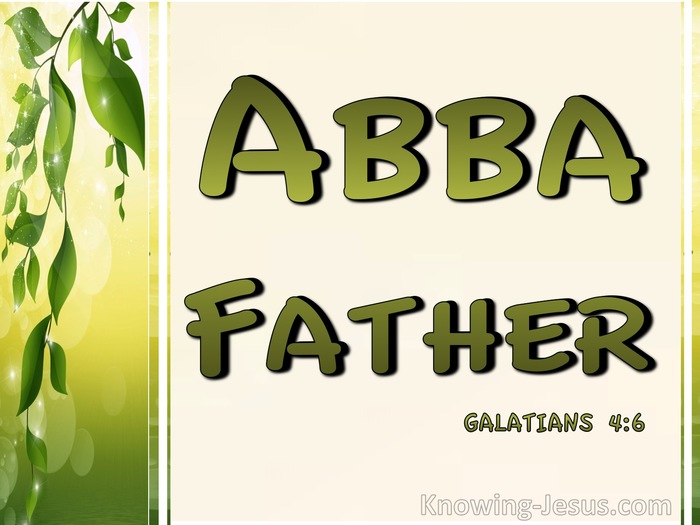 Verse Thoughts
What a wonder of divine love and grace that we who were once at enmity with God have been so favoured by the Father. What amazing love that He should pour out the wrath that we so justly deserve upon His dearly Beloved Son, Who was despised, rejected and cruelly crucified, to satisfy God's righteous justice, so that we could be elevated into a position of son-ship and be awarded joint heir-ship with Christ - by grace through faith.
Though once children of wrath and disobedience, all who have trusted Christ for Salvation have been positioned in Him, as children of His love. And by His grace we have been given the additional gift of God's indwelling Holy Spirit, Who took up permanent residence within our hearts the moment that we trusted in Christ for Salvation.
No name or title for the eternal, almighty Creator and Sustainer of heaven and earth, could be more profoundly personal nor intensely intimate than that of: Abba - dearly loved Father. Such language of sweet endearment is reserved for the closest of unions and most restful communion, and such was the life experience of the Lord Jesus. He is our pattern for life and He is our example to follow.
Throughout His earthly life, Jesus showed us how to maintain fellowship with the Father, and throughout our earthly walk we are to walk as Christ walked and to live as Christ lived - in sweet communion with Abba, our dearly loved Father.
For just as Jesus, through humble, prayerful obedience was enlivened and animated by the same spirit of the Father, claiming that He only said what He saw the Father doing, so too the Christian - through humble, prayerful obedience should be enlivened and animated by the same Spirit of the Son.
It is not copying what Jesus did that gives us this intimacy, but living as Christ lived, in very close fellowship with the Father. For it is as we maintain Spirit to spirit communion through the guidance of the indwelling Holy Spirit that our hearts can whisper in joyful prayer and praise - Abba, my Father.
My Prayer
Abba, my loving Father, I realise I am standing on the holiest of ground. Thank You for doing such great things for me. I desire to develop the depth of fellowship with You that is demonstrated through the life of Jesus and pray that through the power of Your indwelling Holy Spirit my human spirit and soul will submit in humble obedience to His guidance - so that my inner spirit may commune in godly intimacy with Your Holy Spirit, this I ask in Jesus name. AMEN.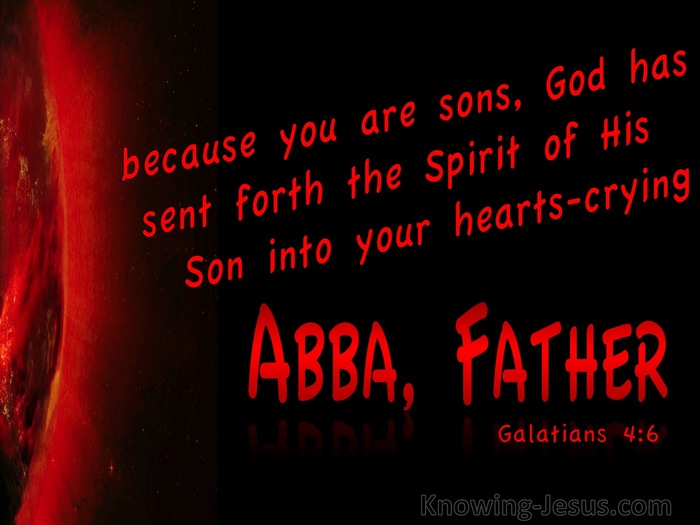 Choose a Verse from Galatians 4