And He said, "If you will give earnest heed to the voice of the LORD your God, and do what is right in His sight, and give ear to His commandments, and keep all His statutes, I will put none of the diseases on you which I have put on the Egyptians; for I, the LORD, am your healer."

Exodus 15:26(NASB)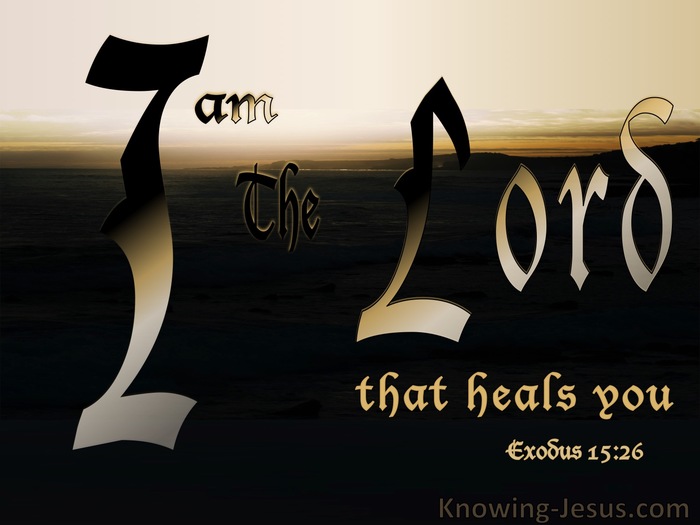 Verse Thoughts
God progressively revealed the many facets of His eternal character throughout the pages of Scripture and it was to Moses that the Lord revealed Himself as Jehovah-Rapha - for: I am the God Who heals you. God had already revealed Himself to Abraham as 'the Lord God'; 'the Almighty God'; 'the everlasting God' and Abraham's 'Provider' and He it was Who saved His people Israel after 400-years of bondage in Egypt, when they applied the spilt blood of the Passover lambs to the lintels of their doors - a striking picture of the true Passover Lamb, Whose shed blood at Calvary would be the means of saving His people from slavery to sin and its terrible consequences.
And as the attributes of the God of Abraham, Isaac and Jacob continued to be revealed to His chosen people as the years rolled by, so each of God's attributes was a one more beautiful picture of the coming Messiah - the Mighty God and Prince of Peace, Who would also be the one Who heals. Jesus is the One Who heals the broken hearted and Jesus is the One Who set the captives free - for every attribute of the Almighty, Everlasting God pointed towards the coming Lord Jesus Christ, the incarnate God and perfect Man - Who heals you.
It was to Moses that God revealed Himself as Yahweh-Rapha - the Lord that heals you, andDavid expands this glorious truth in so many of his psalms, for we read: He forgives all your sins and heals all your diseases, He redeems your life from the pit and crowns you with love and compassion. As with all of God's good and perfect gifts, the healing He gives to all His redeemed children is beyond our understanding and has an eternal perspective.
Indeed, God often heals the physical wounds and earthly diseases that trouble our mortal bodies, but oft-times He whispers into our hearts, My grace is sufficient, for My strength is made perfect in your weakness, in your sickness, in your hardship - in your loss and your pain, but the incomprehensible truth of Jehovah-Rapha is that His healing touch also spans the eternal sphere and the spiritual realm.
God's gradual unveiling of His perfect character throughout the pages of Scripture, progressively reveals His eternal plan of redemption, which is perfected and completed in the Lord Jesus. Let us always remember that your eternal healing took place at the cross - and if physical healing is withheld, there is reason that God Himself knows - and His grace is always sufficient.
My Prayer
Thank You Father that You are my Jehovah-Rapha and that Your grace is sufficient, in Jesus name I pray, AMEN.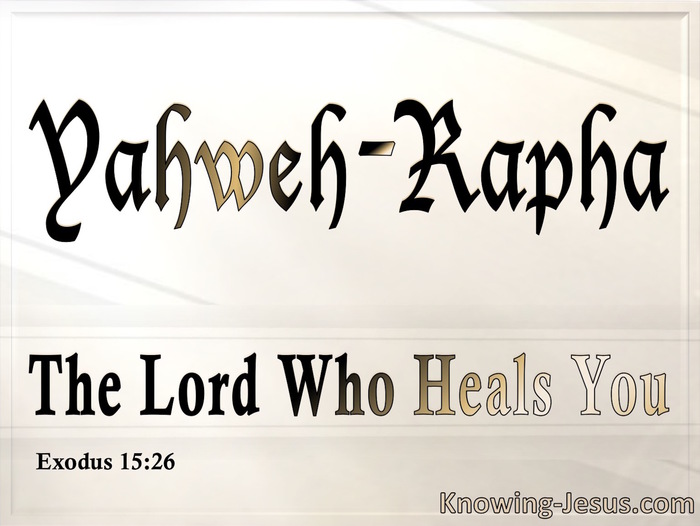 Choose a Verse from Exodus 15