To every thing there is a season, and a time to every purpose under the heaven:

Ecclesiastes 3:1(KJV)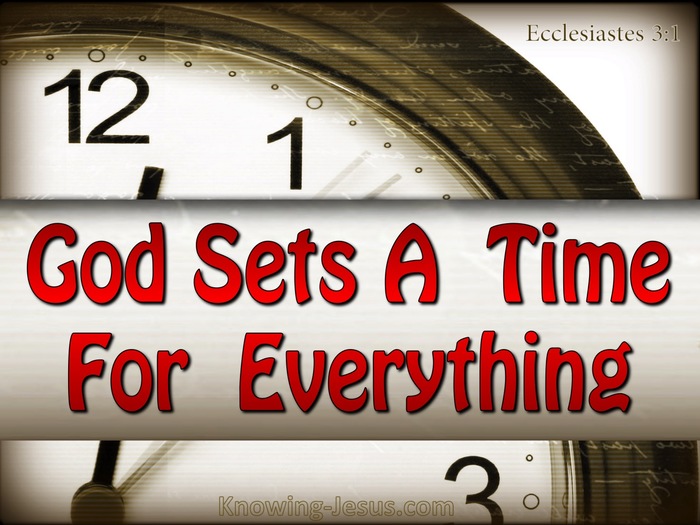 Verse Thoughts
So many verses in scripture come back to the foundational point that God knows best and wants us to trust Him in all things and at all times. He made the world and governs the universe and is never phased nor astonished at what is going on in the world at large.. nor the troubling circumstances that are happening in the individual lives of believers.
Times and seasons have been foreordained by God. He even knows the number of hairs on our heads and He has scheduled each day of our lives. So often we think that we know what would be best for ourselves and for humanity at large, and our own perceived ideas are reflected in our prayers, and yet the desires of our heart and our urgent pleadings to the Lord too often conflict with God's wider will for our lives and His greater plans and purposes.
And this verse is a simple yet timely reminder that we are to live by faith in the Word of Truth, and to trust God's judgement in all things - for He sends blessings on the just and unjust alike and He takes the foolish schemes and rebellious actions of men and turns them to His greater glory, in order to fulfil His ultimate plan and purpose, which is Christ is all in all.
It was king Solomon who made the observation that God has established specific times and predetermined season, which influence the affairs of our own individual lives and affect everything that takes place, down through the annals of history. This cyclical pattern was set in motion by God Himself, when He spoke the world in to being, when in His wisdom He put in motion a series of unchangeable, natural laws, which were determined by Him and which have an impact on every area of our own lives - as well as the wider world and universe.
This caused Solomon to reach the understanding that God has made every beautiful in its own time and that He has placed eternity in the heart of every-man. Indeed, his personal reflections and extensive research caused Solomon to recognise the futility of life without God, and this wisest of all kings, whose understanding surpasses all others, finally reached a ultimate conclusion, which contains prudent counsel for every-man - fear God, and to keep His commandments, for this is the whole duty of man.
My Prayer
Thank You Father that You know the end from the beginning and are in control of all that is happening in my own individual life and the wider world in general. May I trust You through all the circumstances of my life and as I seek Your face in prayer and praise, and may I learn more and more to pray: Thy will be done in my life and throughout the world, in Jesus name I pray, AMEN.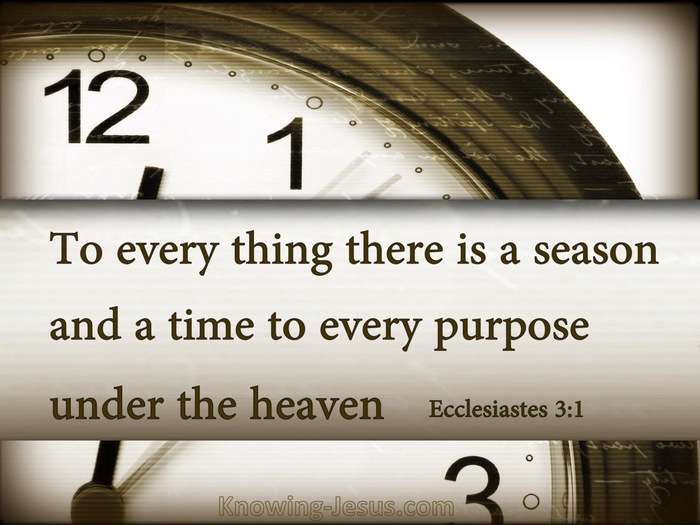 Choose a Verse from Ecclesiastes 3
1

2

3

4

5

6

7

8

9

10

11

12

13

14

15

16

17

18

19

20

21

22