The Lord is the One who will go before you. He will be with you; He will not leave you or forsake you. Do not be afraid or discouraged."

Deuteronomy 31:8(HCSB)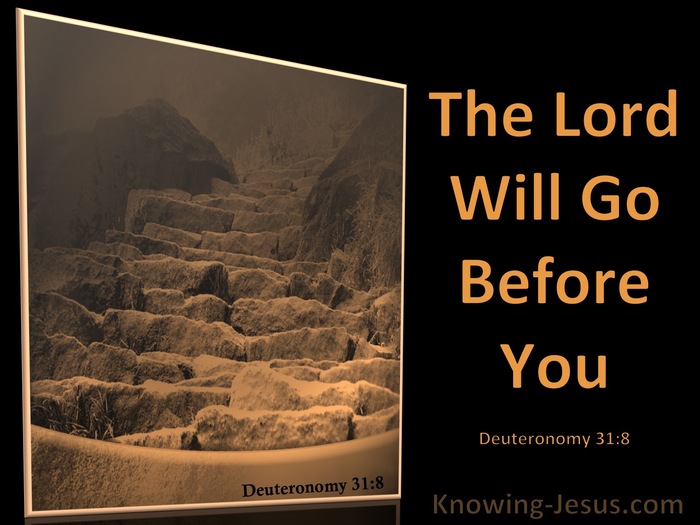 Verse Thoughts
Moses had led the children of Israel for forty years, but he was not be permitted to lead them across the Jordan. Moses had reminded the nation of the conditional covenant they had with God and urged them to choose life over death and blessings over curses, for faithfulness to God would result in many blessings for His covenant people, Israel - but disobedience would result in the nation being cursed and scattered.
And now at the age of one hundred and twenty, due to his own disobedience Moses was not permitted to enter the promised land. But as the time for his departure drew ever closer, Moses gave Israel a promise from the Lord, which is equally true for Christians today as it is for the nation of Israel - that the Lord would go before them and that He had promised to be with them. The Lord promised that He would never leave them nor forsake them. Do not be afraid or discouraged, was the word of hope that was given to Israel as they prepared to pass over the Jordan, and it is a promise that is equally valid for the body of Christ today, in this Church dispensation.
God's Word is to be trusted. He has promised to go before us, to lead us and prepare the way we take. He has promised to be with us on our journey and to stay with us through all the circumstances of life. God has promised never to leave us alone and… to one day, take us with Himself forever - and God's Word is to be trusted. God's Word is as trustworthy today as it was in the times of Moses. The children of Israel saw the very presence of the Lord in the Shekinah glory that filled the tabernacle; and He was seen in the pillars of fire and cloud that lead the children of Israel through the dangerous wilderness.
He was seen in the plagues of Egypt that demonstrated God's mighty strength and awesome power and He was with them in the midst of the Red Sea waters, which led them to safety, but destroyed their Egyptian enemies. In this verse, at the end of his life, Moses was reiterating the promise that the LORD gave to His people - that He is the One Who would be with them and go before them.
The Lord would be with them; He would not leave them or forsake them and they were not to be afraid or discouraged. Moses reminded the Israelites that for 40 years God had lead them, guided them, protected them and supplied all they needed. He wanted to reassure God's children that the Lord had kept His Word despite their many grumblings and He would continue to keep His word. They in turn were to continue to trust His Word and not to be afraid or discouraged about the difficult circumstances of life that would certainly loom up in their future.
As in times of old we too have God's trustworthy Word and innumerable promises that God will lead us and prepare the way that we take. We have His assurance that He will be with us on our journey, stay with us through all the circumstances of life, never leave us alone - and finally take us to be with Himself forever.
Let us never not be afraid nor discouraged, for we have God's wonderful assurance that He will not leave us nor forsake us - and let us never forget that God's WORD is to be trusted.
My Prayer
Thank You Father for the truth that is contained in the Scripture. Sometimes I wish I could see the Shekinah glory or be led by a pillar of fire, but I understand that today we live by faith in Your Word and not by sight. Thank You for Your promises to be with me, to lead and to guide, to protect and to supply all my needs. I praise Your holy name that Your Word is true – glory be to Your holy name, in Jesus name I pray, AMEN.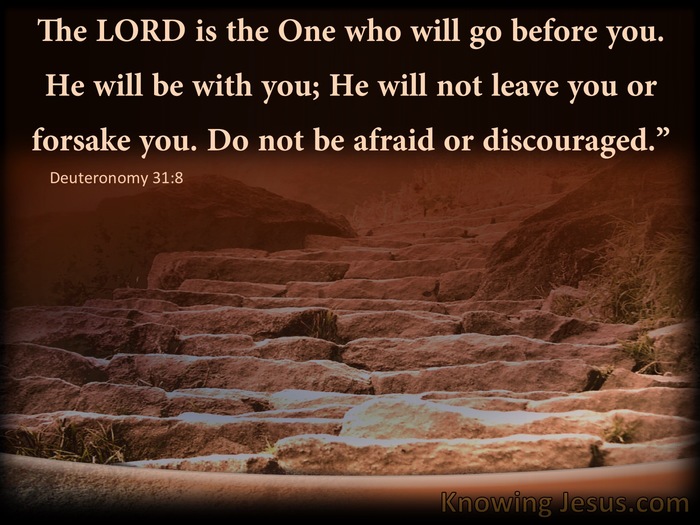 Choose a Verse from Deuteronomy 31