Above all, keep fervent in your love for one another, because love covers a multitude of sins.

1 Peter 4:8(NASB)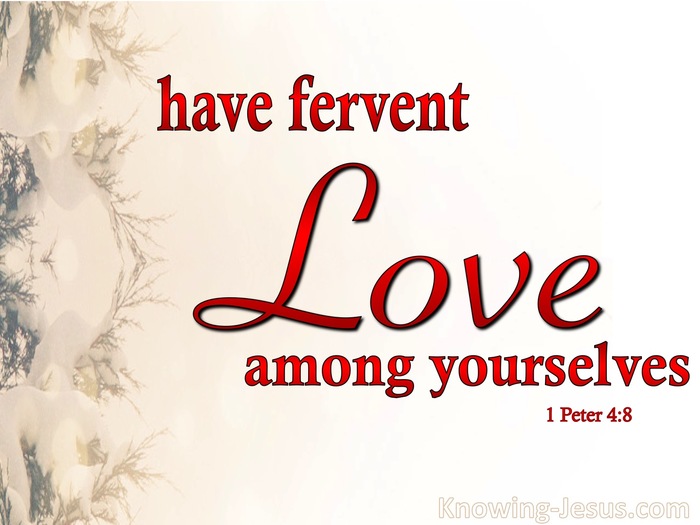 Verse Thoughts
The warm gentleness and tender-hearted forgiveness of Paul's chapter on love, in 1 Corinthians 13: (God's greatest fruit the Spirit) is condensed into one tiny verse by Peter, the big 'fisher-of-men,' who was such a fervent lover of his Lord and encouraged us to: above all things have fervent love among yourselves: for love shall cover a multitude of sins. 
Peter had experienced the impact of Christ's unconditional, divine love, covering many of his own sins, when the One Whom he loved so dearly, yet had so blatantly denied with a curse, entrusted him with the great commission to: feed My sheep.
No wonder Peter emphasised the need for a deep, impassioned, fervent love for our Lord and a similarly deep, impassioned, fervent love for one another. Does not He Who loved us so deeply, even to the point of death on the cross demand our own unselfish love; our sacrificial love; our dedicated love - our complete love.
And should not we who have received such a depth of love and forgiveness from our Saviour, not show forth His love to others. Love as I have loved was the command that Christ gave to the Church and our love for one another should reflect the pure love that Christ demonstrated toward us, in that while we were yet sinners Christ died for us.
Such love does not wink at sin, nor does it translate imperfections into criticism, but is gracious toward the faults of others and patient with their defects. Such love applauds the good qualities they find in others while speaking the truth in love. They encourage others in their Christian walk, forgiving past offences, understanding their foibles and are wisely insensible of their errors.
Should not we who have had the sordid sins of our blackened souls washed, covered, cleansed and eternally forgiven by our gracious God, reflect His tender-hearted forgiveness, His warm gentleness, His deep compassion and fervent love in our dealings with our brothers and sisters in Christ. Should not we above all things have fervent love among ourselves one for another - knowing that the love of Christ covers a multitude of sins.
My Prayer
Loving Father thank You for the wonderful example of Jesus. I pray that I may reflect Christlikeness in all my dealings with others, so that the glory goes to You, in His name I pray, AMEN.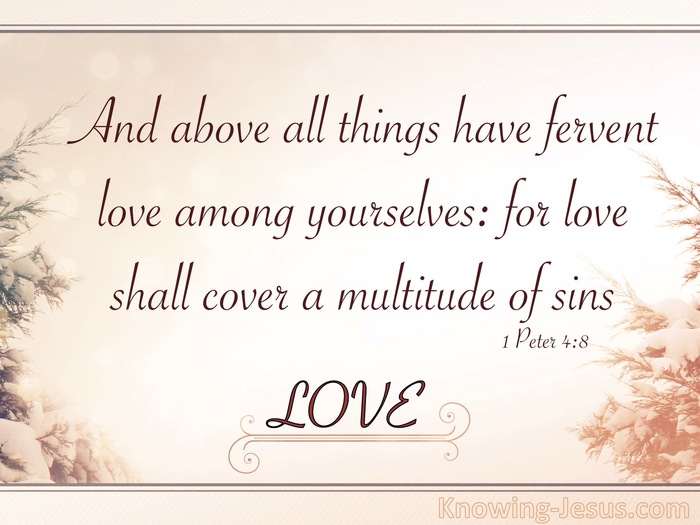 Choose a Verse from 1 Peter 4