but to the degree that you share the sufferings of Christ, keep on rejoicing, so that also at the revelation of His glory you may rejoice with exultation.

1 Peter 4:13(NASB)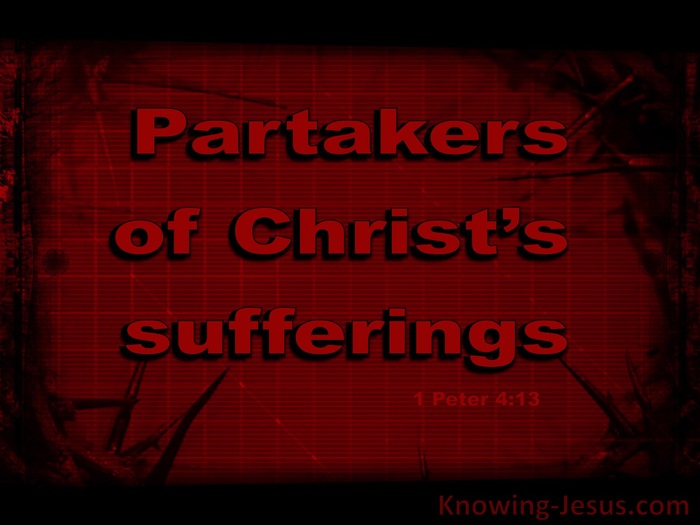 Verse Thoughts
Christ suffered greatly in His earthly life and as members of His spiritual body we too are most likely to be called on individually and corporately to go through some fierce mental anguish, physical suffering or emotional pain. Paul actually calls on us to rejoice when we do become partakers of His suffering, for there is a depth of meaning in this verse that touches every member of the world-wide mystical Body of Christ Jesus, which is the Church – the one new man in Christ.

The Lord is the Head of His mystical Body but the world hates those that are His, and Christ understood this. Indeed, as the time for His crucifixion drew ever closer Jesus warned us that in this world we will all have tribulation, simply because we are His followers. But He also added great words of encouragement: be of good cheer, for I have overcome the world.

Christ is in union with each of His children and He feels our hurt; He has empathy with the unfair treatment we receive; He understands our pain, for He trod this way before. He warns that we will be hated of all men and He knows it is for His sake that blows and hatred will be inflicted upon His precious people. And yet we are encouraged to rejoice in our sufferings, with exceeding great and overflowing joy, knowing that it is for His sake that we are ill-treated all day long – but also knowing that He is the living Head of His mystical Body – the Body of Christ, which is the Church

We of course had no part in His atoning work at Calvary, for He alone was the sacrifice for the sin of the whole world. Christ alone was qualified to be the Lamb of God Who takes away the sins of the world, for He alone is fully God and fully Man - united in one perfect member of the human race. He alone was qualified to become our kinsman-redeemer and bear the sin of the whole world in His body on the tree.

But as members of His spiritual Body we can share in His earthly sufferings and be partners of His bitter rejection. We also can be despised, rejected and persecuted for righteousness sake. We too can be scorned, ridiculed, hated and killed for Christ all day long, but however painful and distressing life may become, we can also rejoice in the midst of our suffering, knowing that when His glory is finally revealed we will rejoice with exceeding great joy.

Paul tells us that the sufferings of this present time are not worthy to be compared with the glory that is to be revealed in us, while James adds that suffering in this life develop in us godly character and patient endurance, which is honouring to the Lord. As members of Christ's mystical Body, should we not joyfully identify with Christ's earthly suffering – knowing that He lived and died so that we might be identified with His heavenly glory?

Yes, we should indeed rejoice, that we as members of His Body and partakers of His sufferings – for it is by faith in His sacrificial death and glorious resurrection that we have not only been forgiven of our sin and clothed in His righteousness – but we are His blood-bought children who have a blessed hope; a glorious future and life everlasting  amen.
My Prayer
Thank You Father that I am part of the mystical Body which is the Church and that I am in union with the Lord Jesus. Thank You that He understands all that I am facing in my life today and that I am a partaker in His sufferings. Help me to keep the eternal perspective ever in my sights, and I praise Your name for the blessed hope and glorious future that You have purposed for me, in Jesus name I pray, AMEN.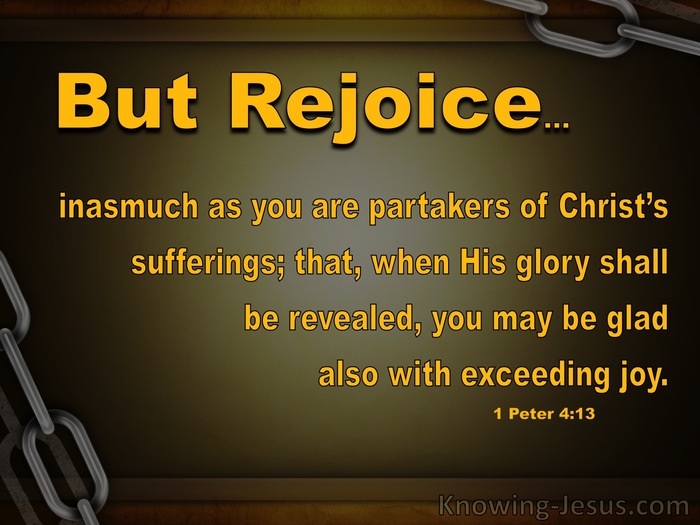 Choose a Verse from 1 Peter 4