"Woe to the worthless shepherd Who leaves the flock! A sword will be on his arm And on his right eye! His arm will be totally withered And his right eye will be blind."

Zechariah 11:17(NASB)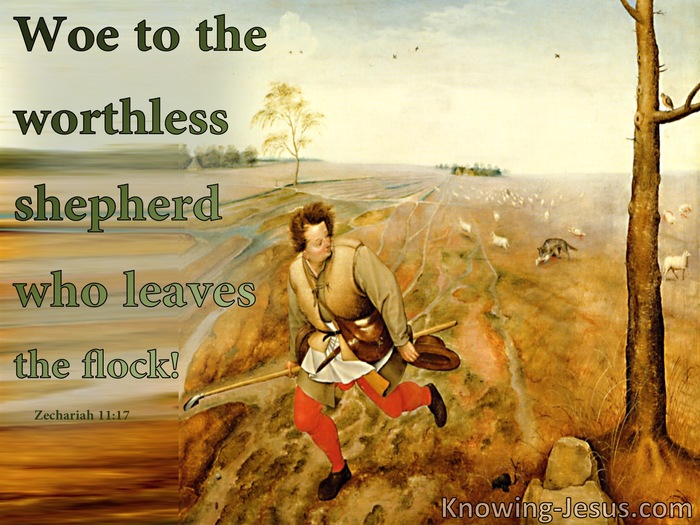 Verse Thoughts
This passage is one of the most poignant sections in Scripture, that describes Jesus as the true Shepherd of Israel, Who was betrayed for the price of a slave - (30 pieces of silver). Here, we read about the coming worthless shepherd, who abandons the flock of God, and justly deserves condemnation.
Israel rejected the good and gracious Shepherd, Who was sent to the lost sheep of the house of Israel, at His first coming. He was despised and rejected by many. He was a Man of deep sorrow, Who was acquainted with grief. Jesus came to His own, created world, in His Father's name, and was not accepted by His own people.. and yet there is coming a false and idol shepherd, who will come in another name, pretending that he is the Messiah.. and he will be accepted - how tragic.
This is a prophecy, which was partially fulfilled at Christ's first coming, when the true Shepherd of Israel was rejected and crucified. However, the worthless and idol shepherd, who is the subject of this verse, is yet future. He is the one, who that will be revealed during the fast-approaching, 'Time of Jacob's Trouble' - the 70th week of Daniel, which is often identified as the great, seven-year tribulation period.
He will deceive the people of Israel with lies and trickery, for he will abandon them and rob them. He will abuse them and slay them - but his treachery will finally be exposed.
Zechariah gives a description of this worthless shepherd. We read that: a sword will be on his arm - and on his right eye! Also, his arm will be totally withered. Although it is more than likely that his physical appearance will mirror this description.. and he will have a wounded right eye and a crippled arm, the Bible often uses the word 'arm' to identify strength - or the lack of strength.. and Scripture often uses the word: 'eye' to designate intelligence - or the lack of it.
How sad, that Israel rejected their true Shepherd, whilst accepting this worthless, counterfeit fellow. However God is faithful to His people, and we read.. that the strength of this idol shepherd, will be terminated. His intellect will be found wanting, and he will be destroyed by the glory of Christ's coming. On that day, God will graciously deliver His people, Israel - and will wipe away all tears from their eyes.
My Prayer
Heavenly Father, what a gracious Saviour and good Shepherd You are, to both Israel and to the Church. Thank You for this peep into the future and the knowledge.. that despite all the terrible things that are to take place, during the time of Jacob's trouble - You remain faithful to Your people, and will restore to them the inheritance, that You promised to Abraham and his seed, forever. We pray that while it is still 'today', many people, both Jew and gentile, would come to a saving knowledge of Christ, in Whose name we pray, AMEN.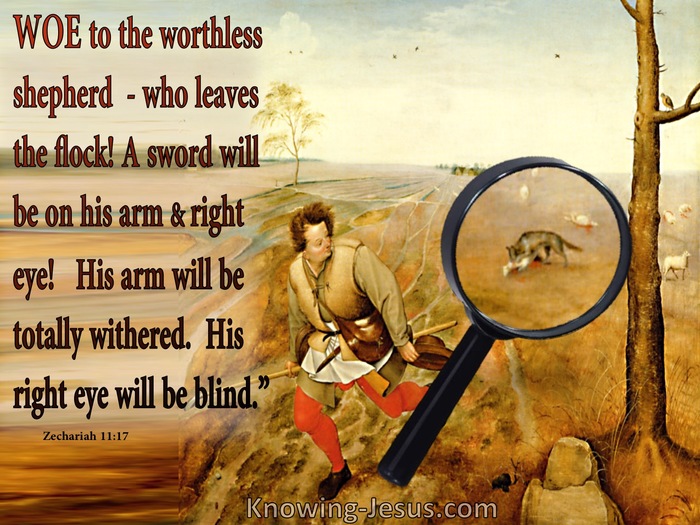 Choose a Verse from Zechariah 11
1

2

3

4

5

6

7

8

9

10

11

12

13

14

15

16

17