But my God shall abundantly supply all your need according to his riches in glory in Christ Jesus.

Philippians 4:19(Darby)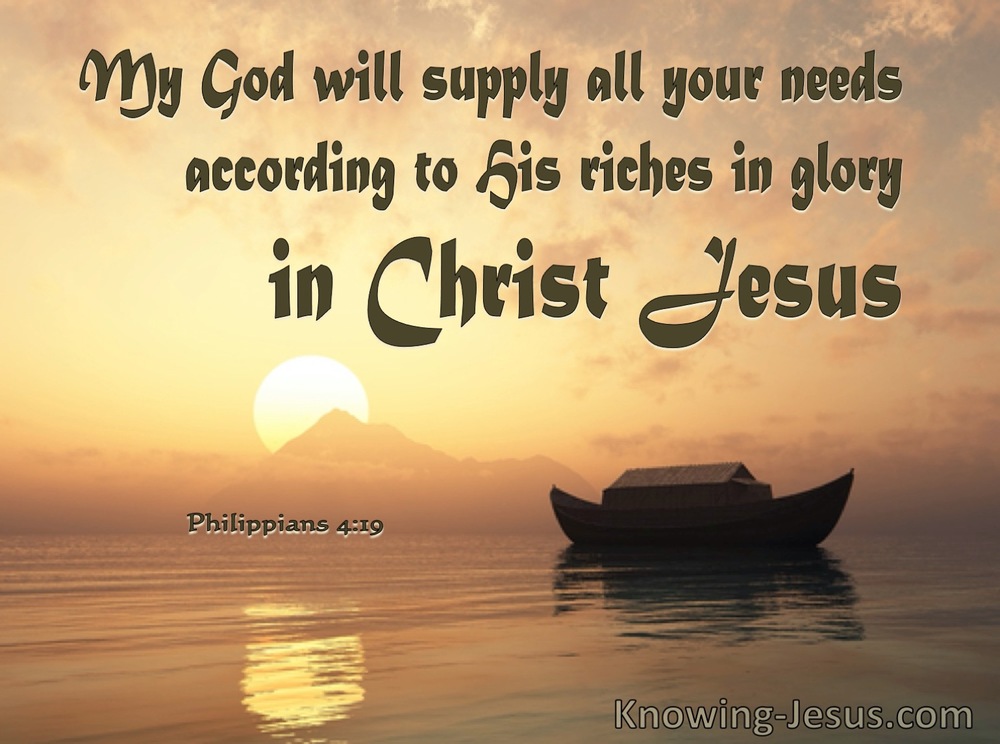 Verse Thoughts
The abundant supply of our generous God is overflowing with gracious-mercy and bubbling over with loving-kindness. He does not make any promises that will be broken, and the super-abundance of His generosity covers all-things. It covers anything and everything that we need.

What we want is not always what we need, and the Lord graciously steps into our prayers, in order to translate any inappropriate desires, that may be in our heart, and interceding on our account, in order that our prayers are translated into a divinely bestow blessings which will be for our benefit and for the greater glory of God. He does this for us by providing all that is best for us, rather than all that we think we want.

So many of the things that we need are the imminent necessities of life, which are confined to this transient world and the fleeting life-span of time and space, which flows from birth to death. God knows our daily need before we even ask, but too often this verse is interpreted as a free-for -all to squander our money and other God-given resources on selfish desires, instead of being wise stewards.

But God's perspective of our need has eternity in view, and not only embraces the daily bread we require today, but the eternal blessings that are ours in Him, which lie beyond the grave and into the eternal ages to come.

But why does the almighty God of the universe so generously supply, in such profuse bounty, all our needs with the riches of His overflowing-abundant supply and His plentiful riches in glory? It is simply because we are in Christ, by faith in Him, and as such have become His children. And so because we are in Christ Jesus, the almighty, omnipotent, eternal, omniscient, gracious God has promised to supply ALL our needs, according to His riches in glory — because we are IN HIM.

May we never translate our wants into our needs. Rather, may we live our lives on earth, knowing that this life is fleeting and that our eternal home is in heaven. May we be contented with all that we receive and give God both the thanks and the glory for all His ongoing and abundant supply.
My Prayer
Loving Father, I stand amazed at Your gracious bounty, knowing that You care about both the little things that I need today, as well as the eternal blessings that are being laid up for me in heaven, for which I praise Your holy name, in Christ Jesus I pray, AMEN.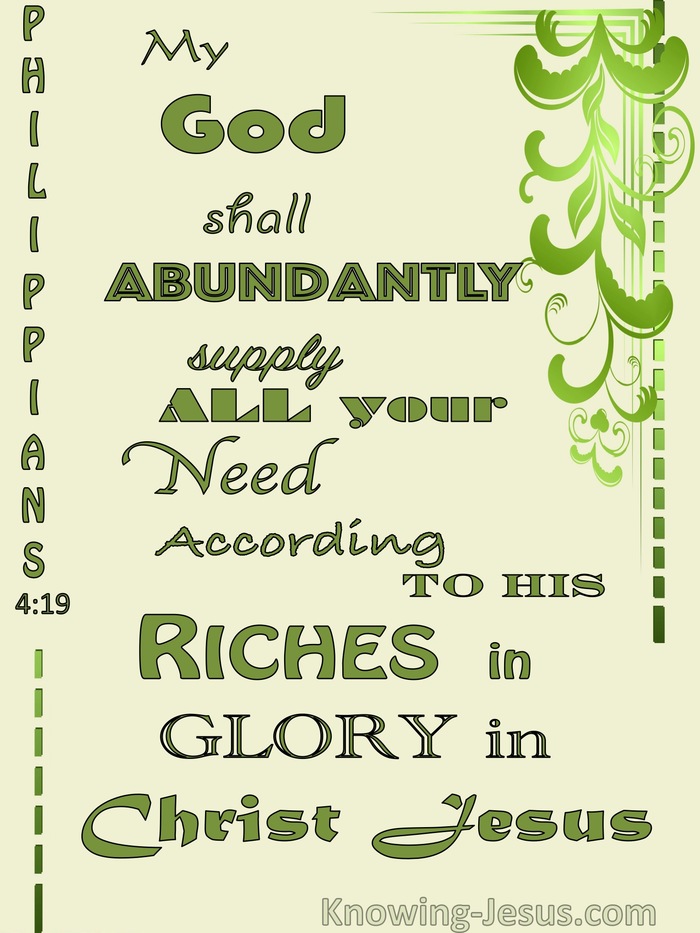 Choose a Verse from Philippians 4