He told them, "Come away to a deserted place all by yourselves and rest for a while," because so many people were coming and going that they didn't even have time to eat.

Mark 6:31(ISV)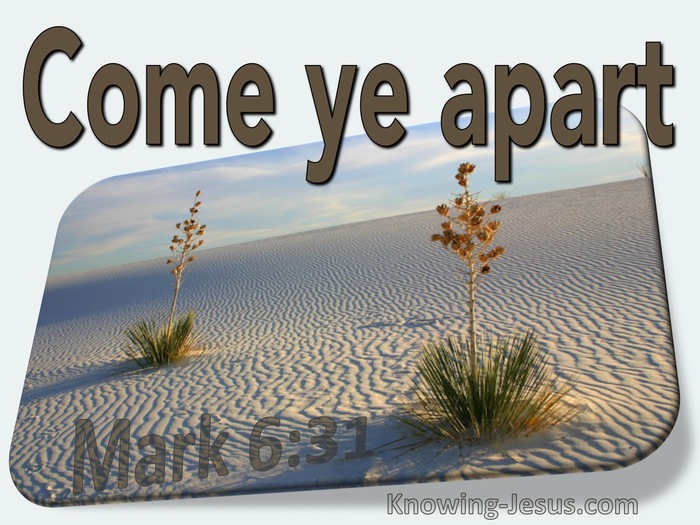 Verse Thoughts
The responsibilities; busyness; stresses and strain of simply living can cause each of us to neglect what is important and of lasting significance for what we consider to be the immediately urgent and vital. Even the duties and tasks to which God has called can be placed higher on our daily agenda than those things that are vital to our well-being. The Lord Jesus knew this, and throughout scripture God often uses the simple, natural things to teach us important spiritual truths, and these gentle instructions of the Lord to His faithful little band were no exception.
The strenuous work of the Kingdom had caused His disciples to neglect their own bodily needs. Days of caring for the physical necessities of 5000 hungry people, preceded by Christ's rejection at Nazareth and the shock of Herod's bloody murder of the Lord's own fore-runner, had taken its toll on both the bodies and emotions of this little group. Recognising their neglect, the Lord in His gentle chiding and gracious compassion said, Come away to a quiet place for a time of rest.
We too need to hear the Master's tender warning and provide ourselves with the necessary rest and refreshment in the weary labours; mounting pressures; escalating fatigue and worrisome hardships that bestrew each one of our daily paths. Such disregard may certainly touch on a neglect of physical needs, and we all need to be wise in the way we live our lives, but of greater significance can be the neglecting of true, spiritual refreshment.
Life's pressures, can start to take a sever toll on our relationship with the Lord Himself as intimate contact with the Lord Jesus is edged out by time constraints and we discover He is pushed outside the door of our helter-skelter lives.
The desert place to which He calls us is not necessarily tied to TIME but rests on an ATTITUDE of heart towards our Lord. May we keep the eyes of our heart firmly fixed on the Lord Jesus day by day, knowing that He will provide the nourishment for our souls as we take time to abide in Him and He in us.
My Prayer
Thank You Father for Your Word and for helping me to recognise how quickly You can be pushed out of my life. Help me to change my attitude from prioritizing the urgent things in life to recognising that keeping the eyes of my heart on You is the more important thing in life. Refresh my weary soul today I pray as I abide in You and rest in Your love, in Jesus name, AMEN.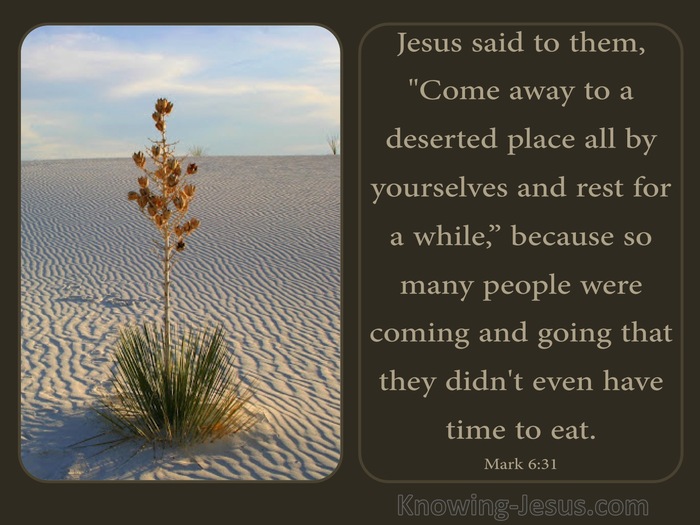 Choose a Verse from Mark 6