But when Jesus saw this, He was indignant and said to them, "Permit the children to come to Me; do not hinder them; for the kingdom of God belongs to such as these.

Mark 10:14(NASB)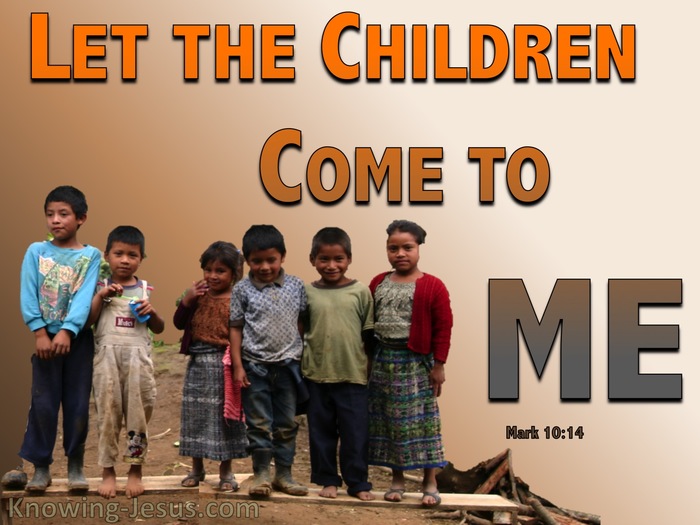 Verse Thoughts
Earlier in the chapter we read of a barrage of questions that the Pharisees were asking Jesus. They were not interested in the truth, but were doing their best to trip Him up and find fault in Him.
And it was following this barrage of attacks that we read: and they brought young children to Him, that He should touch them. And the disciples rebuked those that brought them.. Little children and young people were being brought to the good Shepherd for His blessing.. and yet the demonstrable hardness of these disciples' hearts, is only counterbalanced by Christ's strong rebuke of their behaviour towards these tender hearts, that were open to His saving grace.
In a sense, we can understand that the enemies of Jesus sought to prevent the glorious truth of Christ's redeeming work being spread to those that needed Him, but how devastatingly sad and shocking.. to realise that Christ's own, chosen apostles, who knew about His Messianic mission to seek and to save that which was lost, were obstructing these little children and young people. How sad that parents and infants, with an open heart to the glorious gospel message, were being obstructed so badly.
When Jesus saw this, He was aggrieved and indignant and openly rebuked His disciples. How dare anyone block these children and their care-givers from Christ. Indeed, it is suggested that Christ's rebuke to His disciples, concerning this incident, was His most forceful chastisement throughout His entire ministry.
And so He strongly charged them, permit the children to come to Me; do not hinder them; for the kingdom of God belongs to such as these.
It is the trusting, child-like faith of children that pleases the Lord. Bigoted religionists and self-important Christians only hamper others from coming to Christ.. and may become the rebuked recipients of His exceptional condemnation.
How important that as parents, grandparents, siblings and souls, who have been saved by grace through faith in Christ, and that we share the glorious gospel of grace with young and old alike. May we not wittingly or unwittingly exclude anyone from coming to a saving faith in Christ Jesus our Lord, by any biases that we may harbour in our hearts.
My Prayer
Heavenly Father, thank You for the saving blood of Jesus, and thank You that no one is too old or too young to hear the truth of the gospel of grace - that Christ died for our sin according to the Scripture - that He was buried and rose again according to Scripture, and that whosoever believes on HIM.. will not perish but have everlasting life - Thank You in Jesus name, AMEN.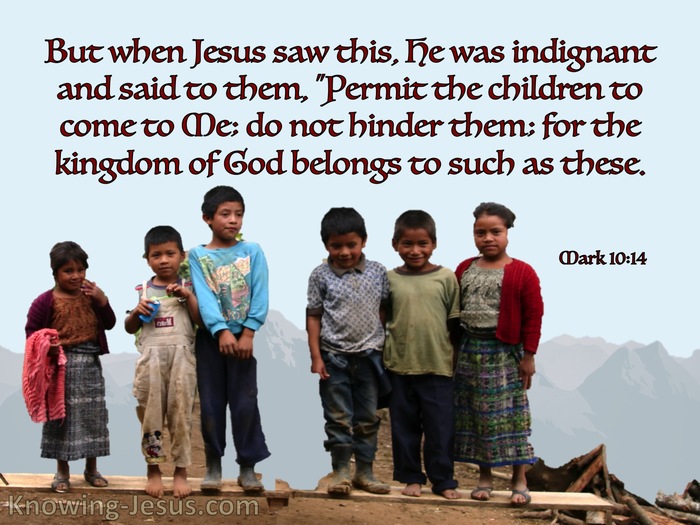 Choose a Verse from Mark 10