But when they persisted in asking Him, He straightened up, and said to them, "He who is without sin among you, let him be the first to throw a stone at her."

John 8:7(NASB)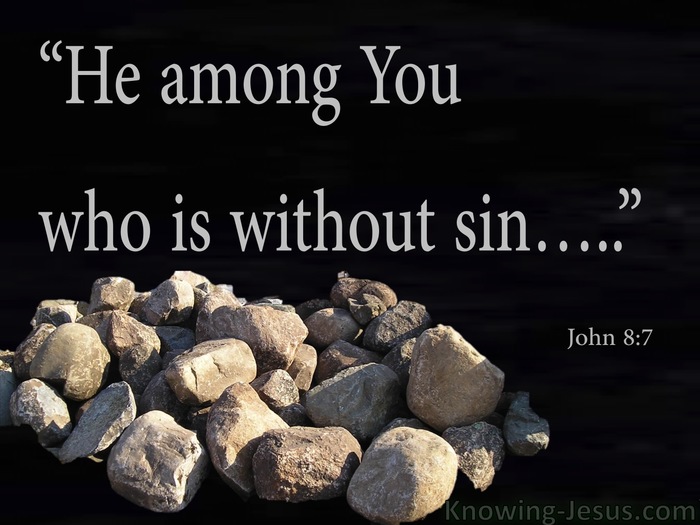 Verse Thoughts
The person who is most critical of the faults, failings and sins of others is often guilty of the self-same faults, failings and sins in their own lives. 'When you point your finger of accusation at another, remember you have three fingers of accusation pointing right back at yourself,' as the old saying goes. How often the person who is severely judging his fellowman is the hypocrite who flatters himself of his own uprightness.
But in a few words, pregnant with meaning, Christ silences every accusing voice and each pointing finger. He did not excuse this woman's adultery by finding fault with God's law, but He challenged her to face her wrong-doing and to 'go and sin no more.' And by His atoning death she too was forgiven by grace through faith.
The punishment for this type of sin was stoning, but the wages of all sin and every trespass, whether sins of the body or sins of the heart, whether physical sins executed through our bodies, or spiritual sin undertaken in the secret smugness of our own prideful hearts, the wages of all sin is death… and death means separation from God - BUT the gift of God is eternal life, which is accessed through the Lord Jesus Christ. He it was that took the punishment for our sin - the punishment that we so justly deserve.
Praise God that Christ is the only One that has the righteous authority to cast the first stone at you and me, but by grace through faith in Him we are forgiven of all our SINS through His atoning death. But in addition, by faith in His finished work at Calvary the power of SIN (the old sin nature) has been broken in our lives - as has the power to overcome the world, the flesh and the devil, which is given to us by the Spirit. It is through the indwelling Holy Spirit, that the life of Christ within is able to overcome innate SIN - our old sin nature, (the old-man as Paul calls it) that lurks within.
May the mind of Christ direct all our actions and attitudes, our thoughts and the motives of our heart, and may His gracious attitude be reflected in my life as I seek to live a life that is pleasing in His sight to His praise and glory.
My Prayer
Father thank You that my sins have been forgiven and that there is no condemnation to those that are in Christ Jesus. I confess that there are times when I have been critical of others, but I want to live a life that is pleasing to You and allow Your new-life within to display the grace and love of the Lord Jesus towards others - in the same way that You show you grace and love towards me, in Jesus name I pray, AMEN.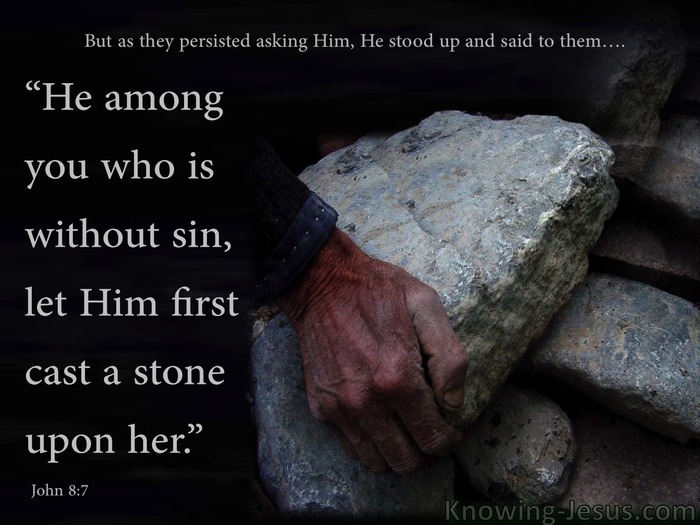 Choose a Verse from John 8