"Peace I leave with you; My peace I give to you; not as the world gives do I give to you Do not let your heart be troubled, nor let it be fearful.

John 14:27(NASB)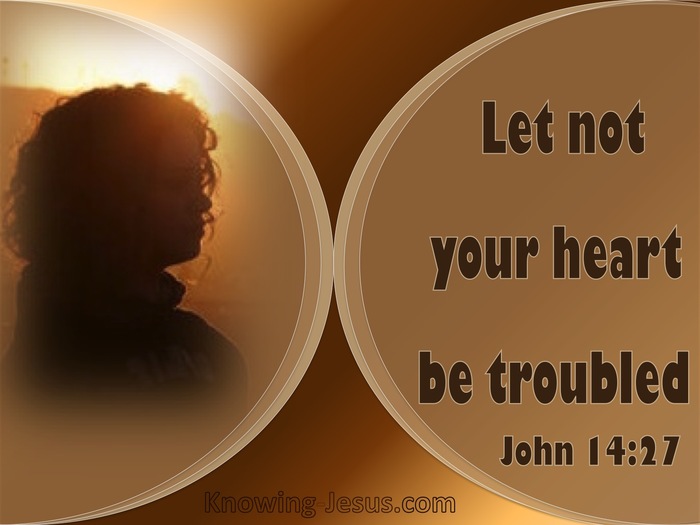 Verse Thoughts
As the cross drew ever closer, the solemnity of His approaching passion blanketed the hearts of the confused disciples, whose earlier anticipation of the heavenly kingdom and their individual positions in it were quickly crumbling.
Understanding the perplexity in their hearts, the gracious Saviour offered words of compassion and comfort as He compressed His eternal love for them into a brief season, starting with these dear words of reassuring peace, comfort and tender encouragement.
This memorable night in which Christ was to share the final Passover with his disciples; wash the sweaty feet of each of His beloved followers; break bread and pass the cup of blessing, was to explode into the bitter-sweetness of Calvary's cross, - when heaven hushed; angels wondered; hell rejoiced, and time stood still.
These were the perplexing circumstances that surrounded Christ's little group of faithful followers, on the night that he shared these words of comfort and consolation: - Peace I leave with you; My peace I give to you. It is not a worldly peace I give you, but don't be troubled, don't be fearful - fear not little flock.
Peace is incompatible in a world of sin, where turmoil within and confusion without is the awful legacy of man's sinful rebellion against his Creator. No peace can rule in the heart of the man who is dead in his sins, but Christ's words of comfort to his little flock have become a precious promise that all God's children cling to in this world of problems and pain.
The more we take the word of the Lord to heart and trust in the many precious promises that are ours in Christ, the more we are enabled to appropriate these words of comfort in our everyday life - and the more we discover that the perfect peace of God which passes understanding will guard our hearts and protect our minds in Christ Jesus our Lord.
As we face the ever-increasing turmoil and confusion that reigns in this fallen world let us take to heart these precious word of Jesus, by holding fast to the truth of the glorious gospel of God and trusting His unchangeable word.
My Prayer
Thank You Father for Your words of comfort. Help me to keep these precious words of Jesus at the forefront of my mind in this increasingly anti-God society when the very foundations of earth are being shaken and all I believe in is being attacked. May my life be a walking witness to all I meet that Your grace is sufficient, Your peace passes understanding and Your promises endure throughout all generations, in Jesus name I pray, AMEN.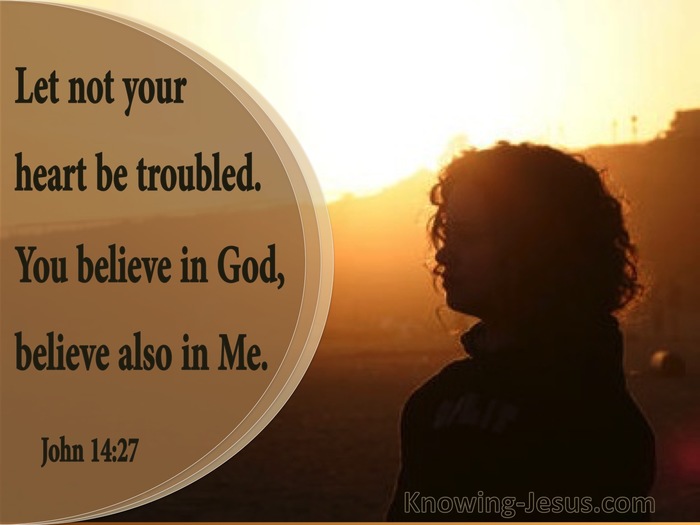 Choose a Verse from John 14