I will be to Israel like a refreshing dew from heaven. It will blossom like the lily; it will send roots deep into the soil like the cedars in Lebanon.

Hosea 14:5(NLT)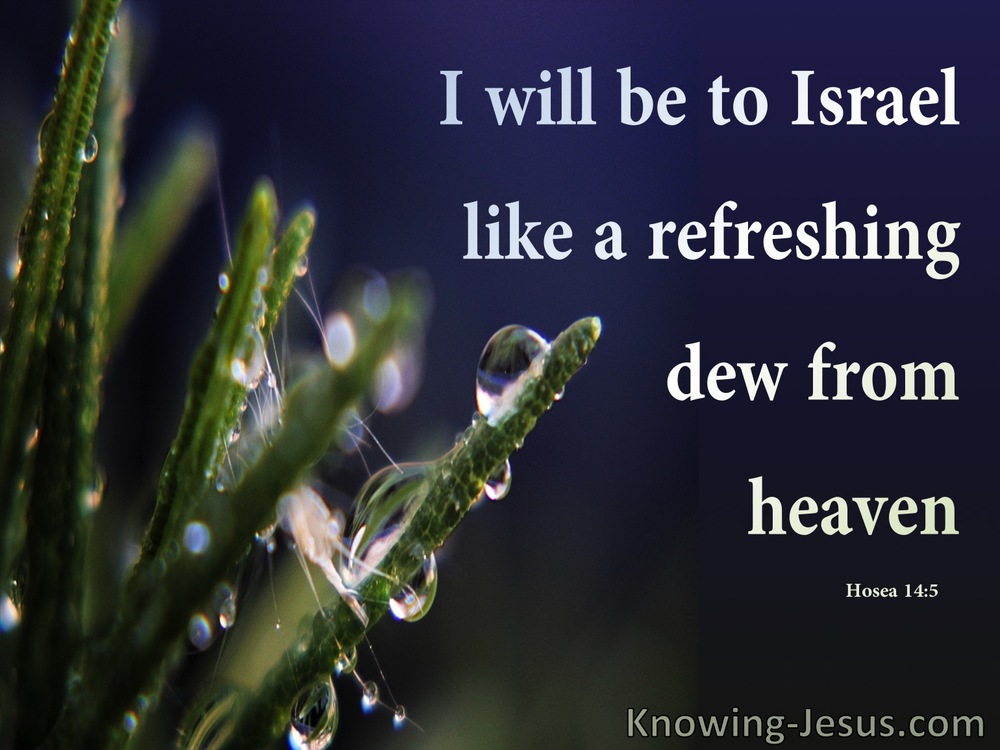 Verse Thoughts
The early morning dew drenches the thirsty land with its refreshing life, and vitality. It descends secretly, silently, slowly and unobserved and yet each tiny droplet gently softens the iron-hard soil, which allows the joy of life to pour into the withering plant -reviving, reinvigorating, rejuvenating and replenishing.
It was Israel to whom this promise was first made at a time when the nation was rebelling against her God and had wantonly lusted after the false gods of the pagan nations, causing God to liken her to an openly, adulterous wife, who was flaunting her unfaithfulness in the face of her long-suffering husband. But as throughout all the generation of Israel's long history, from her conception to this present time, the Lord's promise to become as refreshing dew from heaven to Israel, as does His pledge to return her to her rightful position as His chosen inheritance.
And the refreshing dew from heaven that is so beautifully promised to revive Israel is equally God's promise to the Church – for we have already been showered with every spiritual blessing the heavenly realms - in Christ. For we were called and chosen from the pit of sin, cleansed and clothed in His robe of righteousness – saved and redeemed, sanctified and glorified in Christ Jesus our Lord.
And God has promised even more wonderful blessing to follow, of which we are incapable of imagining, for eye hath not seen, nor ear heard, neither have entered into the heart of man, the things which God hath prepared for those that love him.
So often as we trudge through the miry clay of this fallen world we too become weary and worn, discouraged and downcast – but never let us forget that the well of living water has been thrown open for us to drink deeply. Israel will one day drink deeply of the living water when she recognises the Lord Jesus as Her promised Messiah and Lord – but praise God that we have access to His reviving, reinvigorating, rejuvenating and replenishing refreshment today and forevermore.
My Prayer
Loving Father God, thank You that when I am weary and worn, You are there as refreshing dew from heaven. Thank You for Your faithfulness to all your people, even when we go astray – keep me every close to your side, in Jesus name I pray, AMEN.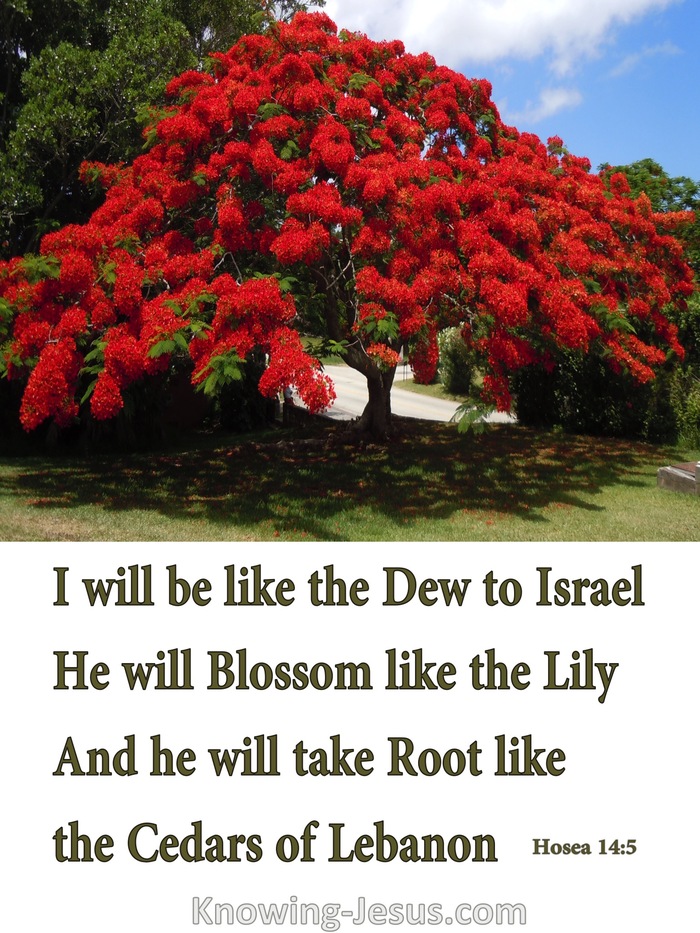 Choose a Verse from Hosea 14