and walk in love, just as Christ also loved you and gave Himself up for us, an offering and a sacrifice to God as a fragrant aroma.

Ephesians 5:2(NASB)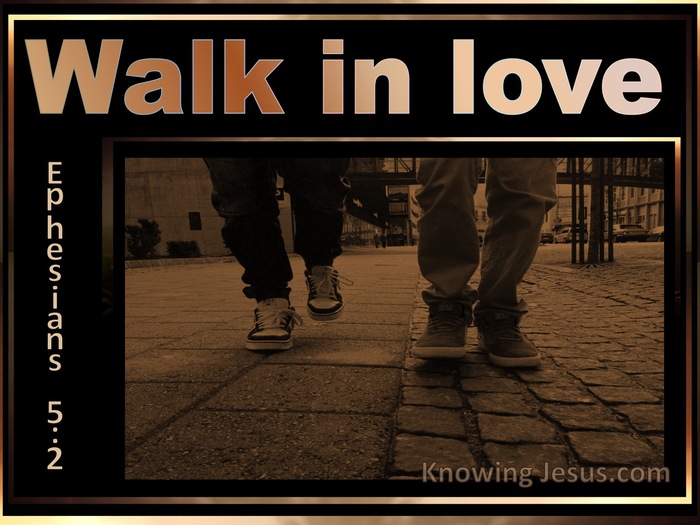 Verse Thoughts
We are exhorted to walk in love, and the life of Christ can be described as a life-walk, which from start to finish was exercised in love. His life is characterised, in conduct and conversation by an outflow of loving grace, and compassionate mercy towards those with Whom He came in contact. And Christ exemplified the walk of love, which we are exhorted to follow.

Christ was indeed the personification of the bloody 'sin offering' that was demanded by God to pay the price for the sin of the world, and from Whom God turned away when He took upon Himself the sin of the world – for God cannot look upon sin. But Christ also was the perfect picture of the beautiful free-will offering, the voluntary love offering – a precious thank-offering that poured forth a sweet-smelling perfume that found favour in the eyes of the Lord.

Christ's sacrifice of Himself was His peculiar walk of love for you and for me.  He gave His life as a ransom for many so that by faith in Him we might be united with Him in spirit and truth. He was the perfect example of a living sacrifice, holy and acceptable to God. He demonstrated His love towards us in that while we were yet sinners He died for us, and we are called to walk in love, just as He walked – and to present our bodies as a living sacrifice so that we may become a sweet-smelling savour to the Lord.

The sin offering was the compulsory requirement to satisfy the price that had to be paid for the sin of the world. But Christ was also a voluntary offering to God as He walked to the cross in love and became a willing victim and became a sweet-smelling fragrance before God. Like Christ, we too are exhorted to walk in love in the self-same way. It is not only in the outshining of our walk, as our life crosses the path of others that love should shine forth from our hearts, but in that secret place and within those private thoughts where no-other has access to our inner mind, save the omnipresent God.

May we so walk in the spirit of Christ, that like Him, our visible walk as well as our hidden ways, may become a sweet-smelling aroma to our heavenly Father.
My Prayer
Father, I thank You for the life-example of the Lord Jesus. I know that I cannot copy Him in my own strength, but in the power of the Spirit, I pray that I may so learn to walk in love, that I become a sweet-smelling thank-offering, that is pleasing to You, in Christ's name I pray AMEN.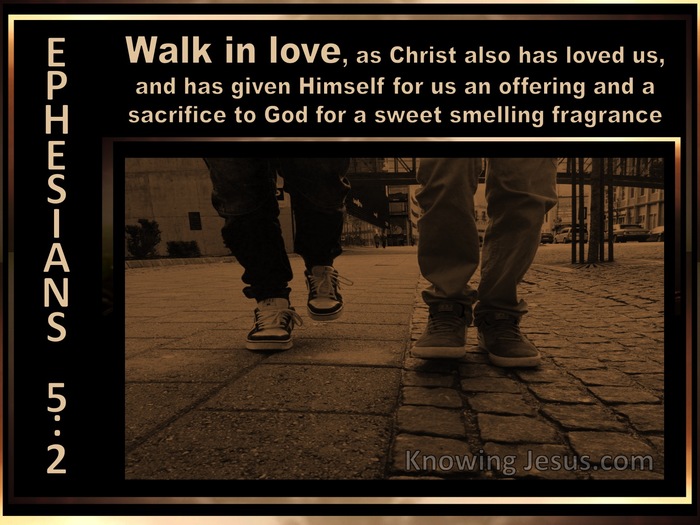 Choose a Verse from Ephesians 5