praying at the same time for us as well, that God will open up to us a door for the word, so that we may speak forth the mystery of Christ, for which I have also been imprisoned;

Colossians 4:3(NASB)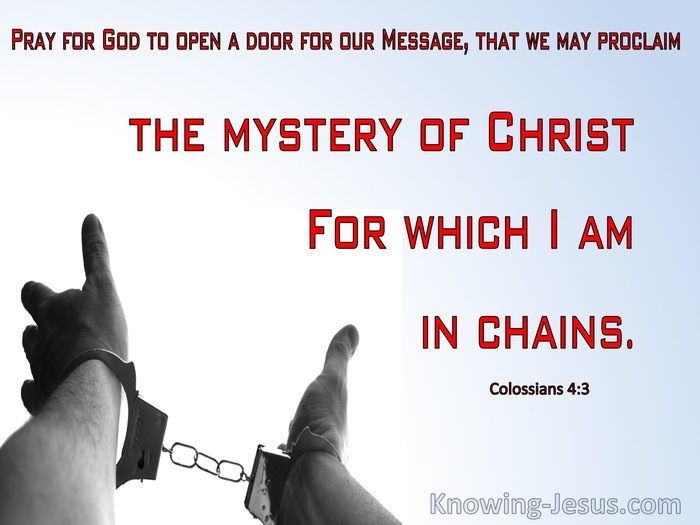 Verse Thoughts
In the final chapter of his Colossians letter, Paul reminded his readers of some important things Christians should practice in life. The first thing is to devote ourselves to prayer and to keep alert in the exercise of prayer while maintaining an attitude of thanksgiving and praise. Prayer is the Christian's lifeline to the Lord, without which it is impossible to live in the light of His love and in unity with one another.
Through prayer, we are admitting our dependence upon our heavenly Father. Through prayer we call out for Him to work in our lives. Through prayer, we express a living trust that He will answer our call and supply our needs, according to His riches in glory. Without prayer as a focal part of our day, we are exhibiting our independence from Him and demonstrating a self-sufficient attitude that dishonours His name. 
Paul is not only urging these believers to pray for their own needs and to maintain holy fellowship with the Lord, but gives them guidance on topics for prayer and asks them to pray for him and his ministry, "pray at the same time for us as yourselves," Paul writes. "Pray that God will open up to us a door for the Word, so that we may speak forth the mystery of Christ, for which I have also been imprisoned." 
Paul was writing his letter from a prison cell and was not too proud to ask these believers to lift him up in prayer, to pray that God would open a door of opportunity to preach the good news of Christ to lost souls in need of redemption. His prayer request was not for his own safety or to escape from prison, but that the gospel of grace and the mystery of Christ could reach more people.
Paul was the great apostle to the Gentiles whom Jesus called personally to be His minister, but his prayer request to the Colossians showed a humble spirit and identifies the ever-present need to keep praying for pastors, teachers, and ministers of the gospel - both at home and abroad. We should remember that praying for ministries and ministers is a great privilege as well as needful, as the prayers of faith mingle with the faithful work of others, for the glory of God and the salvation of souls.
Not only did Paul long for a door to open so he could continue to spread the gospel far and wide, but he also had to wait for God's timing. During his incarceration in jail, God caused him to write a number of inspired letters which are included in our Bibles. Paul didn't know it... but his letter to these dear brothers and sisters became one open door that would impact the lives of countless millions of souls, through the centuries.
The prayers of the Colossian saints and others continue to be answered, as the gospel continues to spread and the Lord continues to be glorified, every time the letter Paul wrote to the Colossian Church is read and believed. 
Paul had been imprisoned for speaking forth the 'mystery of Christ'. He was not suggesting this was some secret or esoteric information, that could only be accessed by a few enlightened individuals. The mystery of Christ is the pure Gospel message, and the reason it was a  'mystery' is that it had been hidden from previous generations. The mystery of Christ was hidden from Old Testament prophets and priests and was only revealed to New Testament apostles and prophets.
The mystery of Christ refers to the CHURCH, and we are all members of the mystical Body of Christ. The mystery that was revealed to Paul and other New Testament apostles was, "Christ in you the hope of glory." The mystery concerns the Church being baptised into the Body of Christ by the Holy Spirit. The mystery includes our bodies being a Temple of Holy Spirit, Who permanently indwells every member of Christ's spiritual body.
May we take responsibility to earnestly pray that God will open up opportunities for doors to be opened, for the spread of the gospel, and that godly ministers and sound ministries would be ready and willing to share the precious truth of the gospel of God and the mystery of Christ, for which Paul was imprisoned.
My Prayer
Heavenly Father, thank You that by faith in Christ I have become part of His mystical Body and have the indwelling Holy Spirit to lead and to guide me in the difficult days in which we live. I pray that doors would be open for ministers and ministries to share the good news of the gospel of Christ and that many would be born anew. Bless the ministers and ministries You have used to draw me closer to the Lord Jesus, and I pray that You would provide many openings for the gospel to be preached, both at home and abroad, for His name's sake, AMEN.
Choose a Verse from Colossians 4