Devote yourselves to prayer, keeping alert in it with an attitude of thanksgiving;

Colossians 4:2(NASB)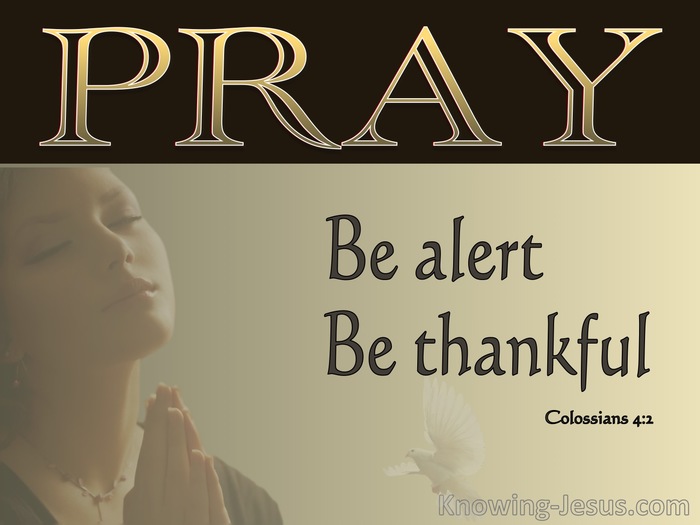 Verse Thoughts
In our Christian life we are entreated to continue steadfastly in prayer, to pray continuously, to present our needs before our heavenly Provider, to lift up others to the eternal throne of grace, to bend our ear to His gentle promptings. This is proposed by Paul as a duty and responsibility, and yet it is the greatest privilege given to the believer - to enter the throne-room of grace with petitions, prayers and pleas for our fellow-man and our brothers and sisters in Christ.
The curtain between man and God has been torn and we are called upon to enter the holy place, carrying in our hands the needs of others together with our grateful thanks, and placing them in humble reverence before the feet of Our Father, which art in heaven.
Prayer is warmed by worship, petitions are perfected by praise, promises are claimed through a grateful heart and intercessions are offered in the solemn acknowledgement that we have an audience with the King of kings and Lord of lords. Prayer should not be the quick after-thought of a busy believer.
Prayer should be the in-breathing of our Lord into the inner core of our being and prayer should be the out-breathing of our utter devotion to our Saviour and Lord. Let us remember that when the prayers of the saints are offered to the Lord in steadfast faith, combined with grateful thanks and a trusting heart, we have the authority of heaven, behind all that we carry to His nail-pierced feet.
My Prayer
Heavenly Father, we bless You for Your grace and mercy to us. Thank You that I have the right to lay at Your feet my own needs and those of others. Increase my understanding of this great privilege that has been granted to me and all Your children, and I pray that I increasingly devote my life to prayer and praise in Jesus' name, AMEN.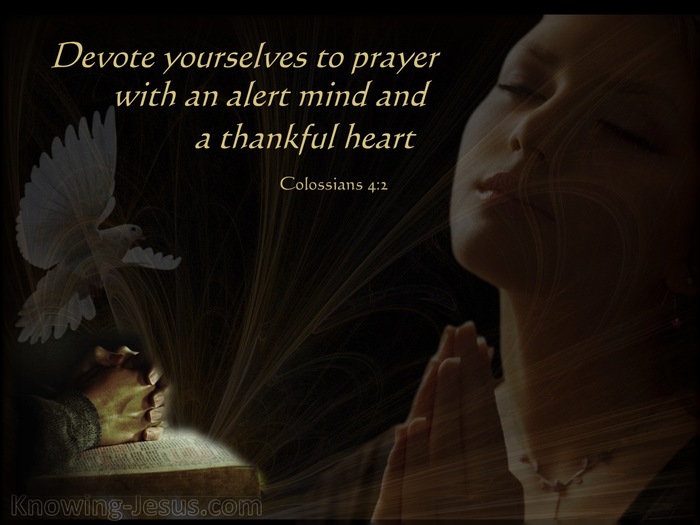 Choose a Verse from Colossians 4