All Scripture is breathed out by God and profitable for teaching, for reproof, for correction, and for training in righteousness,

2 Timothy 3:16(ESV)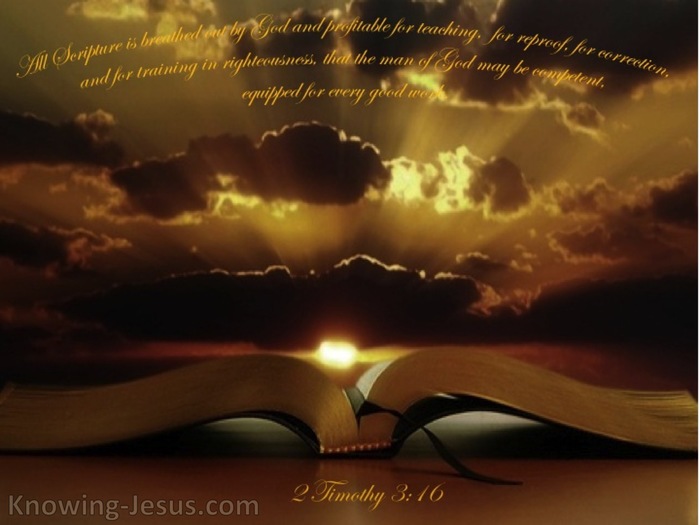 Verse Thoughts
As we thumb through the pages of Scripture, which have become so familiar to us, it is a challenging and awesome thing to consider Who it is that lies behind those inspired pages and the eternal significance of their content. The written Word of God is not just a collection of curious books penned in antiquity.
The completed library of sixty-six books is a powerful, living, unified whole, for the breath of God's Holy Spirit imputed divine light and life and power and hope into that sacred text.
The Holy Spirit of God, Who in times past moved prophets of old to pen the sacred words of Scripture is the same Breath of God, Who gives life to our spirit when we are born from above. He illuminates our minds with truth; inspires our heart with spiritual understanding and gives godly discernment to all who have been saved by trusting in the death, burial and resurrection of the Lord Jesus Christ.
It is no surprise that this Word of God is profitable for doctrine, for reproof, for correction and for instruction in righteousness for it is given by inspiration of God and it unveils the holy character of God and His divine plan for mankind. It convicts us of our need of a Saviour and teaches us about the eternal plan of the Creator and what He expects of His children. It guides us along the road of righteous living, it trains us in the path of patient endurance and it furnishes us with examples of lives that are lived in humble obedience to our Father in heaven.
It corrects our skewed human perceptions; it highlights prideful attitudes and exposes false presumptions. It alerts us to the pitfalls of sinning and explains our inherited sin-nature. The Word of God protects us from the error of sin and warns us of false teachings and the doctrines of demons, it equips us with godly wisdom and gracious counsel and it builds up our trust in our God and Saviour, Who died for us on Calvary's cross, so that we could become His adoptive children.
Should not we who are so familiar with the pages of scripture, reverently consider Who it is that lies behind the inspired text of Scripture and recognise the deep significance and consequences of their God-breathed content.
My Prayer
Thank You loving Father for the God-breathed Word of God. Teach me, convict me, correct me and train me through the living, powerful inspired Scriptures, that I may be equipped to carry out the work that You have ordained for me to do, and may it be to Your praise and glory in Jesus name I pray, AMEN.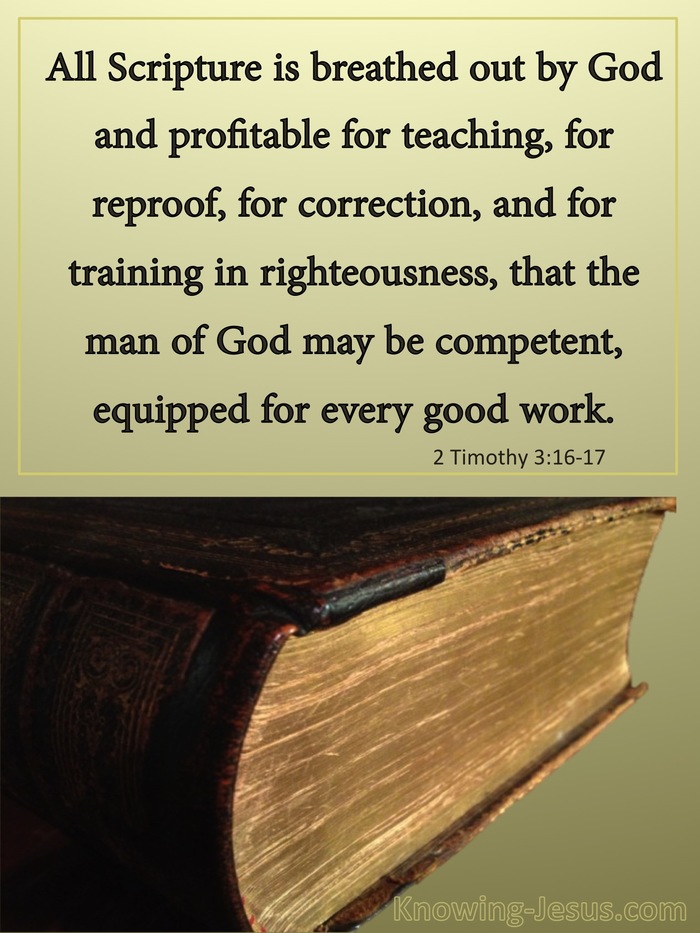 Choose a Verse from 2 Timothy 3