Finally then, brethren, we request and exhort you in the Lord Jesus, that as you received from us instruction as to how you ought to walk and please God (just as you actually do walk), that you excel still more.

1 Thessalonians 4:1(NASB)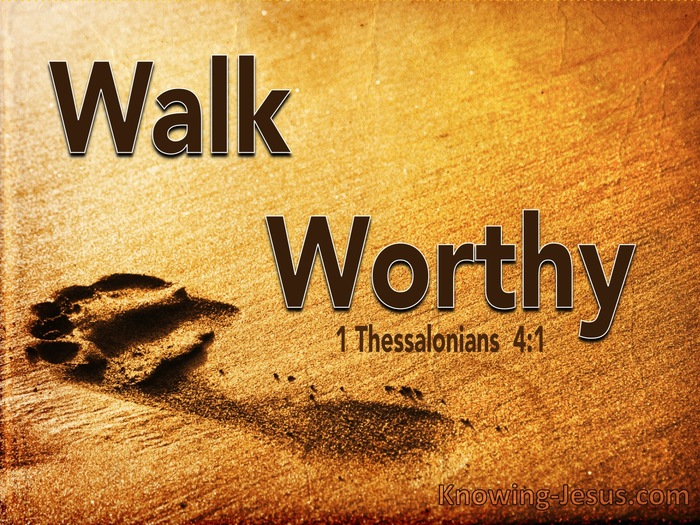 Verse Thoughts
Paul laid out to the Thessalonian believers how they should continue to walk in a manner that was pleasing to the Lord. There was an urgency in his earnest entreaty, for Paul desired that these faithful believers and all who trust in the Lord Jesus as Saviour, would excel in their spiritual walk and live godly lives, to the praise of our Father in heaven.
Paul knew that the Lord was soon going to return and that we, like them, should remain content in the place where God has chosen to place us. We should conduct our lives in a manner that honours the Father and glorifies the Son - through the power of the Holy Spirit, Who dwells within each of His children and Who strengthens us in our inner man.
Paul's pressing message was a practical exhortation to walk in holiness, brotherly love and humble obedience before our God, because the return of Christ in the clouds for His church is drawing ever closer. These believers were encouraged to walk as children of light, and to behave in a manner that is well-pleasing to the Father – and so Paul set down in his letter to the Thessalonians an important list of instructions on godly living, which is still as relevant and pressing today as it was two thousand years ago.
We are ambassadors of the cross and representatives of our Lord Jesus Christ. We are subjects of the King of kings and Lord of Lords, and we are called and chosen to walk in a manner that is worthy of our calling and we are further encouraged to excel still more and more, by the power of the Holy Spirit, by Whom we are strengthened in our inner being according to the riches of God's glory.
My Prayer
Loving Father, what a wonderful privilege that You should call such a person as me into your own kingdom and into Your glory. In the power of the Holy Spirit, I ask You to guide and direct me today in all that I say and think and do. I pray that I may walk in a worthy manner that brings glory to You, in the name of Jesus Christ, AMEN.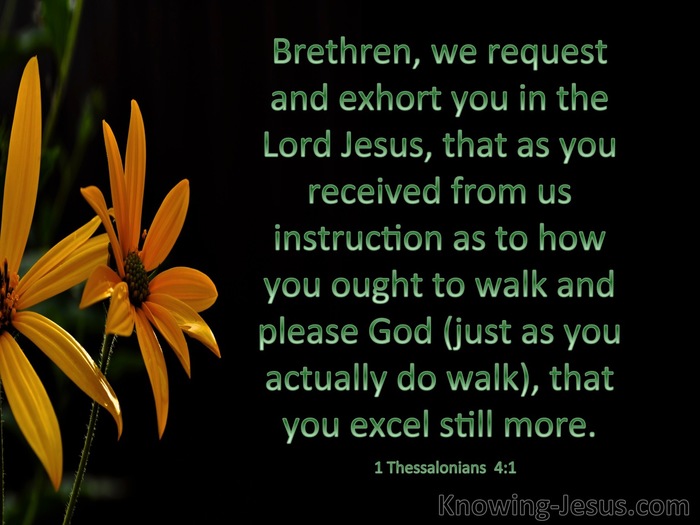 Choose a Verse from 1 Thessalonians 4