Casting all your care upon him; for he careth for you.

1 Peter 5:7(KJV)
Verse Thoughts
There are many places in scripture that remind us that the cares and concerns of this world can become a burdensome load in our lives. 'Independence' proudly proclaims that it has built up a range of coping strategies and self-help skills to deal with all the stresses and strains of life, while 'Pride' arrogantly announces that it is well-able to go it alone - but the Word of God paints a very different picture.
We have been told by God that we are not able to manage our daily problems by ourselves at all, and this is a severe blow to our self-ego and fleshly-pride, which has its root in the old sin nature. We are further advised that strength will be freely given, when we admit to our weaknesses and inabilities, and hand over all our cares and disappointments to the Lord, Who has not only promised to bear all our burdens but He does so because of His loving-kindness and His tender-mercy towards us, His children.
All that is required of the believer is to humbly admit our lack and accept His gracious offer, and cast all our cares on Him, knowing that He cares for us deeply and is well able to do it. When the cares and concerns of this world are given to the Lord in humility of heart, the Lord pours into our lives His perfect peace and we discover that we are endowed with a wisdom, trust, love and grace despite the circumstances of life that hem us in on all sides.
How do we cast our burdens on Him? Well it all comes back to trusting all God has said in His Word and expecting Him to answer, in His time and in His way, with the attitude that Jesus demonstrated throughout His earthly life, 'Thy will be done in my life'. Rarely does the answer happen the way we expect, but always the Lord will carry the burdens of those that approach Him with a spirit of trust and a heart of humility.
My Prayer
I confess that for too long I have tried to work out my own problems and carry my own cares in my own self-strength, but I thank You Father-God that You care so much for me that I can cast all the burdens and hurts and disappointments and worries that seem to be flooding my life today, upon You - in the sure knowledge that you have promised to carry them. I admit I am weak, but I praise You that I can draw on Your amazing strength today and in the days that lie ahead, in Jesus name I pray, AMEN.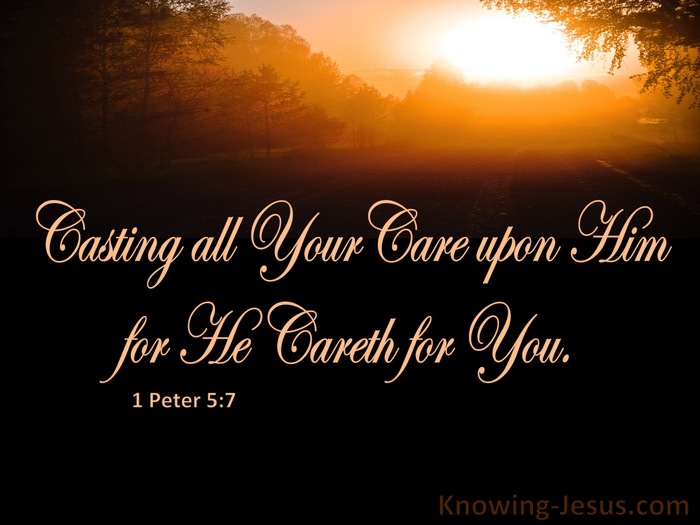 Choose a Verse from 1 Peter 5