Let all that you do be done in love.

1 Corinthians 16:14(NASB)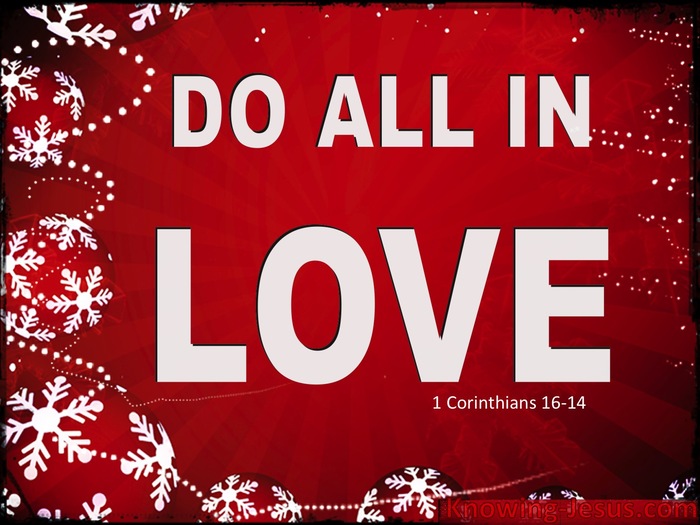 Verse Thoughts
In this final chapter of Paul's first letter to the church at Corinth Paul exhorts the believers there to: let all be done in love. What a sublimely simple instruction to the Church of today and yet what a profound depth of truth is contained within this uncomplicated and divine directive. Love is the fulfilling of the Law and only as we allow the love of Christ to saturate our being, as we die to self and walk in spirit and truth, can this Christlike characteristic be executed.
This simple statement is sufficiently elementary for the youngest child to understand, and yet so lofty that man's combined wisdom is unable to scratch the surface of its true meaning or plumb the depth of its wider significance. It stings the conscience of everyman. It convicts the attitudes of humanity. It challenges the most godly saint and forever condemns the human race.
But this unreachable goal is the impossible command given to all believers, and it not only applies to the natural loving kinship within the inner nucleus of beloved companions and best-loved family members, but the beggar in the street; the thieving politician; the accusational religionist; the enemy at the gate; the scoffer of our faith - and those that despise, reject, hate and kill us.
Every action and every attitude; every word and every work; each thought of the heart; each decision of the mind and even the motives that influence the choices we make, need to be bathed purifying gaze of the Holy Spirit; washed in the fountain of God's divine love and covered with the unconditional grace of Christ, Who for love of His church went to the cross willingly - so that like Him everything we do, may be done in LOVE.
My Prayer
Loving Father I confess that in my own strength it is impossible for me to carry out all that I say and do in love, but I know that this is possible in the strength and power of the Spirit of love, because You have promised to pour Your love through me to others so that I may love others as Christ loved me, knowing that it is Christ that loves through me and not me myself. Use me to be a vessel of love in the lives of ALL I meet today - and in the days that lie ahead, in Jesus name I pray, AMEN.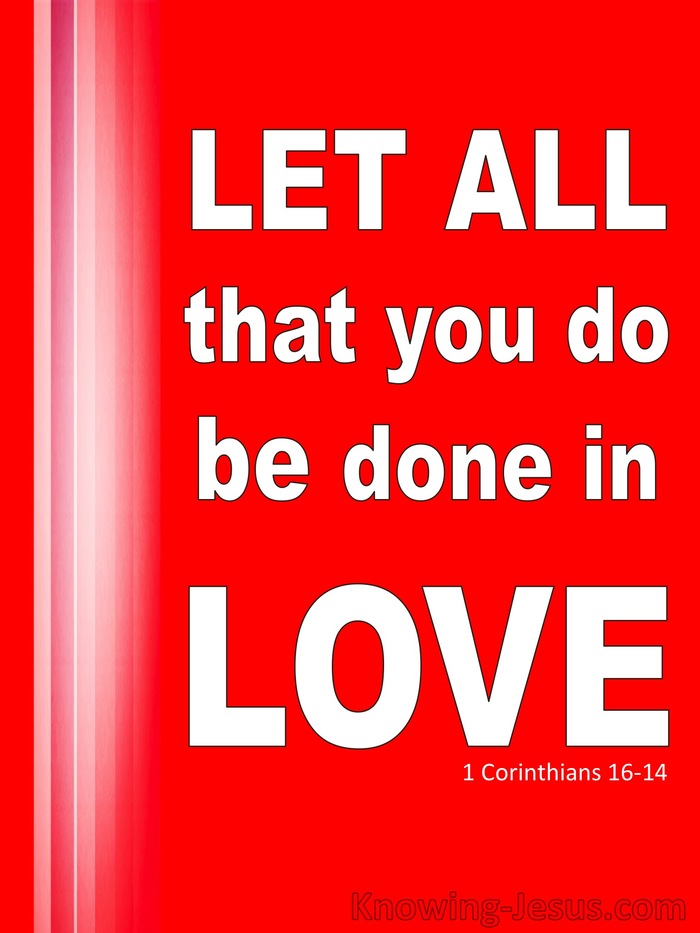 Choose a Verse from 1 Corinthians 16