He will keep you strong right up to the end, and he will keep you free from all blame on the great day when our Lord Jesus Christ returns.

1 Corinthians 1:8(NLT)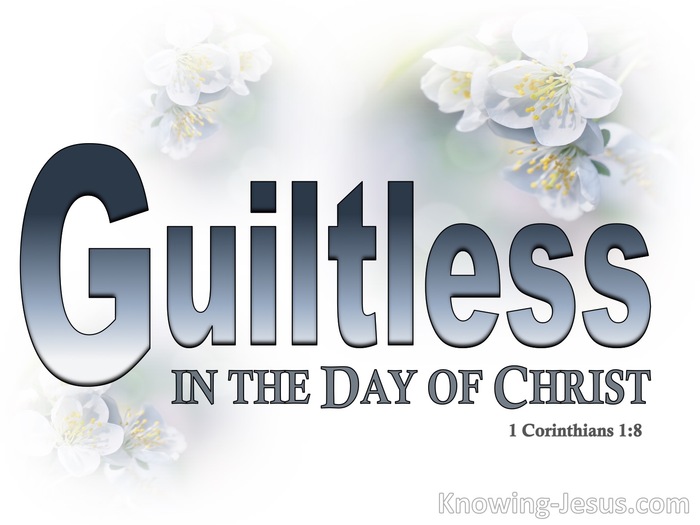 Verse Thoughts
In Christ we have the confidence that God will confirm, strengthen and sustain each one of His children - blameless in the day of Christ Jesus. This is a promise of God, which is given to all who have trusted Christ by grace through faith in His finished work at Calvary. This is a promise from God, which does not depend on what we do for Him, but on what Christ has done for us. God in His grace has promised that He who started a good work in each of our lives when we were born from above, is faithful to complete it in the day of Christ Jesus - simply because we trusted in Him.
The 'Sustainer' here is God the Father, Who is declaring this tremendous promise to us due to Christ's perfect sacrifice - for we are accepted, by God in the Beloved and we are clothed by His Spirit with Christ's righteousness. God the Father will firmly, finally and fully establish the hope we have in the gospel of Christ on the day of His return, so that we may be presented to Himself as His bride, a glorious church, without spot or wrinkle or any such thing.
We are guiltless - not sinless, for all have sinned and fall short of His glory, but through identification with Christ, we are covered in His righteousness. In one respect the day of Christ is future for when He comes in the clouds to take us to be with Himself forever, we shall be like Him for we shall see Him as He is. But in another aspect, we are being established amidst all the trials and difficulties of this present age (which are designed by the enemy to shake our faith), for the kingdom of heaven is within, as well as a future hope - for we have the indwelling Spirit of God, establishing us in the path of His holiness and conforming us into the likeness of Christ - in every good work and in every good word.
Let us rejoice and be glad for this irrevocable confirmation is in His written Word, that He will sustain us to the end - guiltless in the day of our Lord Jesus Christ. It is the Father's love and favour toward us, which forever establishes in our hearts the truth of the glorious gospel of Christ, the permanency of the indwelling Spirit and the wondrous privileges that are ours in Christ Jesus our Lord.
He started a good work in us and planted an eternal seed of grace within each of our hearts, which will mature and produce fruit, more fruit and much fruit to His praise and glory, if we humbly submit to His leading and guidance in our lives.
My Prayer
Father God, I confess that I could not draw another breath without Your strength. Thank You that You have covered me with the robe of Christ's righteousness, for His name's sake and have promised to keep and sustain me through every season of my life until I stand in His presence and am presented to You as blameless. Enable me to finish the work You have set me to do to Your praise and glory, in Jesus name I pray, AMEN.
Choose a Verse from 1 Corinthians 1