But the fruit of the Spirit is love, joy, peace, patience, kindness, goodness, faithfulness,

Galatians 5:22(NASB)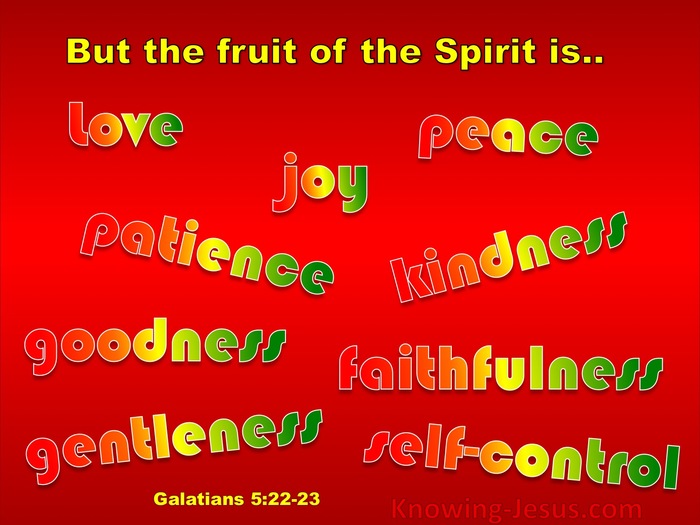 Verse Thoughts
The fruit of the Spirit are the internal graces that are produced in the life of a believer who is submitted to the leading of the Holy Spirit, so that the life lived becomes a lovely reflection of Christ's singular nature and character. T
he fruit of man's sinful nature bears nothing but rotting sadness and sour pain, and the ethical character and political correctness of the believer that is straining to live-up to certain socially acceptable moral standards, will similarly produces nothing but the bad fruit of an old sinful, Adamic nature.
The fruit of the Spirit are not 'works' that are done for God, however good and commendable they may be, but the nature and character of the living Christ being exhibited in and radiating through the life of the child of God. The nine graces that together comprise the fruit of the Spirit combine to display a perfect portrait of the Lord Jesus Himself.
Each of the nine individual qualities that are listed as the fruit of the Spirit all find their genesis in the fountain-head of God's LOVE. The triplet of love and joy and peace demonstrate an inner quality that permeates the entire disposition of the one that is producing this fruit of the Spirit.
The trio of long-suffering, kindness and gentleness are predominantly attributes that are displayed in gracious conduct towards others, while the trinity of faithfulness, meekness and self-control are hidden facets, deep within, that only God can truly discern.
Only as we live and walk and pray in the spirit, will our lives produce this singular fruit of God's Holy Spirit, so can we say with Paul: Not I - but Christ
My Prayer
Loving Father, I desire to reflect the nature and character of the Lord Jesus and show forth the fruit of His Spirit in my life. Prune away all those areas that are inhibiting the fruit of Your Spirit being manifested in me and may I grow in grace and produce that fruit that is pleasing to You, for Your praise and glory, in Jesus name I ask, AMEN.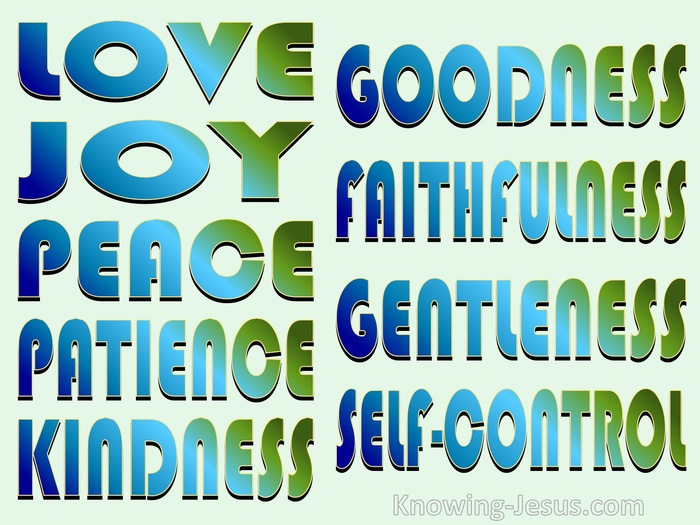 Choose a Verse from Galatians 5