Let the heavens be glad, and let the earth rejoice, and let them say among the nations, "The LORD reigns!"

1 Chronicles 16:31(ESV)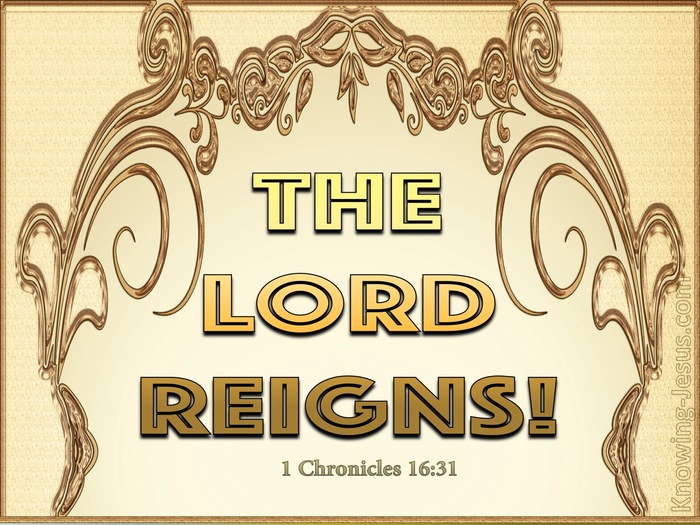 Verse Thoughts
Men below and angels above blend their voices in a glorious melody of harmonic praise to the one eternal God, Whose glory shines from the heavens above through a myriad of twinkling stars, and Whose beauty is expressed in the earth beneath by so many dancing blossoms and verdant leaves of God's great creative power - or simply through the blush of colour that shines on a butterfly's wing.
The little hills rejoice, and the trees clap their hands together. Lambs skip on the grassy plain and waters wash over the sea, as creation from its height to its depth proclaims in marvellous unison the glories of the Lord. But it is not only the heavens that are called to be glad, and the earth to rejoice below, but the Psalmist is encouraging all men everywhere to speak of the glory of God; to proclaim the wonders of His name and to let the nations cry aloud together, "The LORD reigns!"
But the superlative expression of God's glory, which must warrant our eternal rejoicing, is found in the gracious person of our Lord Jesus Christ by Whom the earth below and angels above were created and Who in His grace and love reached down the fallen race of man, to pick him up out of the miry clay and set his feet on the Rock of our salvation.
No wonder we who have been redeemed from all nations and peoples and tribes and tongues are overflowing in exultant joy by proclaiming, the LORD reigns! May it be our daily prayer that those who do not rejoice in Christ Jesus as Saviour, come to a saving knowledge of His grace and mercy, while it is still today.
My Prayer
Praise Your name O Lord most high. I glory at your wonderful creative power, but I wonder more at the amazing grace that You have shown to me in dying for me on Calvary's cross, and pray that You will use me to tell out the glories of Your name in the place where You have planted me, in Jesus name I pray, AMEN.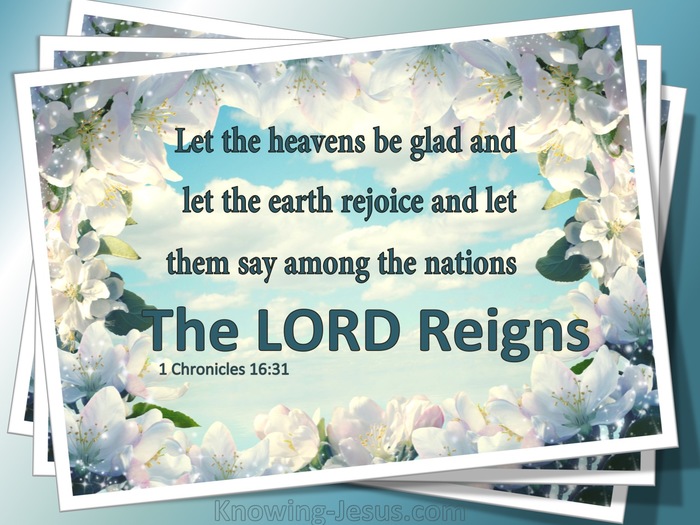 Choose a Verse from 1 Chronicles 16