and I give eternal life to them, and they will never perish; and no one will snatch them out of My hand.

John 10:28(NASB)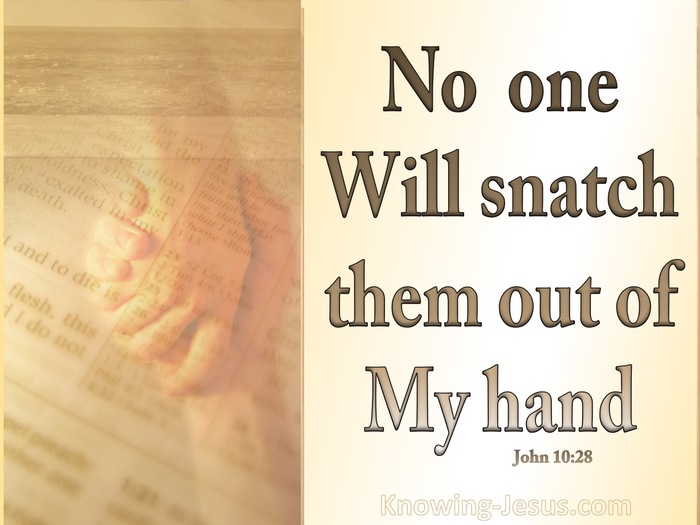 Verse Thoughts
Our great and good Shepherd of the sheep, knows all the needs of His little flock. He protects them from danger, He finds them when they're lost, He understands their deepest concerns and He provides for all their needs.
The rich, well-watered heavenly home, to which they are travelling, is the great gift of life; abundant life; eternal life - a heavenly life, that has been generously bestowed on all who trust their heavenly Shepherd. He leads each little lamb through the difficult places of life and provides the necessary respite on their weary, earthly journey.
He guards each one from every enemy and each danger that lies in wait to steal or to harm or to destroy. And as if all this were not sufficient - He makes a promise that should rejoice the heart of all His children and calm every questioning soul; "no one will ever snatch them out of My hand" - nor can they be removed out of the hand of God the Father Almighty.
Nothing in heaven or earth can grab the sinner saved-by-grace from the protection of His hand. No-one in the earthly or spiritual realm and nothing in the created universe has the power to remove the child of God from the Hand of His Lord and Saviour - and never forget that His promises are all "yes and amen" in Jesus.
My Prayer
Loving Father, there have been times when I have questioned my eternal security in You – but You are my good and faithful Shepherd, Whose word is to be trusted, forever. Thank You that I am held so securely in the Hands of my Lord and my Saviour – my God and my King. Glory to Your name for ever and ever, Amen and AMEN.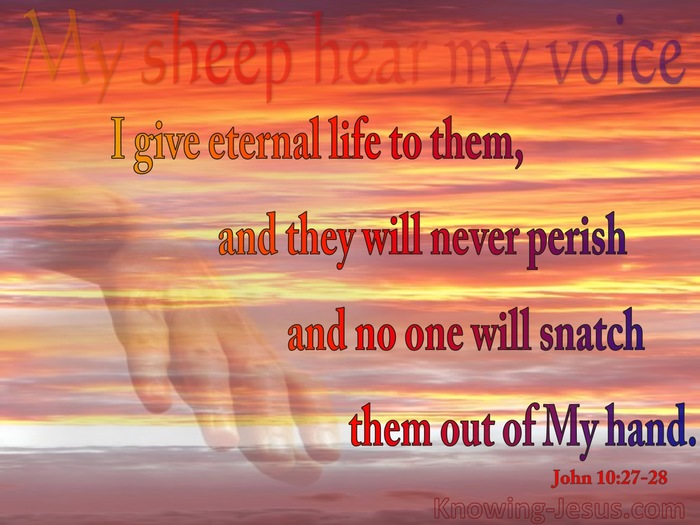 Choose a Verse from John 10