but if we walk in the Light as He Himself is in the Light, we have fellowship with one another, and the blood of Jesus His Son cleanses us from all sin.

1 John 1:7(NASB)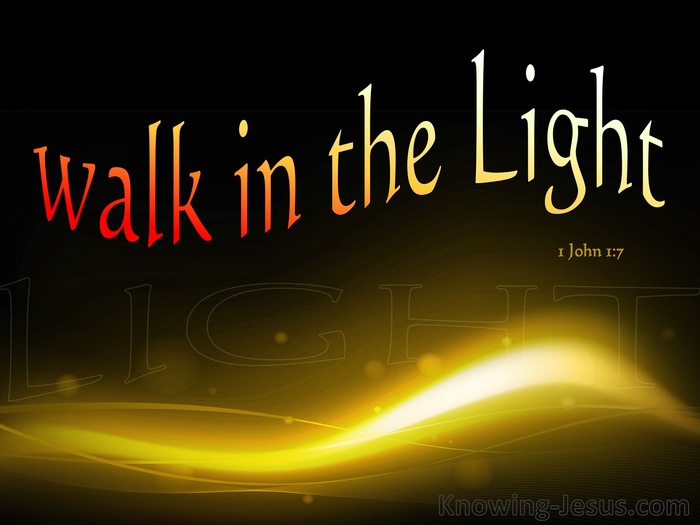 Verse Thoughts
Once enlightened by the Holy Spirit as born-again children of God, we have a true sight and a true sense of sin. Having first been convicted by the Holy Spirit of sin and righteousness and judgment, we are brought face to face with our own depravity and utter sinfulness and we begin to understand the tremendous price that Christ paid on the cross for us - for it is only by faith in the blood of Jesus Christ, God's only begotten Son, that we are forgiven of our trespasses - it is only by His spilt blood that we are cleansed from all sin.
It is only by grace through faith that we have been called out of the darkness of sin and death into the marvellous light of His righteousness and life. It is only by placing our faith in Christ's finished work on Calvary that we have been given access into the throne-room of grace - and if we abide in Him and walk in the light of His love, we have fellowship with one another, and the blood of Jesus His Son, cleanses us from all sin
Mutual communion and intimate fellowship with God Himself has become the portion of all who are saved by grace thorough faith in Christ. It is not just forgiveness of former sin but the ultimate purification of every transgression - past, present and future. It is the removal of every known and unknown sin into the sea of God's gracious forgetfulness; through time and into eternity.
Because of His full identification with our sins we are fully identified with the righteousness of Christ, Who makes us perfect and holy in His sight. It is a holiness that is endued from the first moment we believed. It is a cleansing flood that have become ours, by grace through faith in Jesus. It is a righteousness we do not deserve but which we have received as a free gift of God's amazing grace - by faith in Him.
But all this is achieved only ONE WAY- by faith in the freely-offered shed-blood of the perfect human Sacrifice - our Saviour Jesus Christ. This can only be received by believing on the sacrificial slaughter of the pure; holy; harmless; innocent victim, Whose shed blood cleanses the cursed sinner; redeems the wicked, forgives the guilty and delivers the God-hating damned sinner, from eternal condemnation.
Only the divine, sinless offering of the holy Son of God, Who in His incarnation freely took upon Himself mortal flesh, to become identified with His doomed brethren, is sufficient payment, for the accumulated sin of the whole world. It is the blood of Christ alone, that can cancel the power of sin and Satan; pain and disease; destruction, death and hell itself.  It is only by the powerful blood of the holy Lamb of God that the chains of sin can be broken, and the captive be set free, It is only through faith in Christ's finished work that God can pronounce a sinner to be saved. Truly there is power in the blood of Jesus - there is wonder-working POWER in the precious blood of the Lamb of God.
My Prayer
I praise Your name, heavenly Father, for the blood of Jesus, which has cleansed me of all my sins and identified me with the righteousness of Christ. Your grace gives me the choice to walk in Your marvellous light or live my Christian life in the shadow of the world, the flesh and the devil. I choose from this day forward to walk in the light as Jesus is in the light, for I desire a more intimate fellowship with You, my Abba, my Father. I praise You for Your amazing grace and the wonder-working power of His blood, in His name I pray, AMEN.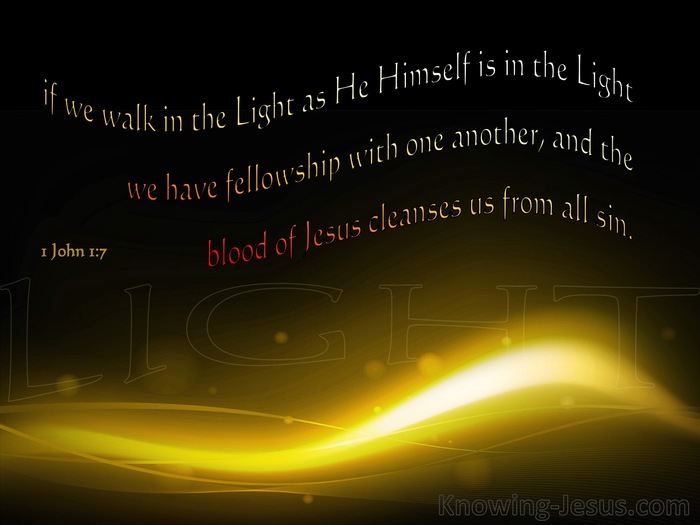 Choose a Verse from 1 John 1